There are a number of abandoned mills in the Serrania de Ronda, which over the years have been renovated and turned into hotels, restaurants and casas rurales.
Here is a rundown of all these former mills, from Ronda to Benaojan, from Arriate to Jimera de Libar.
In alphabetical order they are:
HOTEL MOLINO DEL ARCO, Fuente de la Higuera, near Arriate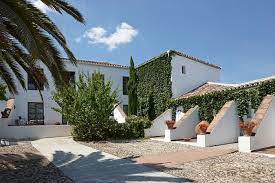 Located 8 km from Ronda is El Molino del Arco hotel, converted from an old mill and farmhouse. Known in the 18th century as El Molino Nuevo, over time it was renamed El Molino de Clavero and, finally (beginning of the 19th century) El Molino del Arco. Taking into account its structure, configuration and original elements and in an environment defined by the conservation of the farm's traditional crops – the olive tree and the vine – this old oil mill is today the Molino del Arco hotel.
MOLINO DEL CARACOL, Casa Rural in Benaojan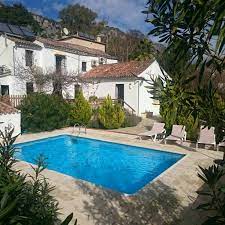 An old flour mill converted into a comfortable and private house with an attractive garden located next to the Guadiaro river, in the Serranía de Ronda, within the Sierra de Grazalema natural park and surrounded by two other natural parks the Sierra de las Nieves and Alcornocales.
In our house you can enjoy the magnificent natural environment that surrounds us. Parking next to the entrance of the house. Just 15 minutes from beautiful Ronda "Ciudad del Tajo" and the prehistoric Cueva de la Pileta.
Start of walking trails 100 meters from the house (Cueva del Gato and Jimera de Libar Station).
HOTEL MOLINO DE CUATRO PARADAS, Benaojan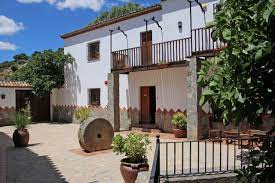 Hotel Molino de Cuatro Paradas is a charmingly restored flour mill located just outside the popular village of Benaoján, on the banks of the River Guadiaro, near Ronda.
This rural hotel has ten beautifully furnished hotel rooms offering a variety of accommodation. Some of the rooms have views of the river, while others open directly onto the hotel's central courtyard and some have private balconies. The hotel has a small bar which is well stocked with a variety of beers, wines, spirits and soft drinks.
There is also a popular outdoor river terrace that sits on the banks of the river with spectacular views of the surrounding bluffs. Here hotel guests can read, watch the birds that frequent the river or simply relax and savour the atmosphere. Whether you are a walker, bird watcher, pot-holer or just want to explore the area by car, you will be fascinated by the beauty and variety of the mountainous landscape.
Between the steep hills of the Sierras de Líbar and Grazalema and the more rounded slopes of the Sierra de las Nieves lie the steep valleys of the Genal and Guadiaro rivers. With the added attraction of the white villages (pueblos blancos) that provide beautiful settings, historical interest, and a source of much-needed refreshment, the area offers a remarkable wealth and variety of experiences for visitors of all types.
Personal note:
Philip and Susan Cornes have restored this mill and turned it into a peaceful rural retreat, popular with Spanish and foreign tourists who enjoy rural tourism. With its enormous swimming pool and adjacent river, this is a really delightful spot. We have known Philip and Susan for many years and they are a lovely couple.
MOLINO EL INGLES, Jimera de Libar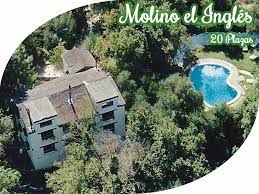 20 places in beds and divans. There is a 135 cm double bed and the rest in 90 cm beds or divans. Two of the couches, each with 5 seats, are located in attics, in the highest part of the building, making them ideal for children or young people.
Inside the building there is a full bathroom and a few meters away, a service pavilion with 4 showers, 5 toilets and 8 sinks.
It has a large private area with a swimming pool for the exclusive use of mill guests, sharing the rest of the farm and its games with the other mill, Molino La Flor and Villa Sandía.
We emphasize that its architecture and distribution is totally different from what you might be used to. Being designed for a single group of friends or family, it avoids the traditional closed rooms that isolate people and we offer something very different from the norm. Here privacy is only achieved with separations based on curtains, stairs or different levels, with no partitions or doors, except in the services.
It is very difficult to explain, and although there are various compartments with a certain amount of privacy, there are also three round beds for the children. There are some beds or divans left over, and we do not count the rooms below as beds – where there are divans where people like to sleep next to the fireplace – and the idea is that the guests are distributed as they please according to ages, family groups or however they really want...
Very uncomfortable to live because they will hear the snoring of their brother-in-law, the indiscreet little breaking wind of the girl's boyfriend, the laughter of someone and their children will refuse to sleep until very late... but you will spend such unforgettable days that will force you to repeat the experience over and over again, and you will be stuck as a regular customer, as happens to almost all of our users.
The lounges, toilets, blankets and kitchen utensils are designed for the places that we refer to, so if you exceed them, the facilities may begin to fail.
We are perfectly aware that the groups that come to Los Molinos do it to have fun, dance and sing until the wee small hours and we think it's great... but be aware that on the other bank of the river there is a glamping site where they ask for silence from 11 pm, so we ask you to be discreet with the music, since in the absolute silence of the night, it could disturb the guests in nearby Villa Sandía.
Th accommodation is provided without sheets or towels – blankets and firewood yes. If you want bedding, etc,, you will have to increase the price by 7 Euros for each set.
In the mills, WE ALLOW PETS, but you should not take them to the area where Villa Sandía is located.
MOLINO LA FLOR, Jimera de Libar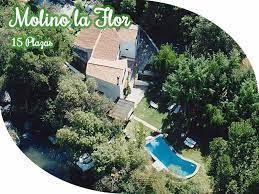 In the South of Spain, in the Serranía de Ronda, and right in the middle of Seville, Málaga, Granada, Córdoba, Cádiz, which are all 1.5 to 2 hours away. The Costa del Sol and Gibraltar are even nearer. We offer you two old restored water mills and a rural house, totally independent and perfectly equipped, each one with its own private pool. We are located in a magical farm, unlike anything you have seen before, traversed by 500 metres of a mountain river full of rapids, where you can play in the water. There is an impressive suspension bridge, the Little Smurf houses on the tops of the trees, toys, two dwarf donkeys, fishing, rustic golf in the clearings of the forest, enchanted trails in a forest unimaginable on our land, and all without moving from the farm...
CASA RURAL EL MOLINO DEL PANADERO, Jimera de Libar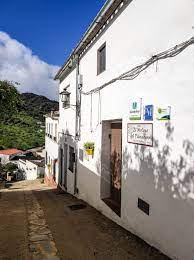 Located in Jimera de Líbar, El Molino del Panadero features a garden and barbecue. Marbella is 80 km from the property and Cueva de la Pileta is 6.6 km away. The accommodation includes a dining area and a seating area with a flat-screen TV. Some accommodations have a terrace and/or patio. There is also a kitchen equipped with an induction hob, dishwasher, microwave and fridge. Towels and bed linen are provided. El Molino del Panadero is 23 km from Ronda and 38 km from Grazalema. Malaga airport is 131 km away and Gibraltar airport is 82 km away.
HOTEL MOLINO DEL PUENTE, Fuente de la Higuera, Ronda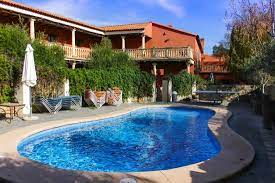 Set in an old flour and olive oil mill, this boutique hotel with gardens and swimming pool is located 10 minutes' drive from Ronda. It offers a riverside terrace, free parking and free Wi-Fi. Rooms at the family-run Hotel Rural Molino del Puente Ronda face south and feature satellite TV and a balcony. They also have a private bathroom, some with a Jacuzzi or Moorish-style bath. Some have a terrace.
Molino del Puente also has a fine-dining restaurant, La Cascada, which features a woodstove and serves regional dishes, prepared with seafood and other locally sourced ingredients. There is also an extensive wine list, including many local Ronda wines.
You can dine on the terrace in summer and have free tea, coffee, and cakes in the afternoon.
The hotel is close to the natural parks of Grazalema and Sierra de las Nieves. The area is perfect for walking, bird watching, cycling or horse riding.
Personal note:
This is one of our favourite restaurants in the area. The fact that it is less than 100 metres from our house, means that we eat there more frequently than anywhere else, because we don't have to drive. This does not take away from the quality of Ian Love's cooking. Favourites include mussels in coconut, Thai curry, filleted dorada, and a range of imaginative starters and home-made desserts.
MOLINO RODETE, Jimera de Libar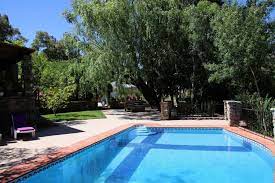 The house was originally a flour mill from the 18th century, today restored and declared an Ethnological Monument. It is located within an agricultural / livestock farm. Regarding agriculture, the farm is dedicated to the cultivation of walnuts of the Harley variety under an ecological regime. Regarding livestock, you can visit and offer food to a flock of sheep and lambs that are free on the farm.
MOLINO RONDA, Ronda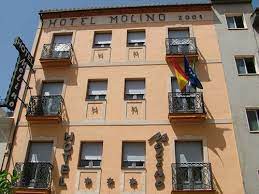 Located in Ronda, 300 meters from Plaza de España, Molino Ronda has a living room with a flat-screen TV, and free WiFi. Housed in a building dating from 1985, the apartment is a 10-minute walk from Ronda's Santa María la Mayor Church and 20 meters from Alameda del Tajo.
The apartment has 3 air-conditioned bedrooms, a dining area and a fully equipped kitchen. The apartment also has a seating area and 2 bathrooms. Molino Ronda has a terrace.
In the immediate vicinity you can go cycling. Ronda's Plaza de Toros is 200 meters from the accommodation, while Ronda's Puente Nuevo is 500 meters away. The nearest airport is Málaga, located 120 km away.
HOTEL MOLINO DEL SANTO, Estación de Benaojan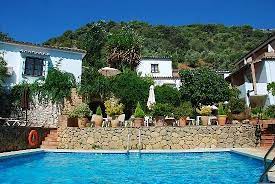 Molino Del Santo is a converted mill, located in the mountains, 12 km from Ronda. It offers free Wi-Fi, a heated outdoor pool and a restaurant with mountain views. Molino del Santo is a beautiful rural boutique hotel tucked away by a mountain stream near Ronda. Family-owned, it has been owned and managed by Andy Chapell and Pauline Elkin since its beginnings in 1987. Molino has won many awards over the years including "Best Countryside Hotel in Spain", "Most Romantic Hotel in Spain" and for the last five years has been the winner of Trip Advisor Awards.
Whether you are looking for a place for a romantic weekend away, a short relaxing in the gardens or by the pool, a week's walking or exploration of the stunning Grazalema Natural Park a place for a family holiday or to celebrate a special event, Molino del Santo is the ideal place to visit for your holiday in Southern Spain.
Many customers ask us how it all started. Molino del Santo was an olive and corn mill for 150 years. There were two stones to grind the corn, one is still preserved in the Molino hall. In addition, there were two stone wheels to use the power of the water from the river. These wheels were under what is now the terrace.
The corn was stored in the area where rooms 5 and 6 are now and passed to the mill below because of gravity. As you go up the stairs to the hall, there is a small room on the left. In the old days this was covered with a curtain so that it was not known to exist and is where the miller kept the corn he wanted to sell on the black market. Near the mill's chimney are the remains of the oven where bread was baked and sold in a shop where there is now a room.
Personal note:
We know original owners and originators of the project, Andy Chapell and Pauline Elkin, very well. We have been frequent diners there over the years. Whether in the summer outside on the shaded terrace or inside in the winter, the restaurant has been consistently in our top five in the area. Their vision and business strategy has produced what Molino del Santo is today. Since retirement in 2022, the hotel and restaurant are now in the hands of Argentinian Ricardo and his French wife. Most of the original staff remain and we are pleased to confirm that the restaurant continues to offer excellent food and quality wines. Molino del Simón, Benaojan Rural holiday home located in an old, restored flour mill, dating from the year 1779. This rural house is located in Estación de Benaoján, next to the Guadiaro River, in the heart of the Sierra de Grazalema Natural Park. It is possibly the quietest rural holiday home in the village.