Do you remember the song
'Help me, Rhonda'
, which
was a smash hit record by
The Beach Boys
in 1965?
Well, with a minor spelling change,
HELP ME RONDA
makes the perfect name for this new website about one of the most stunning, historic and emblematic towns in Andalucía, if not the whole of Spain .
A one-stop-shop for residents and visitors to the
Serrania de Ronda, HELP ME RONDA
has sections covering
services, shops, businesses, the police, transport, schools, the Press, places to stay, activities, food and drink, entertainment
, and
local politics
, as well as
articles,
answers to
FAQs,
a
blog
and a
photo gallery.Alongside the website,
there is a
Facebook group
and a
WhatsApp group.The Facebook group
is for notifications about new content on the website and other information of interest.
Advertisements are NOT permitted on the Facebook group.
We hope you will join. Current membership stands at 411 people from a range of nationalities [12/11/2023].
The group name is HELP ME RONDA.The WhatsApp group
's primary function is to provide a forum for questions, requests, pleas for and offers of help, plus information about professional services like legal, financial, tax, translation and interpreting, as well as tradespeople and so on.
The WhatsApp group does allow advertisements.
If you would like to join the group, please send your name and mobile number, using the CONTACT section of this website or by sending a WhatsApp message to Paul Whitelock at (+34) 636527516, and I'll add you to the group.
We hope that HELP ME RONDA
in all three if its guises meets your needs.
The
Places to Stay
section only lists recommended places. There is no booking facility, since this is more than adequately catered for by other websites, such as
www.rondatoday.com, www.secretserrania.com
and the big boys like
AirBnB, Booking
and
VRBO.
There is a
Places to Eat
section, which is based on our own experience of eating out in the area over 15 years. Most websites only list establishments that pay the website a fee. Our listings are
NOT
paid for, and are our own personal recommendations.
Currently we receive
no payment
for any basic listings on
Help Me Ronda
. They are simply our recommendations based on over 20 years' experience of visiting the area and being residents for 15 years. However, we do plan to offer
featured listings
with photos and text for a small annual fee.
Please note that HELP ME RONDA accepts no liability for its recommendations, which are given in good faith.
About the Owner
Paul Whitelock is a retired former languages teacher, school inspector and translator, who emigrated to the Serranía de Ronda in 2008, where he lives with his German wife. He spends his time between Montejaque and Ronda doing DIY, gardening and writing. He also dabbles in property development, property sales [
www.a1-inmobiliaria.com
] and manages his small portfolio of exclusive holiday rental properties. If you're stuck and need an interpreter or translator, he can help with that too.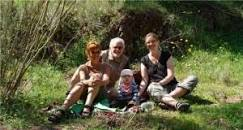 www.a1-holidays.net