Montejaque has a registered population of less than 1000. Of those approximately 40 are foreigners or guiris. Another 40 or so are property-owners in the village but live in other countries.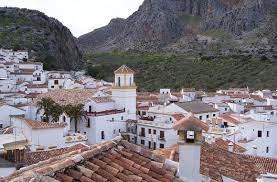 View of Montejaque from high up in the village [Photo courtesy Ayuntamiento}
Astonishingly, for such a small place, the range of nationalities represented is very wide, from Asia to Zimbabwe, from the European Union to North America, from Eastern Europe to New Zealand. Added to that, many Spanish who live and work elsewhere, eg in Málaga, Marbella, San Pedro and Sevilla, have holiday or inherited family homes here.
The property market is buoyant again post-economic crisis and post-pandemic, with between 40 and 50 properties having been bought and sold in the village in 2022 alone! There are two estate agencies with offices located in Montejaque and several others, including one independent, who are active in the area.
Back to the cosmopolitan nature of Montejaque. To this writers' knowledge the following nationalities are represented in the village: American, Canadian, Dutch, English, French, German, Gibraltarian, Hungarian, Irish, Italian, New Zealanders, Polish, Scottish, South African, Thai and Zimbabwean.
There are two American couples who have recently moved to Montejaque on a permanent basis. Karen and Larry are one pair. I haven't met the other yet. Apparently, our American cousins no longer want to live in a post-Trump USA.
A third couple, Paul and Dana from Texas, have a house here which is an official vivienda rural (holiday rental) until they eventually retire here.
Much-travelled Carolyn and Kevin are English-born but hold Canadian passports from the time they lived in North America. Their children and grandchildren still live in Canada.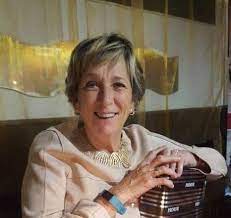 Carolyn Emmett, adopted montejaqueña
Carolyn and Kevin moved here to live in 2012, when Kevin retired from his job in South Africa.
Canadian Caroline L has lived in Spain, France, Italy and Spain again, for the last year or so in Montejaque. An engineer, she can work remotely. A natural linguist, she speaks English with a Canadian accent, Spanish, French and Italian.
Two Dutch couples bought property in the village in 2022 and a Dutch teacher, Erwin, in 2021. None live here permanently, although Anja and Ronald intend to move here permanently in a couple of years. Both can work from Spain; Anja intends to start a catering business and Ronald will continue to work as a truck driver.
Iwo and Katja are still relatively young and have their careers elsewhere, but they are often to be seen in the village.
The English are probably the most-represented nationality in Montejaque. The residents hail from places as far afield as Birmingham, Brighton, Cheshire, Derbyshire, Devon, Essex, Greater Manchester, Hastings, Liverpool, Portishead (Bristol), Stratford-on-Avon and Yorkshire.
Most guiris are retired but some dabble in property development, house sales, offer "fixing" and translation services or are engaged in tourism activities.
Jill, from Manchester, moved to Spain over 20 years ago. With husband Bill, they bought an ecological farm in Yunquera but decided to live in Montejaque. Sadly Bill died suddenly in 2009, but Jill continued to run the farm for several years. She has since sold it and recently has got together with an old friend, Scotsman John, a retired bobby, with a house in Montejaque who has now, despite some difficulties as a result of Brexit, achieved residency status.
Tony and Lynne from Hastings moved here just before the pandemic. They have two houses. They live in one and rent the other.
Steve and Rosie, from Lymm in Cheshire, had a holiday home here and got trapped here by the pandemic lockdown. They enjoyed life in Montejaque so much that they are now virtually full-time residents.
Mike and Chris sold their thriving restaurant and pub portfolio in Portishead and moved to Montejaque in 2022. They are early retirees who enjoy an active life hiking, running, skiing and so on. Mike is not so active at the moment, however, as he broke his shoulder whilst snowboarding in France earlier this year.
Steve and Margaret retired here some five years ago. They recently sold their original house in the village and bought another, higher up.
Another couple, who wish to remain anonymous, are still young enough to have to work. They have a rental property in Ronda, but live in Montejaque.
Early retirees Jane and Colin bought a lovely villa with pool and almond orchard at the entrance to the village. They have now clocked up seven or eight years as residents.
Other English residents are Fiona and Ray from Cheshire and June and her husband Ian from Derby.
Paul has been resident since 2008. He fell in love with a local German lady, emigrated soon afterwards, married his "girl" and the rest is history. Paul, a graduate in Spanish and former teacher and school inspector, offers a variety of services including translation, "fixing", home-finding and holiday accommodation. He also operates two websites: www.help-me-ronda.com and www.a1-holidays.net.
There are a couple of French property owners. Brigitte and husband Pedro own Casitas de la Sierra, a luxury "holiday resort" of nine houses round a swimming pool with private gardens. I haven't met the other French folk yet.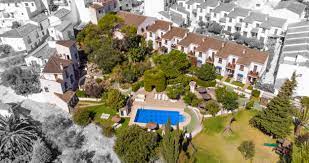 Aerial view of Casitas de la Sierra, Montejaque
The foreigner who has clocked up most years in Montejaque is octogenarian German, Elke. A pioneer property developer, back when Montejaque was in danger of dying, she bought, did up and and sold dozens of dilapidated properties in the upper Moorish part of the village. She retains a portfolio of rental properties in this part of the village.
There are other Germans too. For example, Rita, a retired intensive care nurse, came to Montejaque as a tourist 20 years ago from twin town Knittlingen, where hundreds of montejaqueños had gone to work in the 60s and 70s. She fell in love with the village and bought an old house on the second day of her visit!
She had it "reformed" and she moved in two years later. She still has the house, Casa Rita, which is now a luxury holiday rental, although she now lives in Ronda with her husband of 12 years, the afore-mentioned Paul.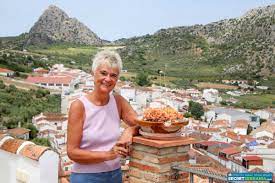 Rita poses on the roof terrace of Casa Rita [Photo courtesy Karl Smallman]
Isolde, another German immigrant, has lived in Spain for many years, at first on the coast in San Pedro de Alcántara and latterly in Montejaque.
Gibraltarian David and his English wife Sue alternate between the village and their home on the Rock.
There are two Hungarians, mother and daughter Judit and Krisztina from Budapest. They are currently renting an apartment in the village. Both teach English to Spanish adults and children and Judit organises lifestyle retreats.
The Irish have had a long tradition in the village. Longest serving is Pauline, married to a Spanish local for many years. Some Irish folk have moved back to Ireland because of old age and health issues. Another, Freida, moved away to Mallorca for several years but is now back in the area and living in Ronda. She is a trained TEFL teacher. Aisling and English partner Rick bought a house here in 2022, which they are currently doing up.
Two young Italians bought a house in the village last year. Manuela, a former CNN journalist, now a lifestyle coach, and husband Biagio, a chef, lived previously in Alicante but sought a quieter life in Andalucía, where they were based in Tarifa (Cádiz) before settling in Montejaque. Both are fluent Spanish speakers.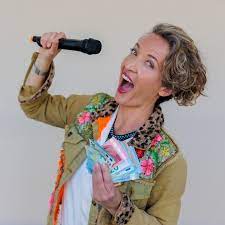 Manuela Lanza, from Italy, life coach [Photo courtesy LinkedIn]
Michael left South Africa aged 18 because he couldn't stand apartheid. After spells in the UK and the USA, he finally settled in Spain, where he has lived for over 30 years. Before moving to the mountains he lived in Estepona and Benahavis where he was a successful entrepreneur. After a spell living on his finca in Benaoján Michael is now settled in Montejaque. A fluent Spanish speaker he does a bit of house- and pet-sitting, although he's officially retired (he's nearly as old as I am!).
New Zealander Richard bought a house in Montejaque in 2022, with a view to moving here eventually. I haven't met Richard yet but we are firm Facebook friends and keep in touch regularly. From his photos on Facebook, he clearly likes a drink, so he should fit in very well!
My next-door neighbours are Polish. Robert and Edita bought the house at the beginning of 2022 and plan to move here eventually. They apparently have Polish friends who are also keen to invest in the village. Watch this space.
Scotsman George is married to Zimbabwean Jill. They have lived in Montejaque for donkey's years and enjoy the quiet, relaxed Andalucía lifestyle.
Non-residents who own property in Montejaque include Brenda and Jeremy (both retired educators); Patricia (painter) and Ian (retired civil engineer) from Nottinghamshire; Petronella and Frank from the Lake District; Erika (translator) and Michael (university professor), Kristel (writer) and Heino (artist), and Jason (antiquarian bookseller) and Anne (teacher) all from Berlin; Till also from Germany; Melanie (travel agent); Angie (record producer); Jutta (German artist); and Thai Miko and English husband Barry (retired).
A British lady from York has a small portfolio of property at the top of the village, two of which, Casa La Paloma and Casa Pinzón are holiday rentals. This lady is unable to live in Montejaque full time at the moment, but hopes to do so eventually.
Caroline H and Will have two houses in the village. Casa de la Roca is available to rent, Casa Rincón is for sale at a great price [STOP PRESS: Casa Rincón has been sold to an English couple, subject to contract].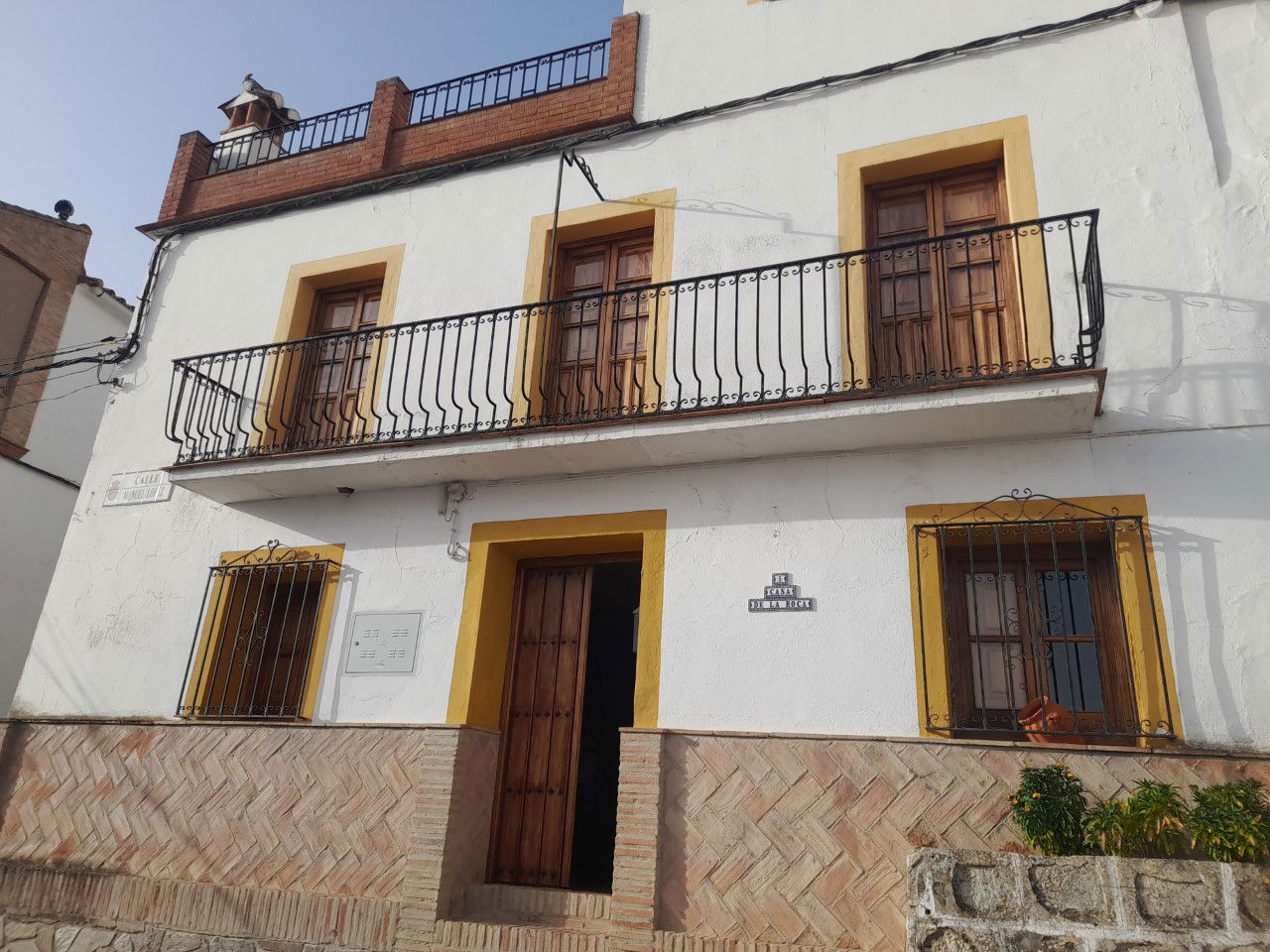 Casa de la Roca in Montejaque - available to rent [Photo courtesy A1 Photography]
Many of the guiris are active in the life of the village.
Carolyn, mentioned earlier, jointly compiled a bi-lingual recipe book with local Spanish friend Victoria, and Carolyn and Kevin both participate eagerly in local fiestas.
Steve, from Northern England, and Mike, from "dahn sarf", help to carry the Virgin on parades on religious days, eg Easter. Steve is also an occasional DJ at the Hotel Palacete de Mañara. These discos are popular with foreigners and locals alike.
There are several artists, two from Scotland, one from Nottinghamshire and a couple from Germany, all of whom just love the bright natural light of Andalucía.
Helen, a Scottish sculptress, donated the cabra montejaqueña, a goat made from scrap metal, which has pride of place in front of the Town Hall.
Another Scottish artist, who wishes to remain anonymous, is a property developer, who incorporates her artistic designs into the furniture and décor of her houses.
Patricia (Trish) has her landscapes and scenes of village life adorning many homes, including ours.
A few other foreign residents contribute to tourism in Montejaque by running holiday rental homes.
Others keep themselves to themselves and are enjoying their retirement.
Of the 40 permanent residents, perhaps half a dozen are fluent Spanish speakers. A good number of the others attend weekly classes in Spanish offered free-of-charge by the local council. The rest get by, one way or another.
So, Montejaque, cosmopolitan and international, yet small and beautiful and wonderfully traditional. If you haven't visited, please do so soon!
Note: Some names have been changed and all surnames have been omitted to protect the innocent or guilty.
A similar article first appeared in "El Hacho" magazine, August 2023, the bi-ennial publication of Montejaque.
Further reading:
What is a guiri? It's what the Spanish call us foreigners - but is it good or bad? (secretserrania.com)
Contacts
Private English classes:
Krisztina Duró – (+36) 70 672 0222
Freida Maybury – (+34) 634 33 01 51
Judit Stráma – (+36) 70 882 9498
Translators and Interpreters, "Fixers":
A1 Translations – (+34) 636 52 75 16
Julie Wilkinson (Cortes de la Frontera) – (+34) 744 60 65 03 (English, Spanish)
Estate agencies:
A1 Inmobiliaria, Montejaque – Paul on (+34) 636 52 75 16 (English, French, German, Spanish)
Andalucia Country Houses – Karen, Don or Mónica on (+34) 711 00 83 42 (English, Spanish)
Andalucia Inland Properties – Geoffrey on (+34) 666 30 28 43 (English, Spanish)
Atica Inmobiliaria, Ronda – David on (+34) 627 77 93 75 (Spanish)
Montejaque Holiday & Service SL – Cristóbal or Isa on (+34) 670 71 85 93 (English, Spanish)
Holiday accommodation:
Casa Montejaque - Paul on (+34) 636 52 75 16 (English, French, German, Spanish)
Casa La Paloma – (+44) 7769 885996 (English, French, German, Spanish)
Casa Pinzón - (+44) 7769 885996 (English, French, German, Spanish)
Casa Rita - Paul on (+34) 636 52 75 16 (English, French, German, Spanish)
Casa de la Roca - (+34) 636 52 75 16 (English, French, German, Spanish)
Casitas de la Sierra – Pedro on (+34) 670 81 07 40 (English, French, Spanish)
Websites:
www.andalucia-country-houses.com
www.andaluciainlandproperties.com