We've all heard of the famous caves at Altamira in Cantabria, the Caves of Drach on Mallorca and the Nerja Caves on the eastern Costa del Sol. But what about the caves in the northern Serrania de Ronda?
Benaojan offers two caves: Cueva del Gato and Cueva de la Pileta. Montejaque has la Cueva del Hundidero and Setenil de las Bodegas has its famous cave dwellings and bars.
Let's have a look at the three near Ronda. Setenil is in Cadiz province and not part of the Serrania de Ronda.
Cueva del Hundidero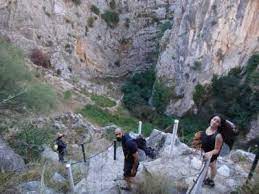 The Hundidero cave, its opening deep down a newly made path, or should I say stairway, has a river running through it which emerges at la Cueva del Gato, way below on the road to Benaojan.
The entrance to the Hundidero is spectacular, although the visitor may not proceed into the cave. It's way too dangerous. There are guided "tours" however, details of which are available online.
The way through eventually emerges at Cueva del Gato.
Cueva del Gato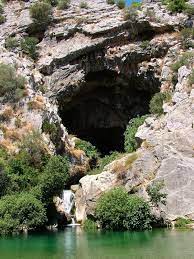 At this site, the river exits the cave and merges with the river Guadiaro. There is a small pebble beach here and plenty of space, which makes the site very popular with families, for bathing and picnics. There are three restaurants nearby. The car park above is now a paying one with a barrier, but it costs only one euro.
Cueva de la Pileta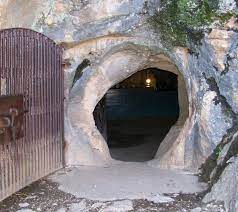 This series of linked caves, discovered by accident by Jose Bullon Lobato in 1905, is open to the public to visit, with a guide. Ours was Tomas, the great, great grandson of Jose.
The cave is stunning with fantastic formations of stalactites and stalagmites, small lakes and open caverns.. An estimated 18,000 bats live here, although we only saw a handful when we visited.
I have been to the Nerja Caves and the Caves of Drach, but Cueva de la Pileta is the best, in my opinion. Not at all commercialised or re/constructed. It is as it always was.
Tours cost 10 euros for adults and last around two hours.
© Paul Whitelock