By Paul Whitelock

Friday, June 16, 2023

I've been to Cádiz city six times. The first time was in 2000 when my (first) wife Jeryl and I went there as part of our silver wedding anniversary tour of Andalucia. The following year we went again with our son Tom and stayed at the Parador de Turismo.
Four years later, following divorce from Jeryl, I stayed at the Parador a second time with my new girlfriend Maude.
In 2011, I visited Cádiz with my stepson Johannes and his girlfriend Tiina (I had remarried in 2010 to German Rita).
Then, a bit of a gap to 2020 when Rita and I spent two nights there – and caught Covid-19!
We've just visited again with my brother Simon and wife Marilyn, staying for one night.

Cádiz (Courtesy Civitatis)
I always liked Cádiz, but each visit was somehow better. This tiny city on a slim peninsula jutting out into the Atlantic Ocean has a completely different atmosphere to any of the other Andalusian capital cities. Even the two other coastal cities, Málaga and Almeria, are not at all like Cádiz.
The other provincial capitals, Granada, Sevilla, Cordoba, Jaen and Huelva are all fabulous in their different ways, but not like Cádiz.
Cádiz - 2000
Back to that first visit. In our 25 years of marriage we had visited Spain most years and had been pretty much everywhere. The only gaps were Andalucia and Galicia. So off we flew to Málaga for a week of celebration touring the region and staying in Paradores de Turismo.
We hired a car and drove first to Marbella for breakfast in the Old Part. Then we picked our way along this part of the Costa del Sol and wound our way up the mountain to Ronda, where we had a room in the stunning modern Parador overlooking the Valley of the Tajo.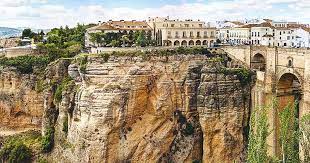 Ronda
Two nights in this wonderful town, which a few years later was to become my home, and we set off via Montejaque and Grazalema to Arcos de la Frontera for two nights in the stunning Parador at the highest point of the town.
Then to Cádiz for one night followed by Cordoba for one night and a lunchbreak and a swim in Antequera before our final night in the exquisite Parador de Gibralfaro, overlooking the Mediterranean Sea, and one of two Paradores in Malaga city.
Cádiz - 2001
The following year, 2001, we returned with son Tom to the Parador in Cádiz. We liked the feel of the city, despite it being quite shabby and down on its luck back then.

Cádiz at sunset
Cádiz - 2005
Fours later Jeryl and I had divorced. I came to Cádiz with my new lady, Maude. I had invited her to Ronda, where by then I owned two properties, a modern apartment in a community with a pool and a house that I had "done up"; Piso Blanco and Casa Blanca.
Maude had also bought a small house in the town during our first visit together the year before. We toured around, did the Costa de la Luz and spent one night in the Parador in Cádiz. I still liked it.
The relationship with Maude didn't last much longer, and I spent a few years in romantic exile until, after a short-lived "liaison" in Luxembourg, I fetched up in Ronda for the September Feria and met Rita from Germany who had lived in Montejaque near Ronda for a couple of years, following her divorce. It was 2008.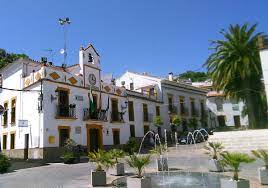 Montejaque (Photo by author)
Within three months I had emigrated to live with Rita in Montejaque, and in 2010 we married in Maulbronn Abbey, Baden-Wuerttemberg, Germany.
Cádiz - 2011
In 2011 Rita flew to Germany to assist at the birth of a grandchild. Rita's son Johannes and girlfriend Tiina were staying with us during that time and for my birthday that year we went on a road trip along the Costa de la Luz to Cádiz. We took in Tarifa, Bolonia, Baelo Claudio and Vejer de la Frontera, before ending up in Cádiz. We played on the beach, then hunted for, and found, a vegan restaurant (my co-travellers are both vegans). Neither of them could drive, so I celebrated my first alcohol-free birthday, since I was 18 - 43 years previously.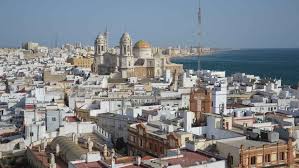 Cádiz
Cádiz - 2020
After a gap of nearly a decade, in 2020 Rita and I spent two nights in Cádiz at the end of December, following a difficult couple of years trying to avoid contracting Covid-19. We had fun, ate well, drank well, bought well, and then ….. we both caught Covid!
Rita very badly. After a horrendous spell in hospital in Ronda, she was whisked off by family to Germany for better care. She was away for three months, but came back to me, pretty much fully recovered.
Cádiz - 2023
In June 2023 my brother Simon and his wife Marilyn came to visit for the first time in five years and we took them to Tarifa, then the beach at El Varedero before landing in Cádiz, all new to them.
We dined at La Candela restaurant in the Old Part, which was amazing.
After a good night's sleep at Dormir en Cádiz , we visited the Cámara Oscura and the Cathedral before heading off to Arcos de la Frontera and a late lunch, before heading for Ronda and home.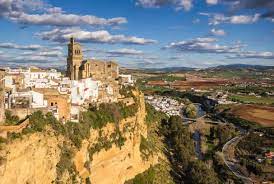 Arcos de la Frontera (Photo courtesy Turismo de Andalucia)
Three of us were ill that night with a bug, so we took it easy on the penultimate day of their visit. After a farewell dinner at one of our favourite restaurants, La Cascada at Hotel Molino del Puente, we turned in early prior to going back to the airport, where we had time for a snack in one of the great chiringuitos on the beach east of Fuengirola near the airport.
Cádiz - definitely in my top three Andalusian cities, alongside Córdoba and Ciudad Soñada (Ronda).
Note:
a similar article is also here:
Cádiz -¡Que maravilla! (eyeonspain.com)
Further reading:
Andalucía's 3 C's: Cádiz, Córdoba, Ciudad Soñada (secretserrania.com)
Unsung cities: Cadiz - a light less ordinary | City breaks | The Guardian
El diario británico 'The Sun' recomienda visitar Cádiz por su gastronomía y su "ambiente diferente" (lavozdelsur.es)