Please go to REVIEWS for Music, Theatre and other reviews and critiques
www.help-me-ronda.com/articles/reviews


LIVE SPORT on TV
BAR ALEGRIA, C/Infantes 35, Ronda
HOTEL RONDA VALLEY, Carretera de Sevilla, km 26, Ronda
Recent reviews
Go to REVIEWS to read an appreciation of:


1. Charity concert by profesores y profesores del Conservatorio Superior de Música Ramón Corrales de Ronda (pending)


2. Muestras 2023 Repertorio performed by drama students from Proyecto Platea, Ronda
3. The recent DULCISONA concert of a cappella music of the Renaissance in Ronda
REVIEWS - Help me, Ronda (help-me-ronda.com)
***
JUNE 2023
Del 29 de mayo al 2 de junio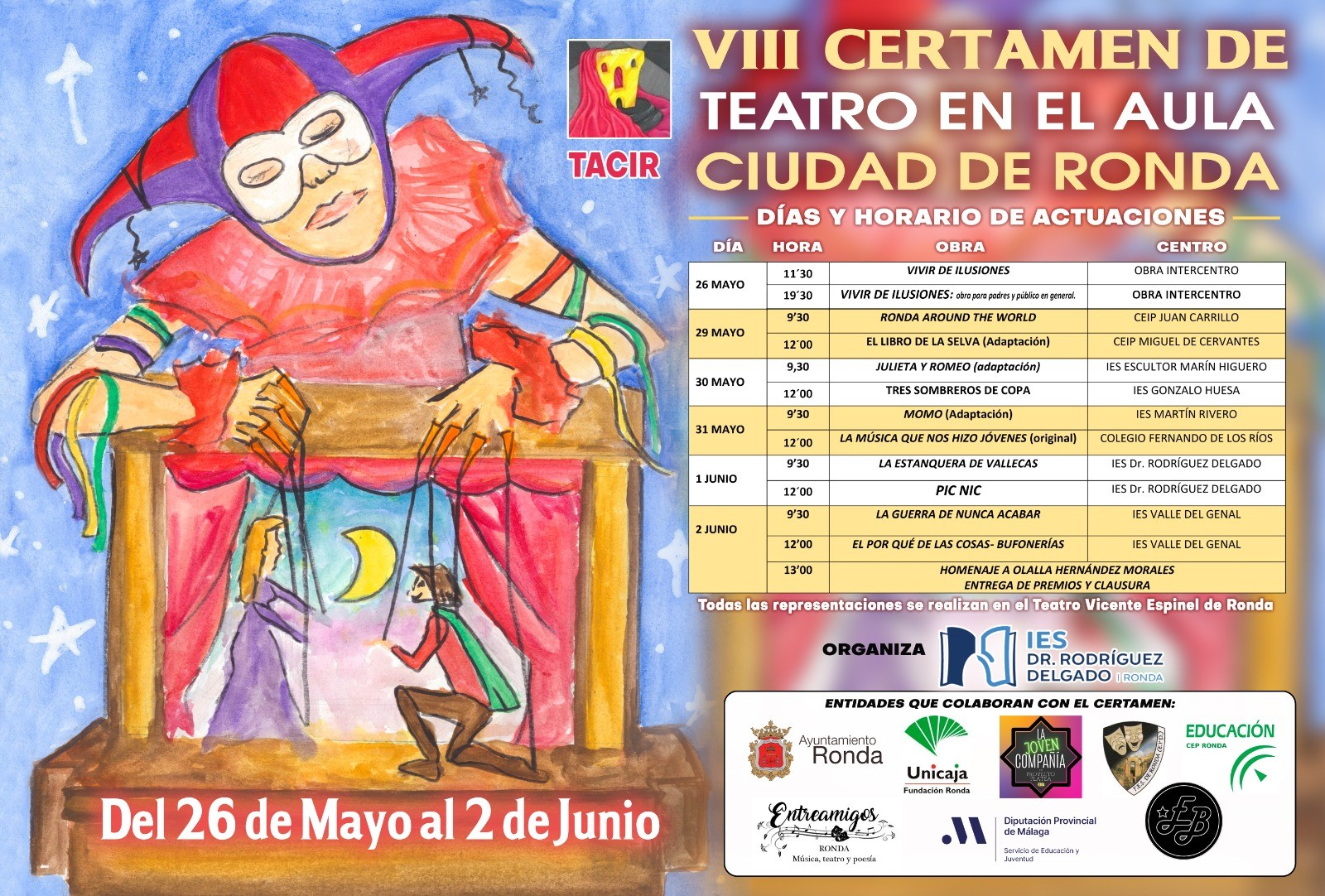 El VIII Certamen de Teatro en el Aula Ciudad de Ronda presenta esta semana diferentes propuestas realizadas por el alumnado de distintos centros educativos.
Teatro Vicente Espinel
Horario: 9:30 y 12:00 horas
Entrada libre hasta completar aforo
Organiza: IES Rodríguez Delgado.
Colaboran: Asociación Entreamigos, la Joven compañía, TES de Ronda, Entre bambalinas, CEP de Ronda, Diputación de Málaga, Fundación Unicaja Ronda y Delegación de Cultura.
***
Viernes, 2 de junio


XXVII Concurso Nacional de Cante y Baile Aniya la Gitana
Lugar: Peña Flamenca de Ronda. C/ Dolores Ibárruri.
Hora: 21:00. Entrada libre.
Organiza: Peña Flamenca de Ronda
***
2, 3, 4 June
Art Gaucín
Open Studios 2023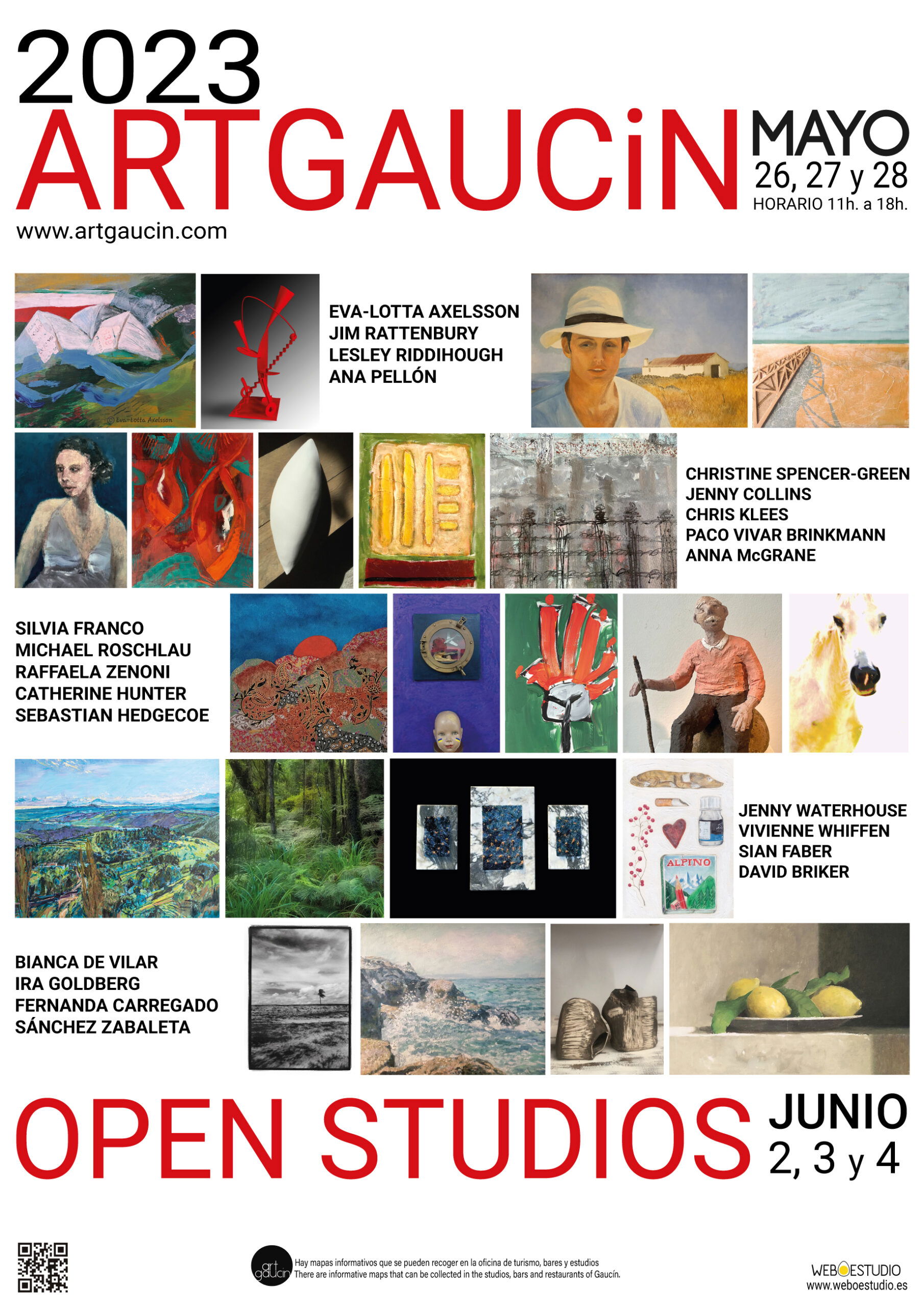 The stunning white villages of Andalucia have inspired artists for centuries. Gaucín, perched on the balcony of the Serranía de Ronda, is steeped in history and charm, making it one of the region's most enchanting destinations.
A picturesque little village in Málaga Province, Gaucín overlooks the spectacular valley of the Genal River and has views stretching across the sea to Africa. Hidden among its white, flower-filled streets are the studios of more than twenty artists of all disciplines.
Our group, Art Gaucín, has grown over the past couple of decades and now represents more than 20 Spanish and foreign artists including painters, sculptors, printers, photographers and ceramicists.
Several of our founding members are still working here in Gaucín; Juan Antonio Sangil, Ana Pellón, Jim Rattenbury, Anna McGrane and Jennifer Waterhouse were among those who took part in our first group show in 2002. Sadly, Bayard Osborn, the American painter and sculptor who was one of our founding members, passed away; other members such as print-maker Brenda Hartill and painter Victoria Orr-Ewing, have left Spain.
Every year, during the last two weekends of May, we open our studios to visitors to show our latest work. You can also contact us directly and visit our studios by appointment.
We invite you to come to Gaucín and visit the sculptors, painters, photographers and printmakers who live and work here; we promise you a unique and unforgettable experience.
FOR MORE INFORMATION, visit www.artgaucin.com
Further press coverage here: Gaucín opens its studios for art lovers | Sur in English
***
Sábado, 3 de junio
Genalguacil - El pueblo museo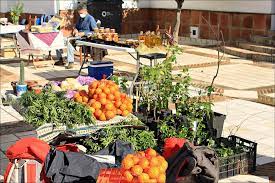 Mercado artesanal
12.00 - 18.00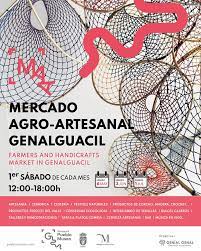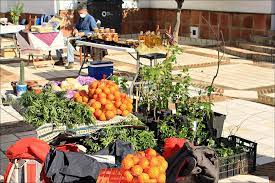 ***
6 June 2023
Give blood in BENAOJAN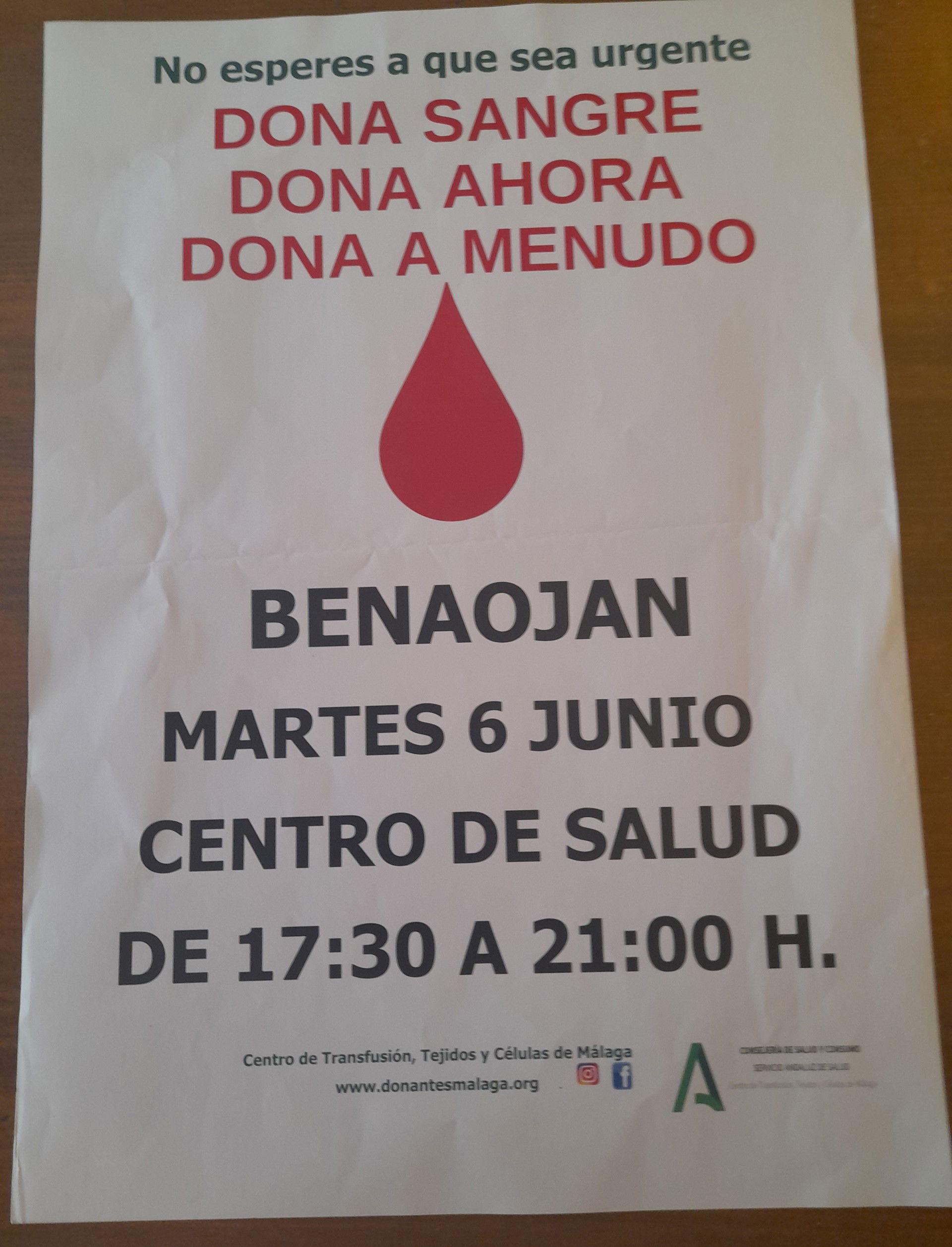 ***
6 – 10 June 2023

RONDA INTERNATIONAL GUITAR FESTIVAL
Convento de Santo Domingo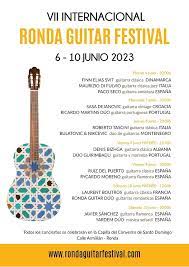 ***
9 y 10 Junio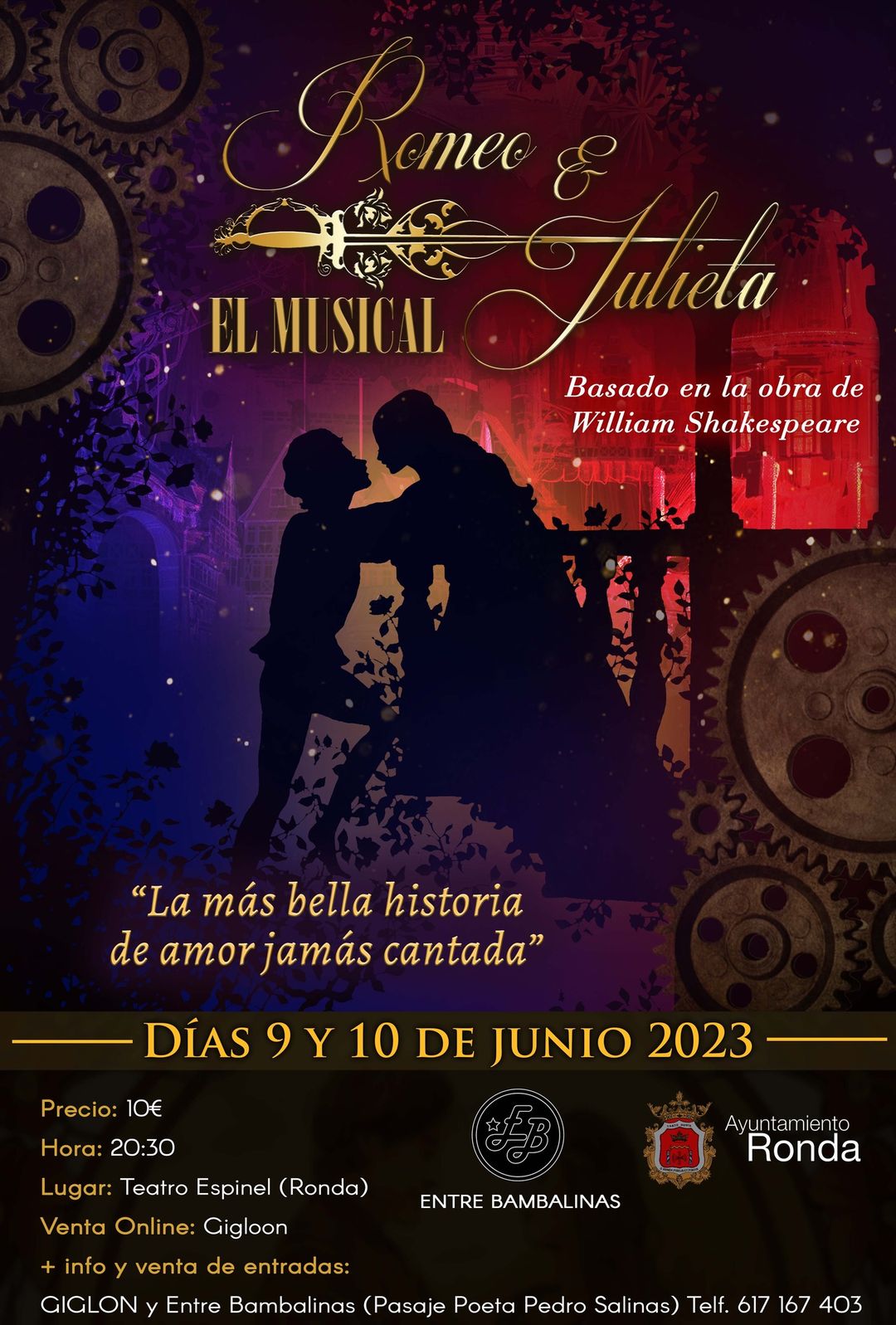 ROMEO Y JULIETA, el Musical
¿Te lo vas a perder?

20:30

Teatro Vicente Espinel, Ronda
Entradas en Entre Bambalinas o
***
Saturday 10 June
Serrania Book Buddies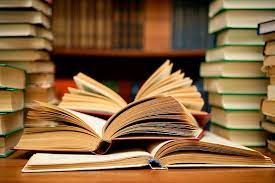 Photo: courtesy of Wikipedia
Hotel Palacete de Mañara, Montejaque
11.00 am
"The Tomb in Seville" by Norman Lewis


***
Viernes, 16 de junio
Recuerdas de una vida
Concierto en homenaje a la Guitarra Clásica Española. Tributo a Ángel G. Piñero.
Artistas: Luca Romanelli y cuarteto Álvarez Beigbeder
Lugar: Bodega Descalzos Viejos.
Hora: 21:00
Entrada: 15 € a la venta en www.wegow.com. La recaudación se destinará a familias en situación de extrema vulnerabilidad atendidas por Cruz Roja Ronda.
Organiza: Centro Cultural Generación del 27.
La entrada a los dos conciertos del 16 y 17 de junio son 20 €.
Colaboran: Delegación de Cultura, bodega Descalzos Viejos y Cruz Roja Ronda.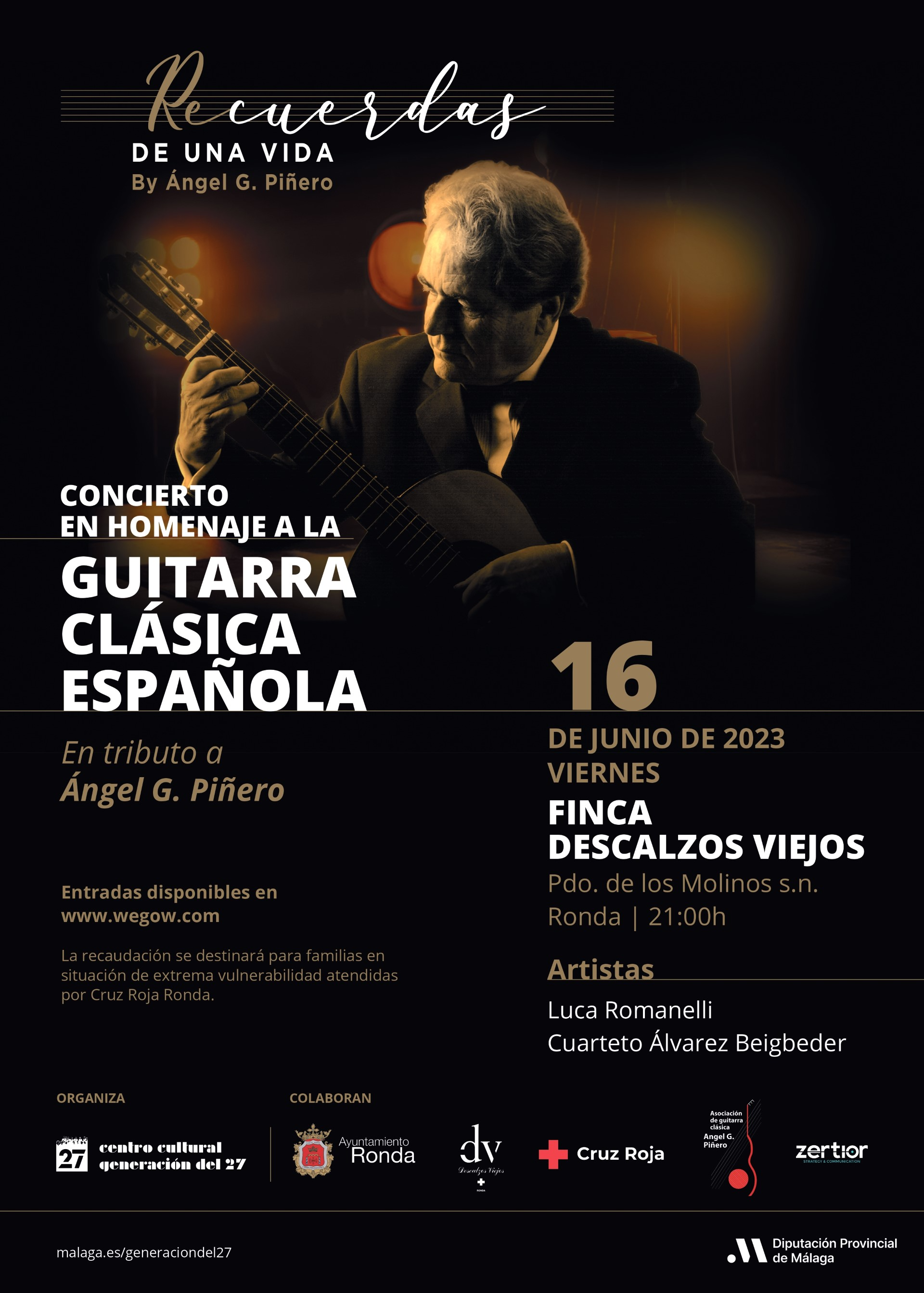 ***
17 JUNE 2023

***
JULY 2023
27 - 30 July 2023
PUEBLOS BLANCOS MUSIC FESTIVAL
Montejaque, Grazalema, Villaluenga del Rosario and Ronda
Awaiting poster
AUGUST 2023
Village ferias throughout the area
Awaiting further information
Tuesday 15 August
Assumption of the Virgin
***
SEPTEMBER 2023
1 September 2023 Local Festival
8 - 10 September 2023 FERIA DE PEDRO ROMERO
Ronda
(Awaiting programme)
8 - 10 September 2023
Montejaque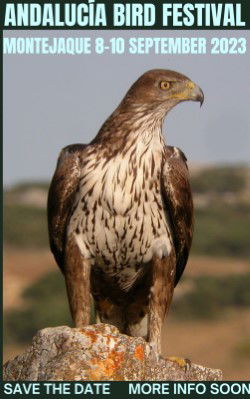 OCTOBER 2023
Thursday 12 October 2023
Fiesta Nacional de España
NOVEMBER 2023
Wednesday 1 November All Saints Day
Thursday 2 November All Souls' Day (Dia de los Difuntos)
DECEMBER 2023
Wednesday 6 December Constitution Day
Thursday 7 December
Puente
Friday 8 December 2023 Immaculate Conception


Monday 25 December Christmas Day


Sunday 31 December New Year's Eve
JANUARY 2024
1 January 2024 New Year's Day


6 January 2024 Reyes/Epiphany