Reviews of cultural events in the area. Theatre, musical events, festivals, ferias, books, films and other events and activities.
Monday 25 September 2023
The OLIVE PRESS newspaper launches German edition

By Paul Whitelock

The OLIVE PRESS newspaper has just launched a German edition to sit alongside its five English language editions covering Andalucía, Gibraltar, Costa Blanca South, Costa Blanca North and the Balearic Islands.

History of the Olive Press
The free fortnightly paper was first published back in 2006. I remember picking up a copy at Granada airport around that time. I was so impressed with this alternative to the, back then, somewhat dull SUR in English and the sensationalist trash that was and still is, The Euro Weekly News.
When I emigrated in 2008, I propositioned Olive Press editor Jon Clarke for a job. We met, and although I'm not a trained journalist, I know how to write and had experience of publishing in-house journals and newsletters, as well as educational manuals in my last job, before I retired.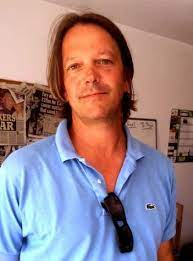 Jon Clarke, publisher of The Olive Press
Clarke, a former Daily Mail journalist who had moved to live in Spain, took me on and gave me my first assignment - to write a review of the bars in the Barrio San Francisco in Ronda for a supplement about the Serrania town.
I did that and got quite a few adverts from the bars around the square in the barrio.
Jon seemed pleased, so he took me on. I worked part-time for the paper for the best part of a year, selling advertising space on a commission basis, and writing articles in my spare time.
15 years on, I still write on an ad hoc basis for several websites, newspapers and magazines and occasionally as a guest writer for the Olive Press.
Olive Press Alemán – the German edition
I've just finished reading the very first German edition. It's good. Many articles are translations of items in the English editions, but not all. I happen to be a fluent German speaker and I can assure potential readers that the German versions are genuine and done by native German speakers.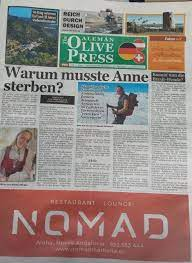 In the first edition, which like its English cousins, is available in the usual outlets, there is a particularly impressive article about Federico García Lorca, the homosexual poet and playwright murdered in 1936 by General Franco's henchmen in Fuente Vaqueros (Granada). Lorca's remains have still not been found.
Olive Press publisher Jon Clarke was approached by a group of German readers suggesting he start a German edition.
"They insisted that while [many] Germans can speak English and read it, they are so much happier doing so in their own language," Clarke explained.
"In the end, a German edition was a no brainer," he added.
The Olive Press Alemán involves teams in Berlin and Hamburg working together with journalists based in the Marbella area.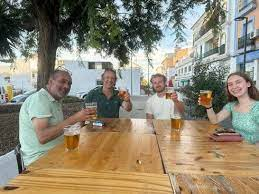 The Olive Press Aleman team with publisher Jon Clarke (2nd from left)
A key player in the development of this new edition is Elsa Ibáñez, half Spanish, half German, who acts as the "middlewoman".
Clarke concluded: "The paper looks great, even if I can't understand it!"
I agree. It does look great and is a very welcome addition to the free paper scene here in southern Spain.
© Paul Whitelock
Tags: Barrio San Francisco, Berlin, Elsa Ibáñez, Euro Weekly News, Hamburg, Jon Clarke, Marbella, Olive Press, Olive Press Alemán, Pablo de Ronda, Ronda, Sur in English
***
Wednesday 20 September 2023
Reseña de un nuevo libro concebido y nacido en Ronda: "Yo soy teatro"
Review by The Culture Vulture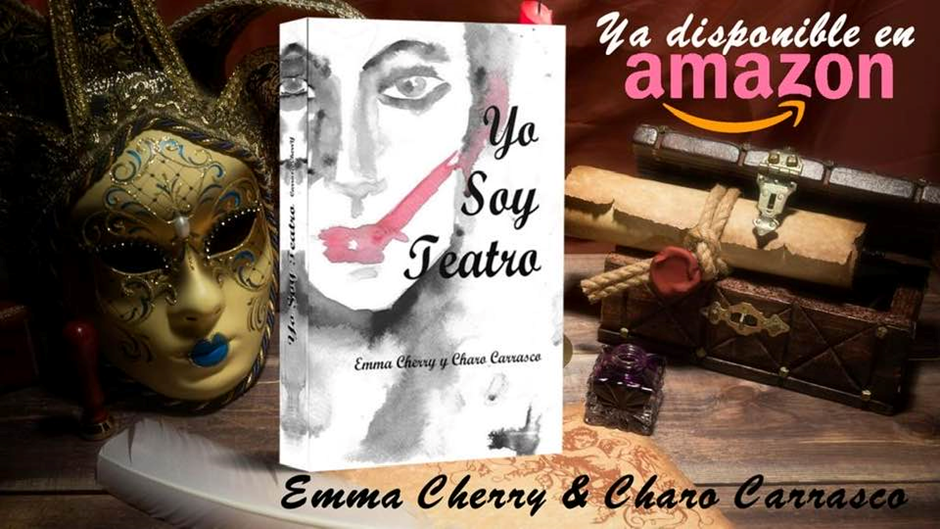 Yo conocí a Charo Carrasco y a Emma Cherry cuando empecé a asistir a un curso teatral en Ronda durante la pandemia de Coronavirus. El curso se realizó en la Pequeña Compañía de Proyecto Platea bajo la dirección de actor profesional rondeño Marcos Marcell.
Emma, inglesa y también actor profesional, y su buena amiga Charo, mujer de negocios de Ronda, colaboran durante un par de años en escribir obras de teatro. Una de las primeras, "Novias", vi yo tres veces en dos años en tres distintos espacios: en el Convento de Ronda, al aire libre en Atajate y en el Pequeño Teatro de Proyecto Platea de Ronda. Es una obra muy entretenida con música y humor.
Ahora acaban de publicar estas amantes del teatro un libro, "Yo soy teatro", que es una antología de obras de pequeño, mediano y gran formato que han escrito juntas estas dos mujeres talentadas. Emma y Charo son dos mujeres independientes con el deseo de contar historias en la que sus personajes siempre tienen algo que decir.
Según Charo Carrasco: "Tras más de cinco años de colaboración, mi compañera Emma Cherry y yo presentamos esta recopilación de algunas de las obras de teatro que hemos escrito juntas.
"Con toda la ilusión del mundo y recién salida del horno, este libro representa la pasión, el esfuerzo, el amor y nuestra pasión infinita por el teatro."
"Yo soy Teatro" está disponible ya en AMAZON.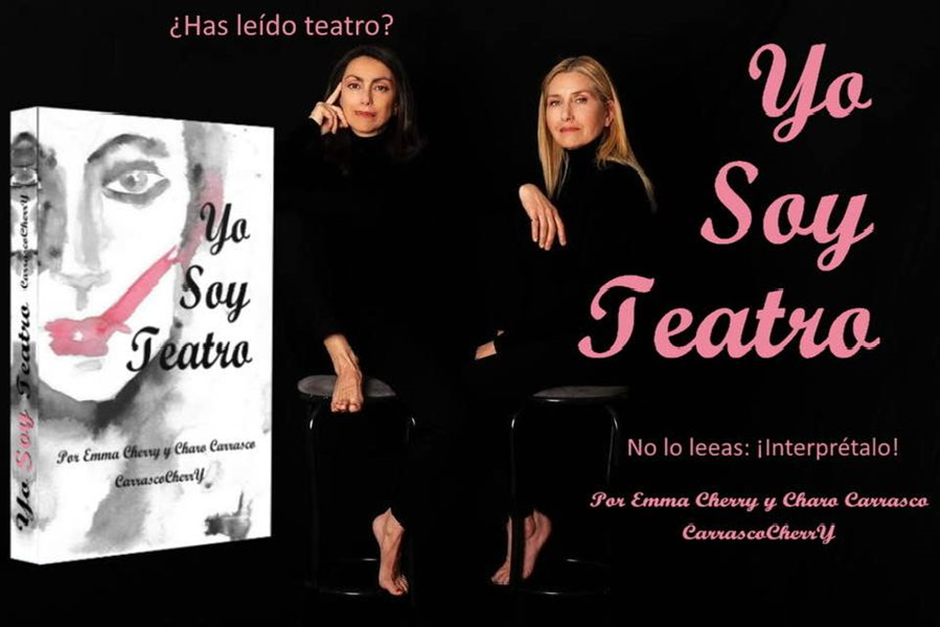 Otros comentarios:
"Mis queridas Charo Carrasco García y Emma Cherry Rolf acaban de estrenar su primera obra. Si sois amantes del teatro no os la podéis perder y si nunca habéis leído teatro tampoco porque descubriréis un mundo maravilloso. ¡¡Yo ya tengo la mía!!
"Estoy orgullosa de vosotras, chicas."
Jose Antonio Rios:
"Maravilla teatral. Una visión de futuro a las artes escénicas.
"Quizás no sea nuevo pensar en una antología de microteatros, pero sí muy novedosa la apuesta de estas dos actrices en la escena literaria.
"Son obras inclusivas, desde punto de vista humano y personal. A través de sus microteatros y sus personajes, estas actrices, ahora en el papel de dos escritoras independientes, nos muestran una visión de la vida y las relaciones humanas muy especial. Personajes, cada uno con su complejidad e historia y que conviven armónicamente en esta antología preciosa, lista para disfrutar e interpretar. "Ahora, YO también SOY TEATRO, gracias a ellas. Felicidades por esta apuesta y por mostrarnos vuestro arte convertido en un libro. What's next?"
Emma Cherry Rolf:
"¡Número uno en nuestra categoría!
"¡Inesperado y muy agradecido!
"¡Gracias a todos!
***
Saturday 10 June 2023
Live music at ALLIOLI BAR Y MAS
Estacion de Jimera de Libar
Review by The Culture Vulture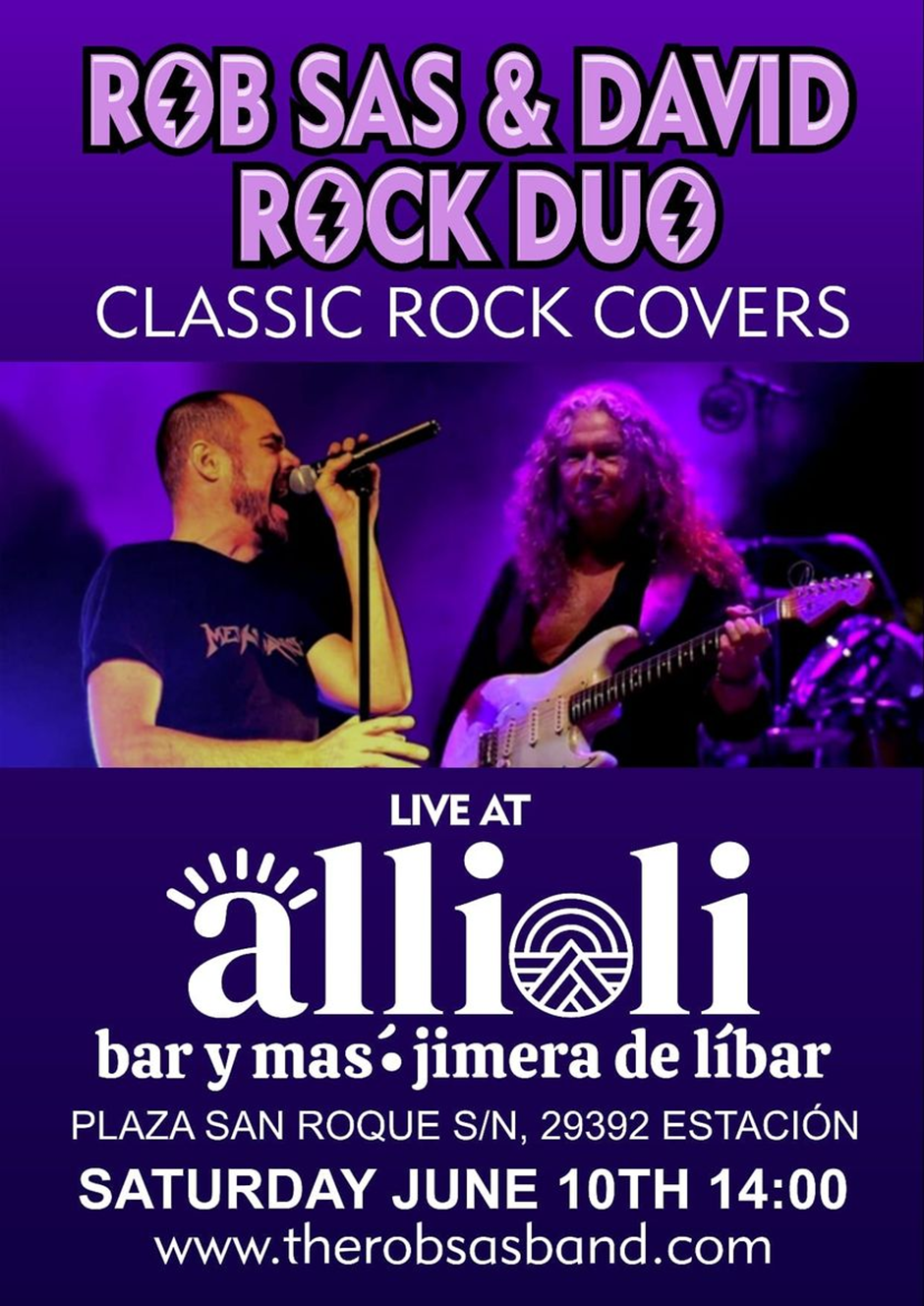 What a great afternoon of singing and guitar-playing! With classic rock numbers from Deep Purple, Jimi Hendrix, Led Zeppelin and many more iconic bands, Rob Sas, originally from London, and David from here in Andalucía treated us to an afternoon of thrilling, loud rock.
The mainly Spanish audience, with a couple of Scots, an Irish lady and five and a half English mixed in, enjoyed their afternoon in the Plaza San Roque in Estacion de Jimera de Libar, partaking of the food and drink on offer at Allioli Bar Y Mas.
Two of the English present were here on holiday from near Bristol, UK. They were astonished at the quality of live music on offer in this tiny mountain village. And all for free!
***
Saturday 17 June
GUITAR FESTIVAL TRIUMPH
Roberto and Can "can" ... play guitar, that is!
Friday 9 June 2023
By The Culture Vulture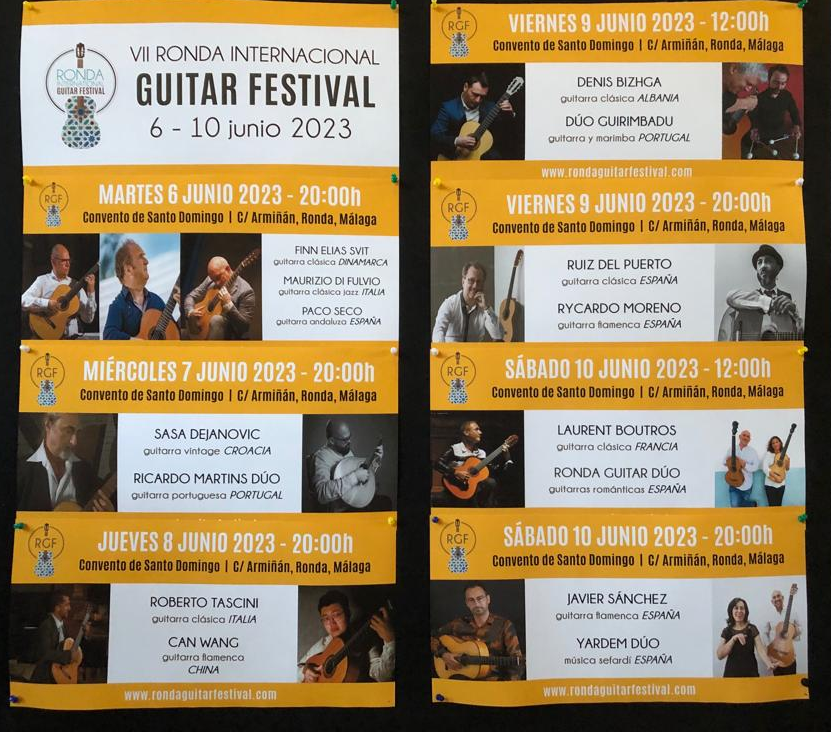 The VII edition of the Ronda International Guitar Festival in 2023 has demonstrated once again the increasing prestige of this event. Guitarists from nine countries are taking part this year and audiences have been composed of music lovers from at least that many countries.
Organised by celebrated local guitarist Paco Seco and his English wife Lucy, this is a class act in a class environment, the chapel of the San Domingo Convent by the Puente Nuevo in the City of Dreams.
We attended on Thursday night and were treated to an evening of contrasting styles.
First, we heard Italian Roberto Tascini play works by famous Spanish composers Joaquín Rodrigo and Federico Torroba.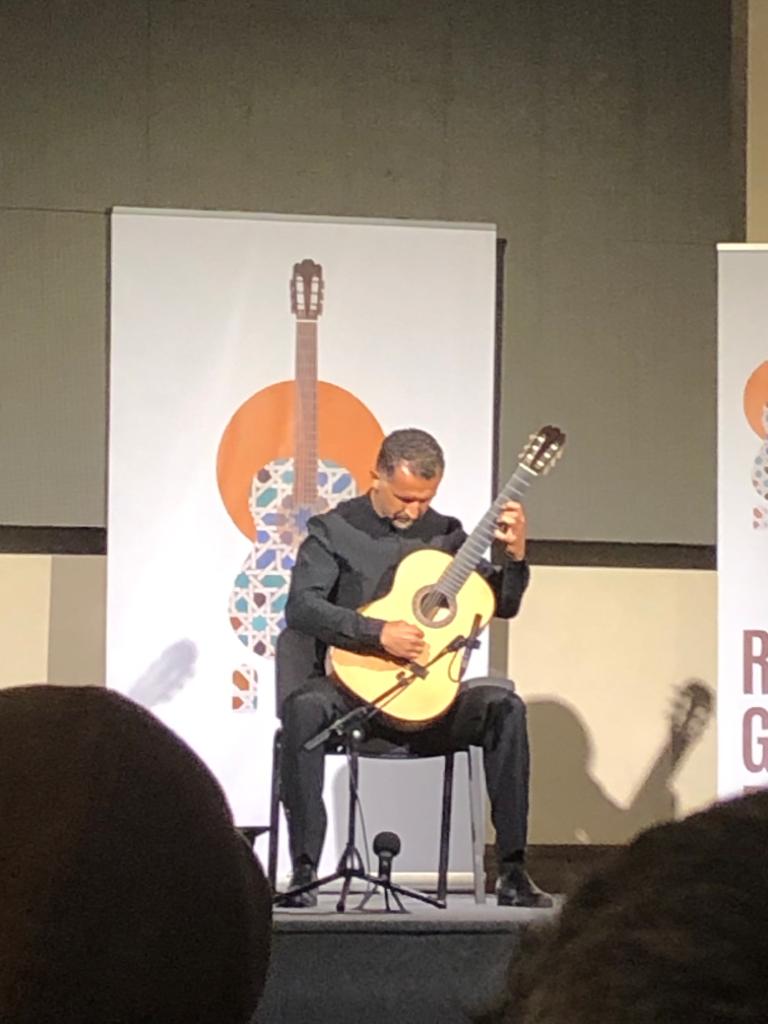 Rodrigo composed guitar works dedicated to places (eg his famous Concierto de Aranjuez). On this night Roberto Tascini played lesser-known pieces but with great skill and precision. A delight for this lover of Spanish classical guitar music.
Torroba was an important contributor to the classical guitar genre. His Castillos de España ("Castles of Spain") is a good example. Roberto played nine of the 15 short pieces that make up this work. An absolute treat.
In contrast, Can Wong played flamenco style. All his pieces he had composed himself, from his opener Infancia (Childhood) to a more dramatic granadino. Can's style was flamboyant and he smiled a lot while he was playing. The audience loved this fluent Spanish and English-speaking flamenco guitarist from China. Amazing.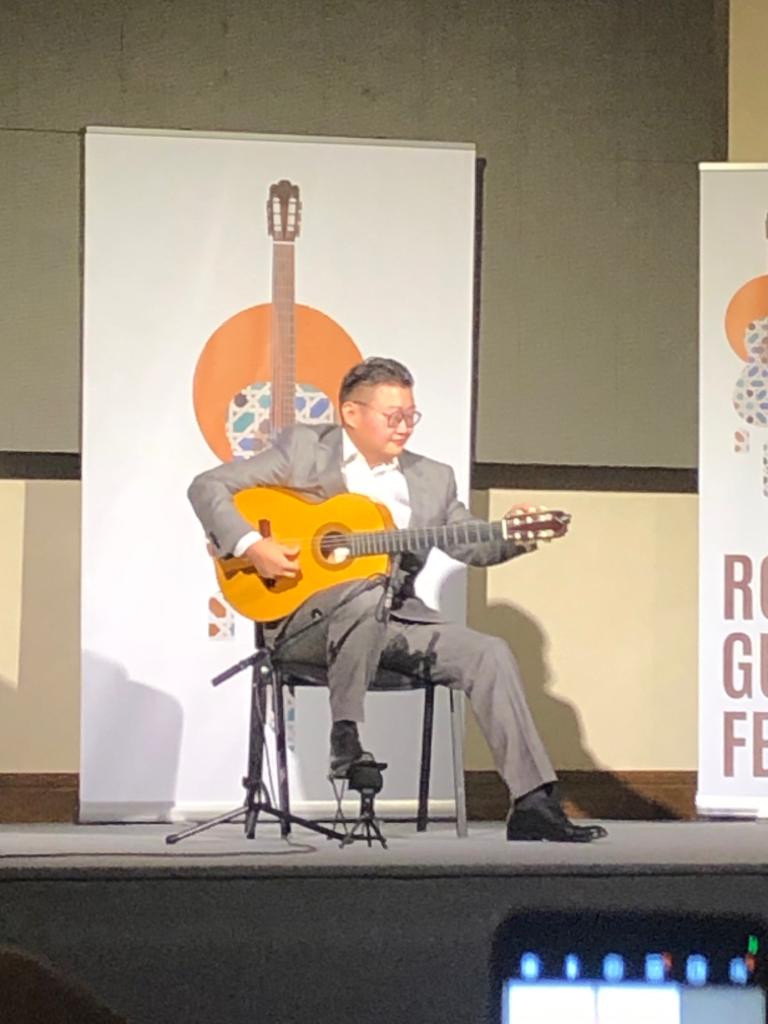 The 100+ spectators thoroughly enjoyed this 90 minutes of beautiful music in the stunning surroundings of the old Convent chapel and many lingered long after the concert to talk with the protagonists.
There are still two matinées and two evening performances to go and tickets are still available, either in advance online, at the Tourist Office or on the door. Well worth it!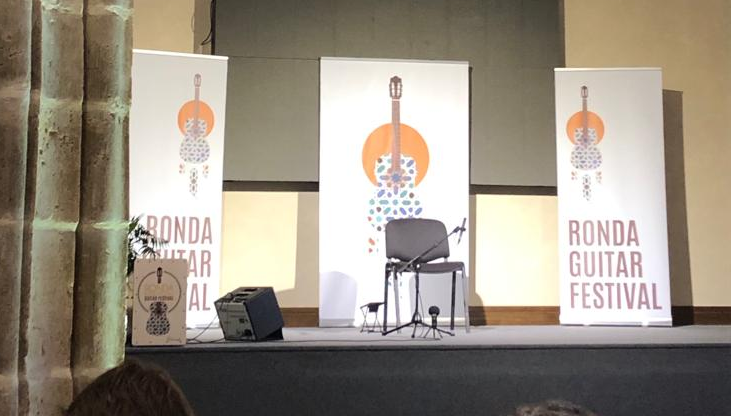 Photos by Simon L Whitelock and Marilyn Whitelock
© The Culture Vulture
***
CHARITY CONCERT BY TEACHERS OF THE CONSERVATORIO SUPERIOR "RAMON CORRALES" IN RONDA
Apparently they do this every year. The teachers at the prestigious Conservatorio Superior "Ramon Corrales" present a concert in aid of charity.
For 5€ a head we were treated to nearly two hours of outstanding playing.
Not all the music was to our taste, because some instruments are tricky on their own and are hard on the ear. For example the tuba and the bassoon.
But the standard of musicianship was outstanding, as you would expect.
Some of the later groupings, eg trios, quartets and larger ensembles were easier to enjoy.
Towards the end there were three vocal offerings, namely "Memories" from the musical "Cats" by Andrew Lloyd Webber, "Unforgettable" by Irving Gordon, and "My Way", credited to Frank Sinatra, when it was, in fact composed and sung in French by Charles 'Asnovoice (Aznavour).
Along with some 350 others, we had an enjoyable evening.
We went on to have a delicious light meal at one of our favourite restaurants, "Las Maravillas" on Calle La Bola.
Note:
The music was composed by Charles Aznavour, Johannes Brahms, Alvaro Cemera, Martial Ertel, Irving Gordon, Joe Hisaishi, B Marcello, B Martine, F K Mertz, Maurice Ravel, Andrew Lloyd Webber.
The instruments played were: acoustic guitar, bassoon, bass guitar, cello, clarinet, drums, horn, oboe, piano, tuba, violin, voice
The musicians were: David Acevedo, Ana Maria Asenjo, Pau Blasco, Erwin Grafe, Pablo Guerrero, Francisco M Lora, Manuerl Murciano, Jose Carlos Palomo, Margarita Pavia, Laura Peñalver, Isidro Perez, Silvia Quereda, Jose David Riveros, Pedro J Sanchez, Daniel de Torres, Pedro Valdivieso
***
MUESTRAS 2023 - REPERTORIO
Escuela de Teatro del Proyecto Platea, Ronda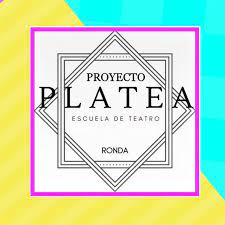 If you didn't make it along to either of the two performances by this talented bunch of local actors, you missed a treat.
This was a presentation by students of the drama school of scenes from plays and films by international writers including Pedro Almodóvar, Bertolt Brecht, Federico García Lorca, and Tennessee Williams.
The atmosphere in this tiny theatre space was buzzing in anticipation on the night I went.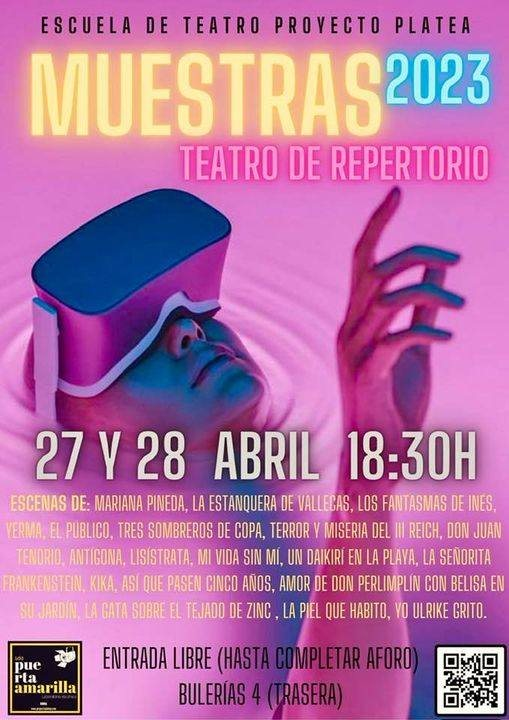 Overall, the acting was of a very high standard, at times brilliant. Worthy of special mention are Charo Carrasco, Nieves Rodríguez and Inma Cardona for their ability to play different character types superbly and convincingly.
Ana Belén Sánchez was outstanding as the over-wrought Jewish woman about to flee Nazi Germany for the Netherlands during the III Reich in the 1930s/40s.
Avelino Ecija was the pick of the men, again for his versatility and consummate skill on stage.
The transition from scene to scene was slick and the whole thing directed with dexterity and subtlety by Marcos Marcell.
There were scenes from several works by Lorca, including YERMA and ASI QUE PASEN CINCO AÑOS; TERROR Y MISERIAS DEL III REICH by Brecht; CAT ON A HOT TIN ROOF by Tennessee Williams; ANTIGONA by Sophocles and many more.
This was two and a half hours of classy theatre. Well done, the whole company!
And it was money well (un)spent! Entry was free!
For reviews of other performances by Proyecto Platea, including 'NOVIAS', 'THE IMAGINARY INVALID' and 'HARMONY', please scroll down.
For more information about the group, click on the link:
PROYECTO PLATEA - Marcos Marcell (salapuertaamarilla.com)
***
A CAPPELLA MUSIC IN RONDA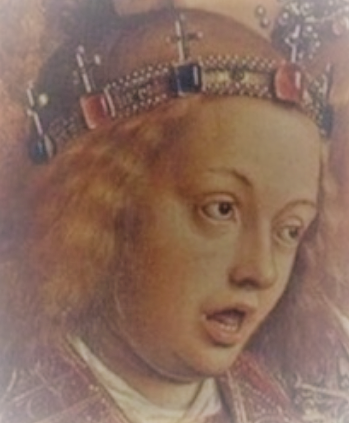 What an absolute treat! Some 150 rondeñ@s and a handful of foreign residents enjoyed a superb live concert of Renaissance music at the Church of Santa Maria La Mayor in Ronda on Saturday.
The a cappella choir DULCISONA, an occasional choir of English singers, based in Gaucín, performed their well-drilled Easter repertoire to enthusiastic applause.
My Spanish neighbours in the audience were very impressed. "Fantastic", said José María and his wife Carmen from Ronda. "The best choral singing we've heard in ages."
The brainchild of Patrick Elvin, a retired naval commander who moved to Gaucín in 1997 with his wife Susan, this group of 14 choristers mostly live in the UK and get together once a year when they fly or get the train to southern Spain to sing together. In fact, only Patrick and Susan are Spanish residents.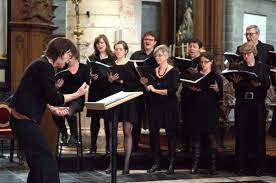 Skilfully marshalled, directed and conducted by Mark Williams from Chichester, this group of nine women and five men sang music by English composers William Byrd (c1540 -1623), Thomas Tallis (1502 - 1585), Robert White (c1538 - 1574) and Charles Wood (1866 – 1926), the Spaniards Tomás Luis de la Victoria (c1548 – 1611) and Fernando de las Infantas (c1534 -1610), the Portuguese Vicente Lusitano (c1520 - 1561) and the Italian Andrea Gabrieli (c1533 – 1585) The hour-long concert followed the story of Jesus Christ from his resurrection onwards and was entitled El Tiempo Jubiloso de Pascua (Easter-tide Jubilation).
Most of the composers were contemporaries in the XVI Century when Phillip II of Spain and Mary I and Elizabeth I sat on the thrones of Spain and England.
At the end Dulcisona received a well-deserved standing ovation. This was their first appearance in Ronda. Let's hope it's not their last.
Note: DULCISONA is always on the lookout for new singers. If you are interested in finding out more, please contact Patrick Elvin by email on robertpatrickelvin@gmail.com
***


ART EXHIBITION
Photo courtesy of Charry TV, Ronda
CAYETANO ARROYO FLORES (1958 -1991)
The artist, writer and teacher Cayetano Arroyo Flores died 32 years ago at the age of 32.
Born in Ronda to a poor family, he went on to emulate his grandfather by becoming an artist. He studied in Sevilla for five years from the age of 18. When he returned to Ronda he became an inspirational art teacher at IES Perez de Guzman in the town.
A writer as well as a painter, he published five books in his lifetime and four posthumously.
Cayetano Arroyo Flores left his mark wherever he went in his short lifetime.
This retrospective exhibition of his art, which ran at the Convento de Santo Domingo in Ronda from 20 - 26 March 2023 is a fitting tribute to a remarkable man, who left this earth way before his time.
Awaiting photos
***
"Ronda, verdad infinita"
by Entreamigos
12 March 2023
Teatro Vicente Espinel, Ronda
Review by The Culture Vulture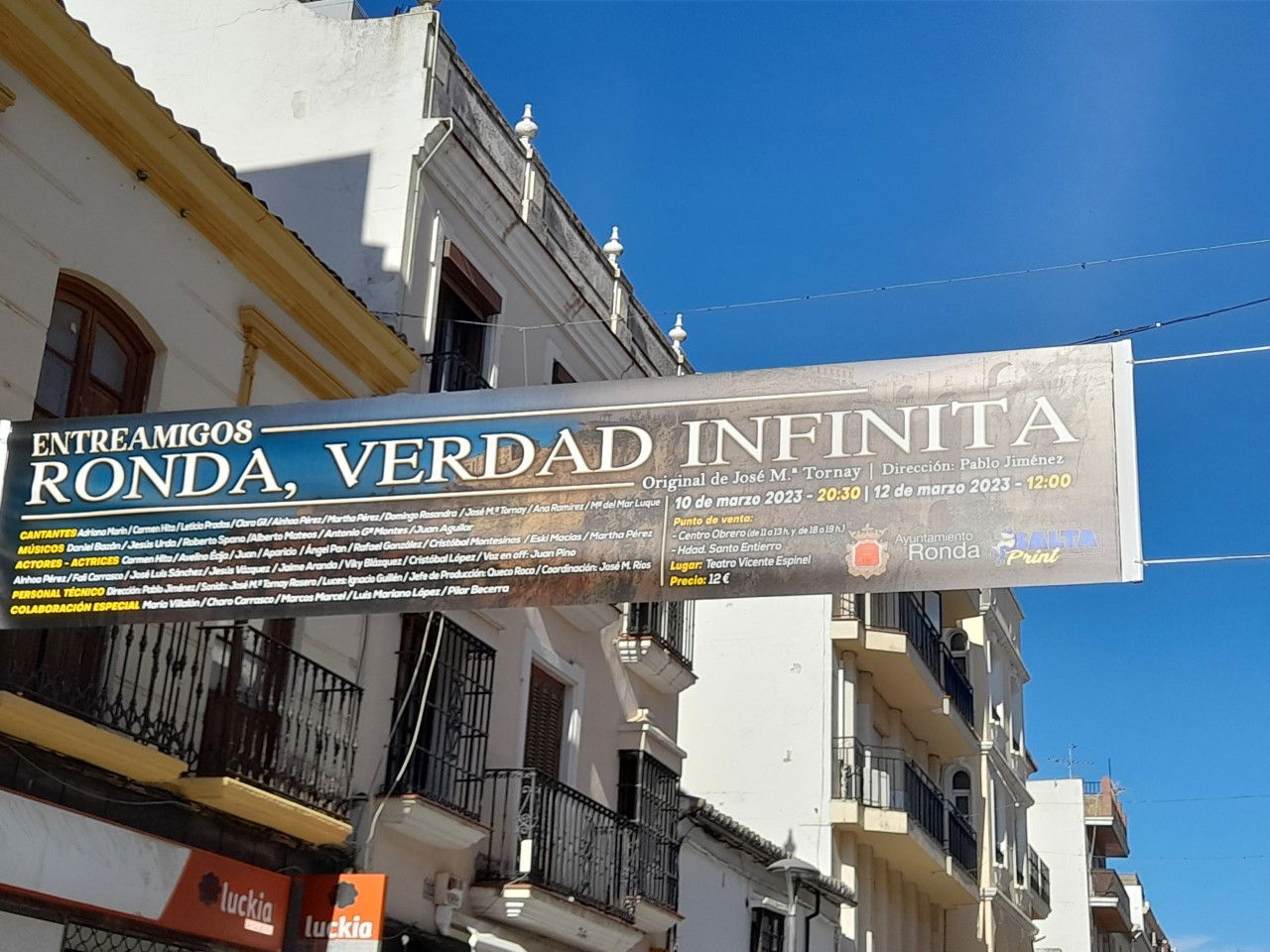 What a treat this spectacle was!
Creator Jose Maria Tornay and director Pablo Jimenez put together a marvellous homage to Ronda and its people, tracing their history through the centuries. We were led on this journey by narrators Carmen Hito and Charo Carrasco.
There was everything here: amazing acting, superb singing and magnificent musicianship.
There were 12 scenes or episodes, dedicated to characters from Ronda's past, including 12th century polymath Abbas Ibn Firnas, cineaste Orson Welles, educator Giner de los Rios, the bandit Pasos Largos, torero Pedro Romero and the German/Czech poet Rilke.
There were 11 singers, nine women and two men. Most of the songs were written by Jose Maria Tornay.
The band, comprising Antonio Garcia Montes on keyboards, Jesus Urda on drums, Roberto Spano, flamenco guitar, Alberto Mateos, electric guitar, and Daniel Bazan on bass guitar were outstanding. They were augmented by Leticia Prados on harp and Juan Aguilar on saxophone. Also brilliant.
The production values were high with great images projected onto the cyclorama throughout the show and excellent lighting and sound.
Outstanding among the actors were Marcos Marcell as Pasos Largos and Avelino Ecija as Abbas Ibn Firnas, Giner de los Rios and Rilke.
At almost two and a half hours without a break, it was a touch long for quite a few people's bladders, and a few famous rondeños were conspicuous by their absence from the script, including Vicente Espinel, Carmen La de Ronda and Ernest Hemingway. But these are minor quibbles.
The two performances played to full houses and the audiences were thrilled, giving standing ovations on both occasions. ¡Enhorabuena!
***
Saturday 4 March 2023
Serrania Book Buddies
Meet the Author: Karethe Linaee
Breakfast and discussion of 'Casita 26' (English version)
Hotel Palacete de Mañara, Montejaque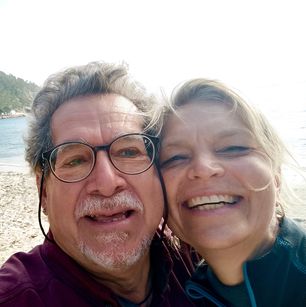 Karethe Linaae, originally from Norway, and Mexican/Basque husband Jaime came to the March meeting of the Serrania Book Buddies.
They had been invited because reading group members had spent the last month reading Karethe's book about her and Jaime's first year spent living in Ronda.
'Casita 26' describes the decision of Karethe and Jaime to move to Ronda some 11 years ago. Quite a contrast between a mountain town of 33,000 inhabitants in Andalucía, and Vancouver in Canada, a cosmopolitan city of some 2.5 million people, where they had lived and worked for many years and also where they met.
After ordering breakfast, Karethe and Jaime's first "landlord" in Ronda, Paul Whitelock, who is also Publicity Officer for the reading group, introduced the guests.
Karethe then gave a brief talk about the book and read an extract which she felt summed up her feelings about Ronda and the local people.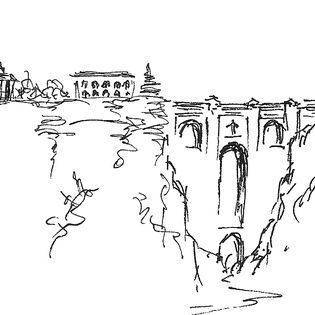 Reading group members then asked the couple a range of questions, before going on to share their thoughts about 'Casita 26'.
One member gave the huge compliment that it was like a 'Driving Over Lemons'* for the Ronda area.
Another compared it favourably to Peter Mayle's 'A Year in Provence'.
Several of the group said they could identify with the Ronda and rondeños described. Several knew some of the places and people in the book. There was agreement that it was easy to read.
One member admitted that he cried on reading the moving chapter about the death of Karethe's father.
Out of interest, the assembled company was very international. Apart from Norwegian Karethe and Mexican Jaime, there were two Hungarians, two Irish, a Dane, an Anglo/Canadian, a Scot, an Englishman and a Welshman. They are residents in Ronda, Montejaque and Jimera de Libar.
Karethe finished by signing copies of her book.
Everybody agreed it had been a great morning.
Karethe and Jaime left to explore a bit around Montejaque.
The next book, date and venue were decided as follows: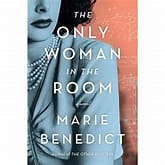 A powerful novel based on the incredible true story of the glamour icon and scientist, Hedy Lamarr, whose ground-breaking invention revolutionized modern communication, 'The Only Woman in the Room' is a masterpiece (Amazon)
Date and time: Saturday 15 April 2023 at 11.00 am
Venue: Hotel Las Camaretas, Cortes de la Frontera

New members are always welcome. Please contact Paul Whitelock on 636 52 75 16
Notes: *Driving Over Lemons, by Chris Stewart. The Book Buddies read this last year.
Karethe Linaae has recently published CASITA 26 in Spanish.
The book first came out in English in 2019 and has now been translated into Spanish and was published last month (February 2023).
Both language editions are now published by Editorial La Serrania and are available in good bookshops throughout Spain.
______________________________________________
'CASITA 26' – now available in Spanish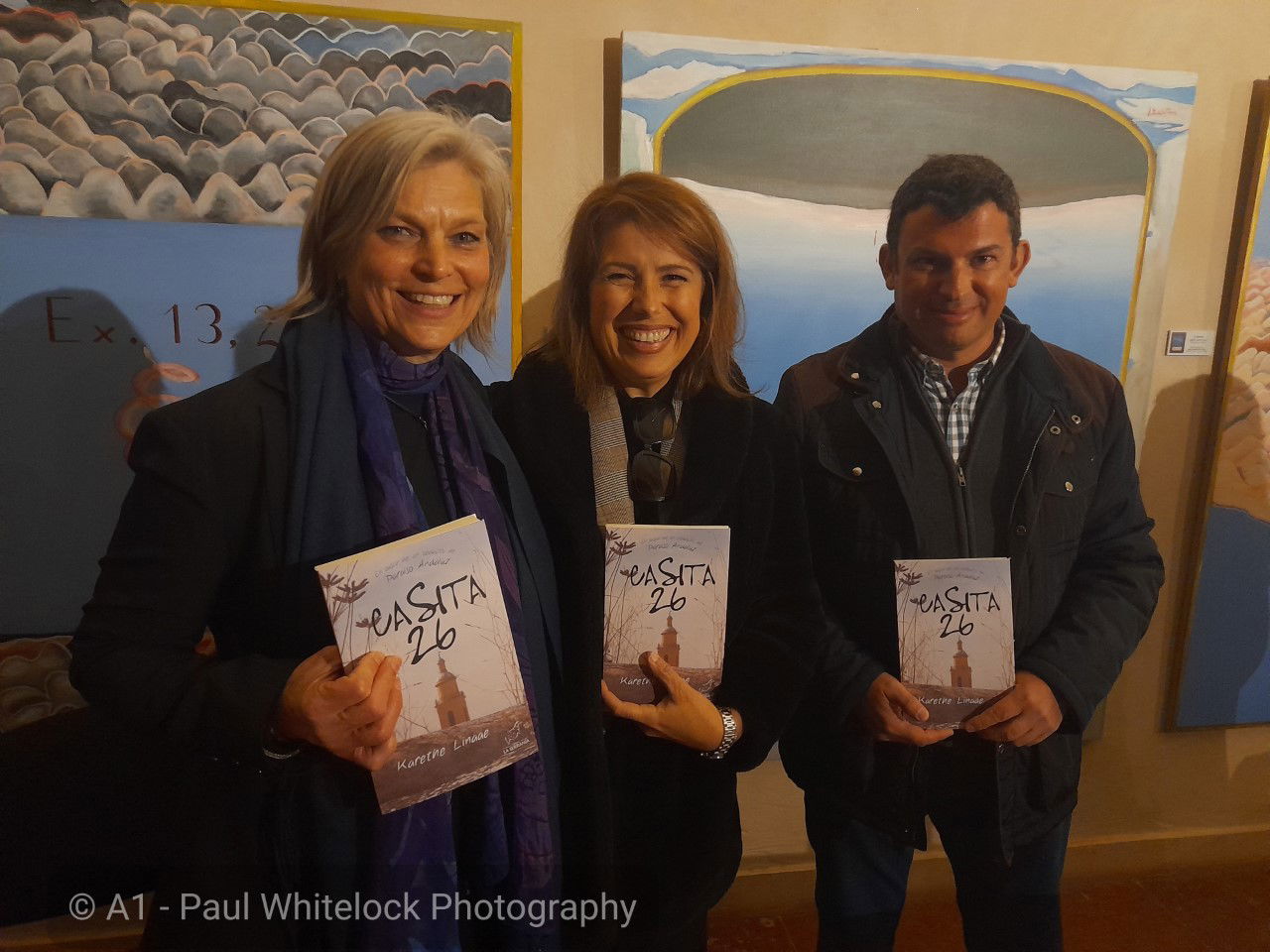 Norwegian author, Karethe Linaae, has just published her first book in Spanish. Casita 26, which first came out in English in 2018, has now been translated into Spanish and was published this month.
Casita 26 describes the decision of Karethe and Mexican husband, Jaime, to move to Ronda, a mountain town of 33,000 inhabitants in Andalucía, from Vancouver in Canada, a cosmopolitan city of some 4 million people, where they had lived and worked for many years, some 11 years ago.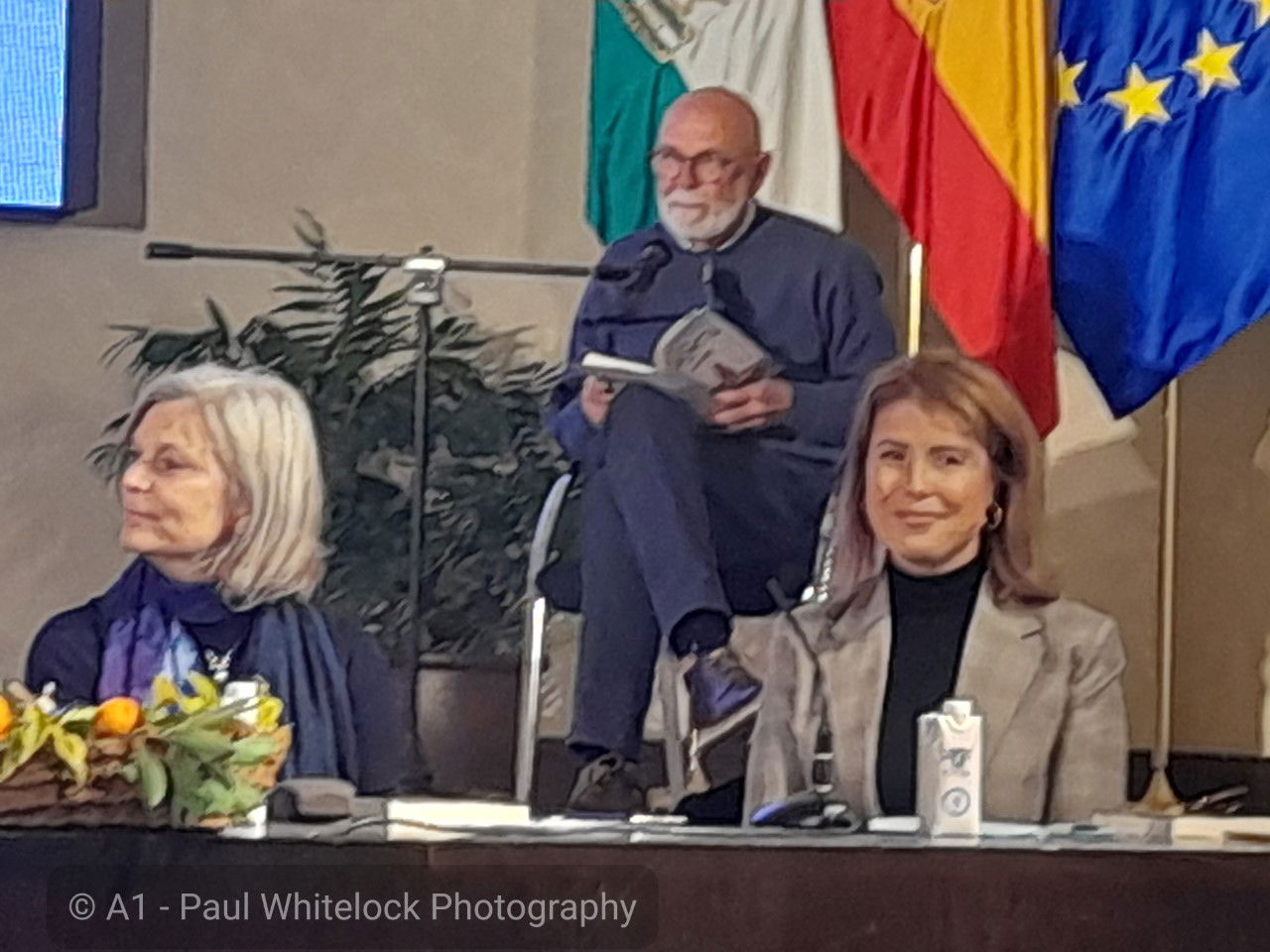 On Thursday 23 February I had the pleasure to attend the launch of the Spanish version of Casita 26 in the chapel of the Convento de Santo Domingo in the City of the Tajo.
Compered by Town cronista Faustino Peralta, the stage party comprised Alicia López, councillor for Culture in Ronda; José Manuel Dorado, owner of the publishing house Editorial La Serranía; the author Karethe Linaae and the books's illustrator Virginia Jiménez. All gave a short address.
Also onstage was Andrés Rodríguez who read several extracts from Casita 26.
Over 100 guests were present in the audience, nearly all Spanish locals. They welcomed Karethe enthusiastically.
As a conclusion to the event, Faustino Peralta, together with guitarist Jose Sedoña and dancer, Pilar Becerra, entertained us with a couple of flamenco songs.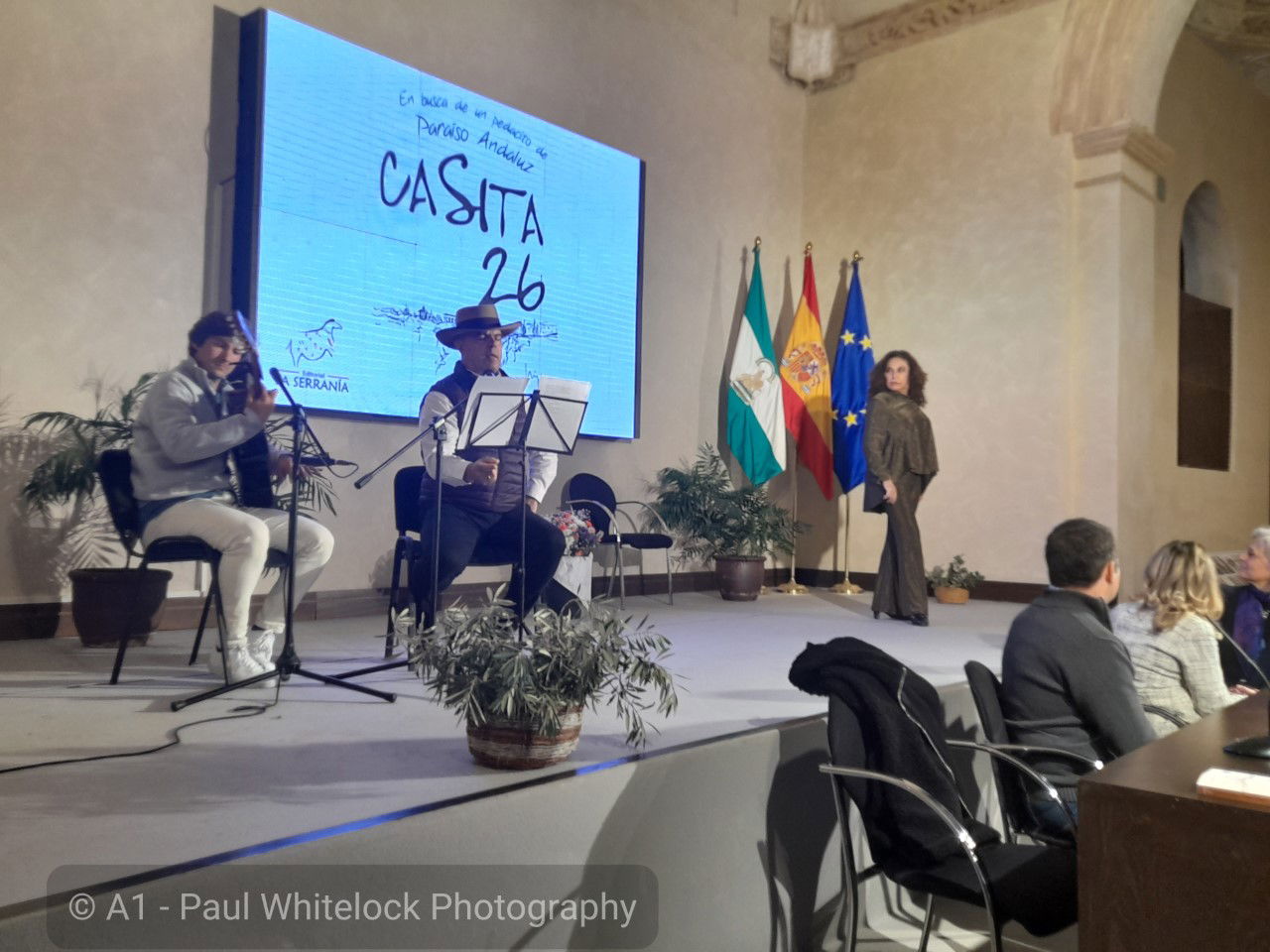 Information
Casita 26 (Spanish version) – published by Editorial La Serrania 18€ Casita 26 (English version) – originally published in the USA by Mascot Press; re-published in Spain by Editorial La Serrania 18€
Both versions available at Liberia Dumas, C/ Jerez, Ronda and at most good bookshops.
***
"NOVIAS"
27 September, 2020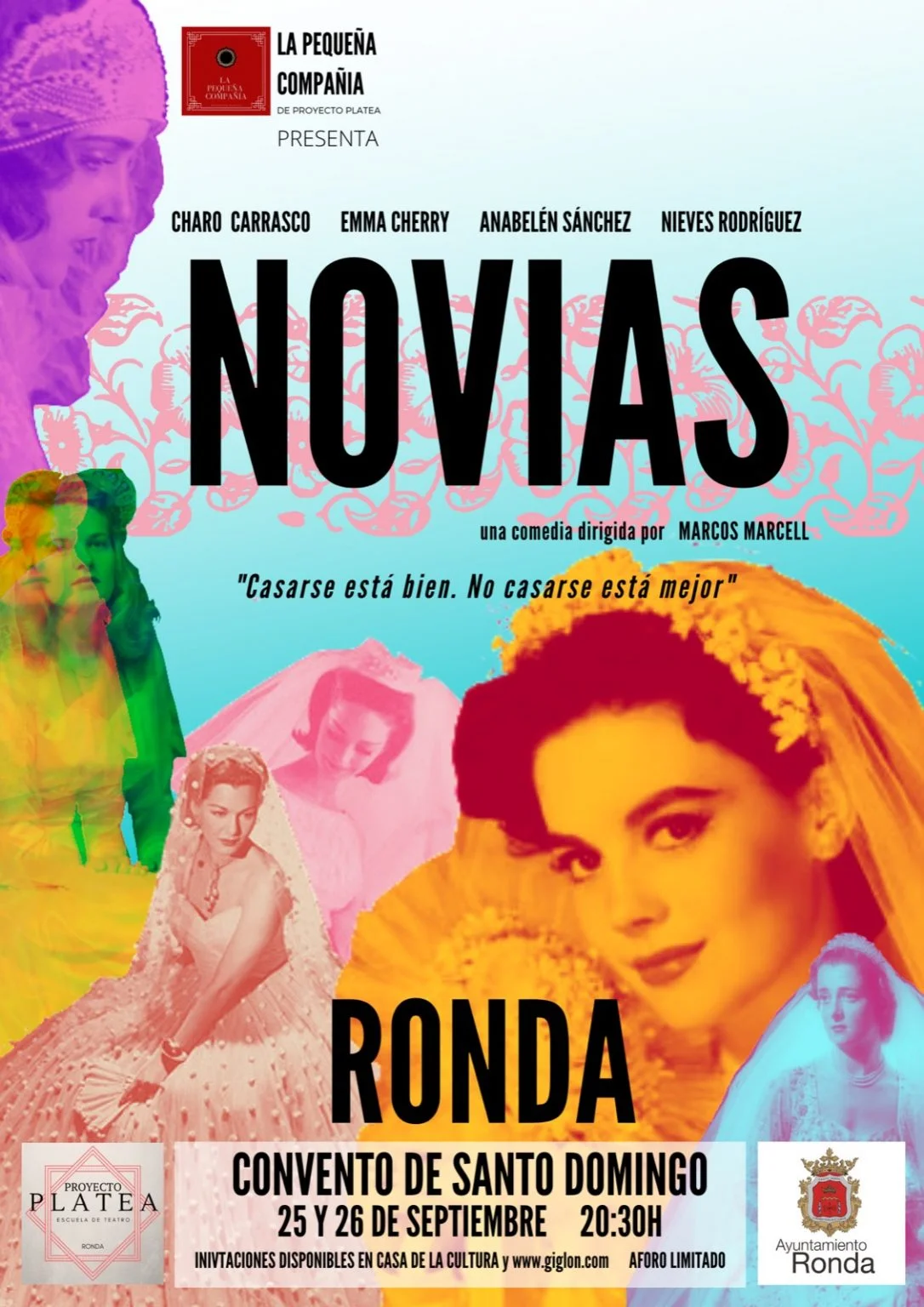 Last Friday and Saturday live theatre made a welcome return to our daily lives. In the Santo Domingo Convent in Ronda, the theatre group Pequeña Compañía del Proyecto Platea presented the play "Novias", a comedy written by two actresses from the group.
Here is a review by Paul Whitelock who attended on the Friday night.
'Novias' came about as a means of escape for Emma Cherry and Charo Carrasco during the Covid-19 lockdown. Together they wrote the plot which tells the story of four women who each go to the last fitting of their wedding dresses in a bridal gown boutique. From that meeting emerges a series of humorous reflections. "It's a very fresh, very dynamic comedy that makes you forget all about the pandemic during the hour and fifteen minutes the play lasts," the authors maintain.
Directed by Ronda actor and theatre director Marcos Marcell, the play worked very well on many levels, with enthusiastic performances from the four actresses, Emma Cherry, Charo Carrasco, Ana Belén Sánchez and Nieves Rodríguez. Marcell was full of praise for the play that the writers and actresses have developed. "We are very happy to present a comedy that is 100% Ronda and which is a response to the situation that we are living through at the moment. It is an open window to hope and joy and is aimed at the whole family", he explained.
And what a surprise for me when I realised that the role of María (Ana Belén Sánchez) was being played by the receptionist at my local car repair workshop! And what a surprise it will be for her when I call her first thing on Monday morning, not to book a service for my car, but to congratulate her!
With four very well presented live songs, and a very funny and unexpected denouement, we spent a very pleasant hour or so in the open air in the courtyard of the Convento de Santo Domingo.
The audience, limited by Covid-19 to a capacity of 80 people each night, gave a standing ovation at the end of the performance on Friday when I was there. And in that moment I realized that the audience wasn't all from Ronda. Our group of six, for example, was very international and consisted of a South African, a Hungarian, a Czech lady, a German, and two British people, all residents of the Serranía de Ronda. Long live internationalism!
And long live live theatre!
Spanish version
El viernes y el sábado pasados ha vuelto el teatro a nuestra vida cotidiana. En el Convento de Santo Domingo de Ronda presentó el grupo de teatro la Pequeña Compañía del Proyecto Platea la obra "Novias", una comedia escrita por dos actrices del mismo grupo. He aquí una crítica de Paul Whitelock.
'Novias' surgió como medida de escape de Emma Cherry y Charo Carrasco durante el confinamiento a través de la escritura de un argumento que habla de cuatro mujeres que acuden a la última prueba de su vestido de novia en un taller de costura. De ese encuentro surgen una serie de divertidas reflexiones. "Es una comedia muy fresca, muy dinámica que te hace olvidarte de todo lo demás durante la hora y quince minutos que dura", han insistido las autoras.
Dirigida por el actor y director rondeño Marcos Marcell, la obra ha funcionado muy bien en muchos niveles, con un entusiasmo grande por parte de las cuatro actrices, Emma Cherry, Charo Carrasco, Ana Belén Sánchez y Nieves Rodríguez. Marcell ha destacado el trabajo desarrollado por las autoras y las actrices. "Nos hace muy felices presentar una comedia 100% rondeña que es una respuesta a esta situación que estamos viviendo de noche continua. Es una ventana abierta a la ilusión y la alegría y para toda la familia", ha explicado el director.
¡Qué sorpresa para mí al darme cuenta de que el papel de María (Ana Belén Sánchez) desempeñaba la recepcionista de mi taller de coche! Y ¡qué sorpresa para ella cuando la llamo el lunes a primera hora no para hacer cita para una reparación de mi coche, sino para felicitarla!
Con cuatro canciones en vivo muy bien presentadas, y un denouement muy divertido e inesperado, pasamos una hora y pico muy agradables al aire libre en el patio del Convento.
El público, limitado por Covid-19 a un aforo de 80 personas cada noche, dio al final una ovación de pie. Y me di cuenta de que no eran todos rondeños. Nuestro grupo de seis, por ejemplo, era muy internacional y constaba de un sudafricano, una úngara, una checa, una alemana y dos británicos, todos residentes de la Serranía de Ronda. ¡Viva el internacionalismo!
Y ¡Viva la cultura!
***
"THE IMAGINARY INVALID"
Thursday, January 20, 2022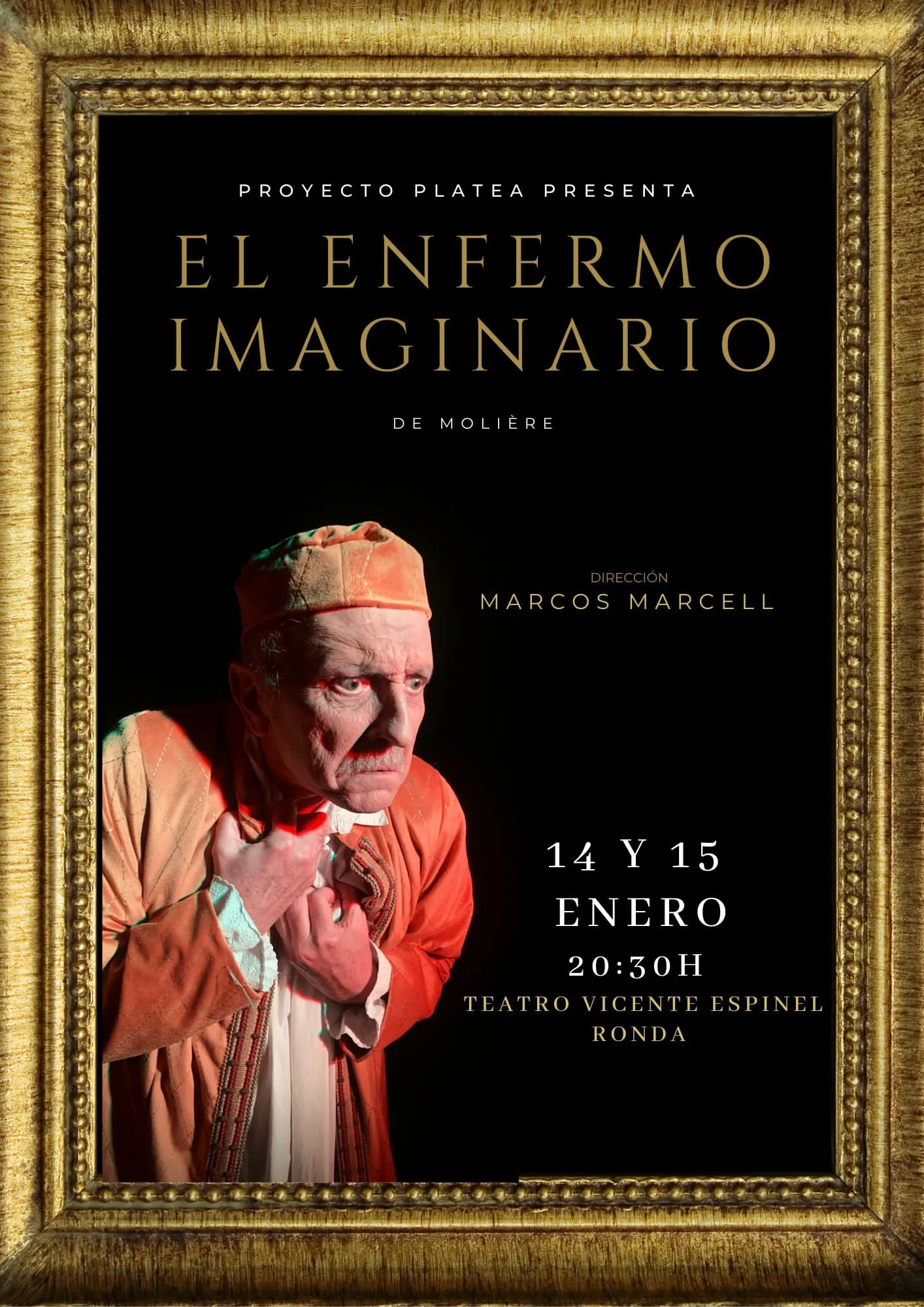 "Le malade imaginaire", first performed in Paris in 1673, was written by the French dramatist Moliere. It is the most performed of his plays. Despite its age it still resonates today, particularly in the age of Covid-19 and the ever-increasing profits of pharmacists and drug manufacturers.
Brought to life this last weekend in Ronda by theatre group Proyecto Platea "El enfermo imaginario" played to packed houses at the Teatro Vicente Espinel in the City of Dreams.
Beautifully directed by Ronda-born actor and director Marcos Marcell, the 21-strong cast excelled themselves. This is an amateur drama group bolstered, I think, by just two professionally trained actors, Marcos himself and Emma Cherry, originally from the UK. The rest are ordinary folk with ordinary occupations; for example, a retired doctor, a sports shop proprietress, a waitress, housewives and students.
Yet the director coaxed outstanding and deliciously over-the-top performances from every cast member. I particularly liked Ana Belén Sánchez' hilarious interpretation of Antonia, the maid. Charo Carrasco was perfect as the unfortunate daughter Angélica, as was Nieves Rodriguéz as her sister Beralda. The invalid himself, Argán, played exquisitely by Avelino Écija, was suitably grumpy and irascible.
And let's not forget the two pros, Marcos Marcell as the delightfully camp Diaforius and Emma Cherry as the go-getting wife of the protagonist, Belisa.
I like to think I know a bit about the world of drama, acting and directing. At an amateur level I acted a lot and directed too. I have been a sometime theatre critic. My first wife, Jeryl Burgess, is now a professional actress and my son and daughter-in-law, Tom Whitelock and Susannah Austin, also. Curiously these latter two trained at the same drama college as Emma Cherry, albeit in different eras.
The companies I worked in as an amateur were generally regarded as being of a professional standard, but I have to hold my hands up and say that Proyecto Platea were better at the weekend than SPADES, the Playmakers of Stockton Heath, Salford Players or Altrincham Garrick.
It is a widely-held view that amateur actors don't know what to do with their hands on stage. Not the case with this company. Their exaggerated gestures were wonderful.The set was beautiful, the costumes stunning, and the pace and movement was sustained throughout the more than two hours of this masterful production. The audience loved it!
¡Enhorabuena a todos!
***
"NOVIAS" en Atajate
Wednesday, July 27, 2022
Anoche presentó en Atajate (Málaga) La Pequeña Compañía del Proyecto Platea la obra "Novias", una comedia escrita por dos actrices del mismo grupo de teatro. Emma Cherry y Charo Carrasco escribieron la obra como medida de escape durante el confinamiento causado por Covid-19. Estrenó en Ronda en el Convento de Santo Domingo en septiembre de 2020.T he Culture Vulture, un británico residente en La Serrania de Ronda desde 2008 asistió a esa primera presentación y escribió entonces una crítica muy positiva. [Haz clic aquí para leerla]
Anoche llevó a su mujer a ver la obra, que no había visto antes. He aquí su nueva crítica:
Habían instalado el escenario en el aparcamiento de Atajate, el municipio más pequeño de la provincia de Málaga. La temperatura había bajado bastante y el público se sintió muy confortable.
'Novias' surgió a través de la escritura de un argumento que habla de cuatro mujeres que acuden a la última prueba de su vestido de novia en un taller de costura. De ese encuentro surgen una serie de divertidas reflexiones. "Es una comedia muy fresca, muy dinámica que te hace olvidarte de todo lo demás durante la hora y quince minutos que dura", han insistido las autoras.
Dirigida por el actor profesional rondeño Marcos Marcell, la obra ha funcionado muy bien en muchos niveles, con un entusiasmo grande por parte de las cuatro actrices, Emma Cherry, Charo Carrasco, Ana Belén Sánchez y Nieves Rodríguez.
Marcell ha destacado el trabajo desarrollado por las autoras y las actrices. "Nos hace muy felices presentar una comedia 100% rondeña que es una respuesta a esta situación que estamos viviendo de noche continua. Es una ventana abierta a la ilusión y la alegría y para toda la familia", ha explicado el director.
Con cuatro canciones en vivo muy bien presentadas, y un denouement muy divertido e inesperado pasamos una hora y pico muy agradables al aire libre en el aparcamiento de Atajate.
El público, unas 80 personas, y tres perros, vino de todas partes: de Atajate mismo, de Ronda, Montejaque, Benaojan y Arriate y también de San Pedro de Alcántara y Cuevas del Becerro. Al final dio una ovación de pie muy merecida.
Las cuatro actrices fueron fenomenales: la neurótica Soledad, representada por Emma Cherry, actriz profesional inglesa; la 'snob' muy rica y muy especial Mercedes (Charo Carrasco); la 'virgen' frustrada y extrovertida María (Ana Belén Sánchez); y Nieves Rodriguez, quien desempeñó el papel de Coco, la experimentada propietaria del taller de bodas.
En mi opinión esta presentación de 'Novias' fue mejor que la 'premiere', y mi mujer Rita, después de haber visto 'El enfermo imaginario' de la misma compañía en enero, opinó: "Es un grupo de teatro fantástico. Aunque no lo son, presentan como profesionales - con mucho entusiasmo y ritmo. Me ha encantado."
***
PUEBLOS BLANCOS MUSIC FESTIVAL
Friday, September 2, 2022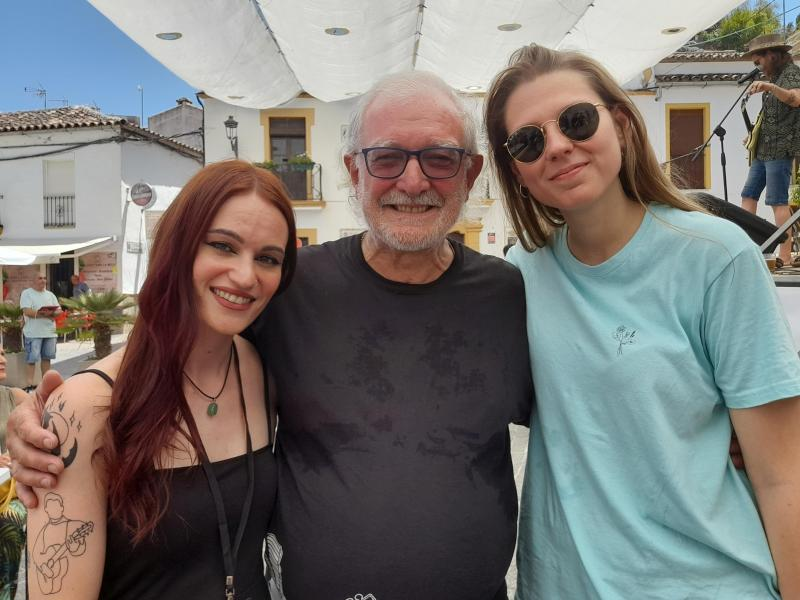 The Culture Vulture with the girls from Sefo
The 5th edition of this popular series of international rock music concerts, known as the Pueblos Blancos Music Festival, took place at the end of July 2022. Interrupted for two years by the Covid-19 pandemic, the 2022 festival was eagerly anticipated by locals and visitors alike.
The series of concerts took place over four days and nights in Montejaque and two each in the white villages of Grazalema, Villaluenga del Rosario and Ronda and was organised by Juan Castro (Montejaque), Josu Camacho (Madrid) and Philip Plata (Austin, Texas, USA) via la Fundación Sierra de Libar, a local charity foundation.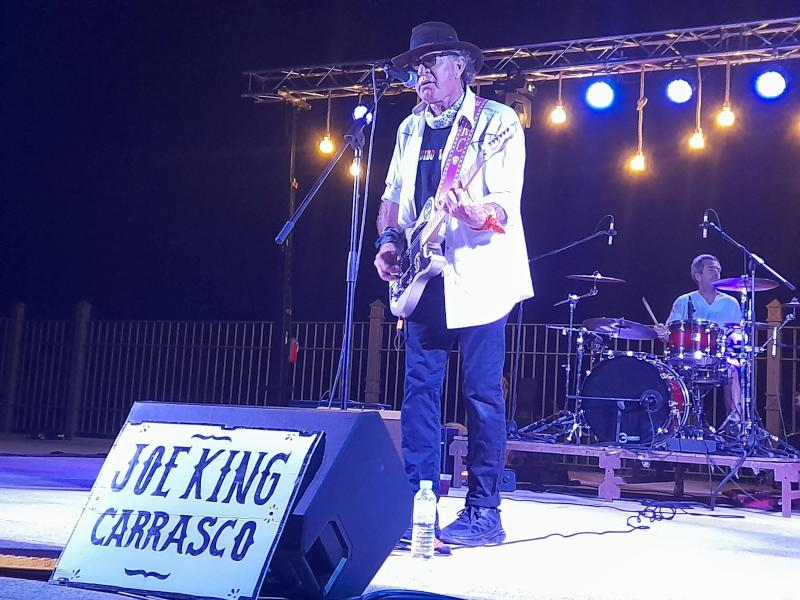 Joe King Carrasco
60 bands from as far afield as Austin, Texas, Barcelona, Cádiz, Canada, Finland, France and Madrid made up the roll call. The musicians paid their own travel expenses but were provided with board and lodging free of charge by the councils of the four villages involved. They were not paid for their appearances. However, the artistes viewed the festival as a great shop window for their music. One band, Joe King Carrasco, has attended all five festivals to date, but many, such as The History Department, Robin Mordecai and Civas were making their debuts. To a man and woman they all intend to return in 2023, stay for longer and maybe pick up paid gigs on the Costa del Sol, or in bigger cities with a vibrant music scene, once the local festival is over. Indeed, some of the bands this time went on to play gigs in Estepona, Marbella, Madrid, Chinchón, Logroño and Santander.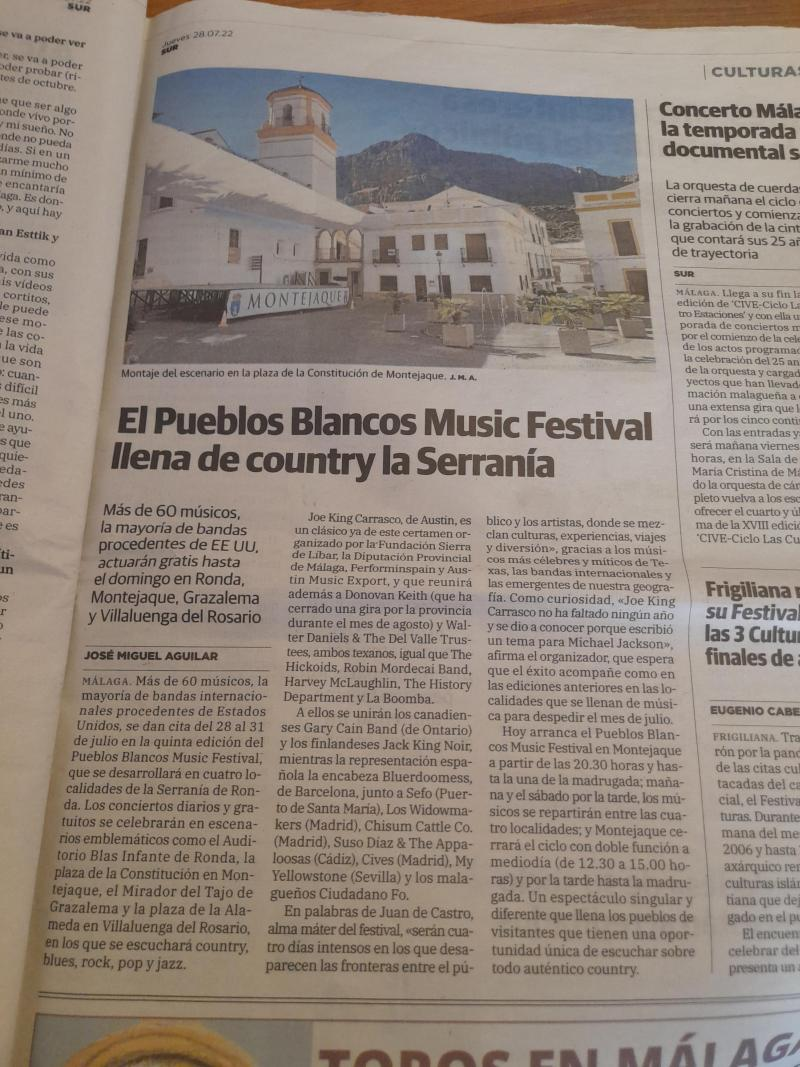 Report in Spanish in SUR
The aim of the festival is to bring together musicians and the public for meetings and cultural exchanges. This proved to be the case, particularly for me. I was based in Montejaque and had the great pleasure to get to know most of the musicians who played there. Several Texas bands took to drinking tinto de verano on my recommendation as an alternative to the dreadful Cruzcampo, which they swore is worse than the atrocious Budweiser, ubiquitous in the USA.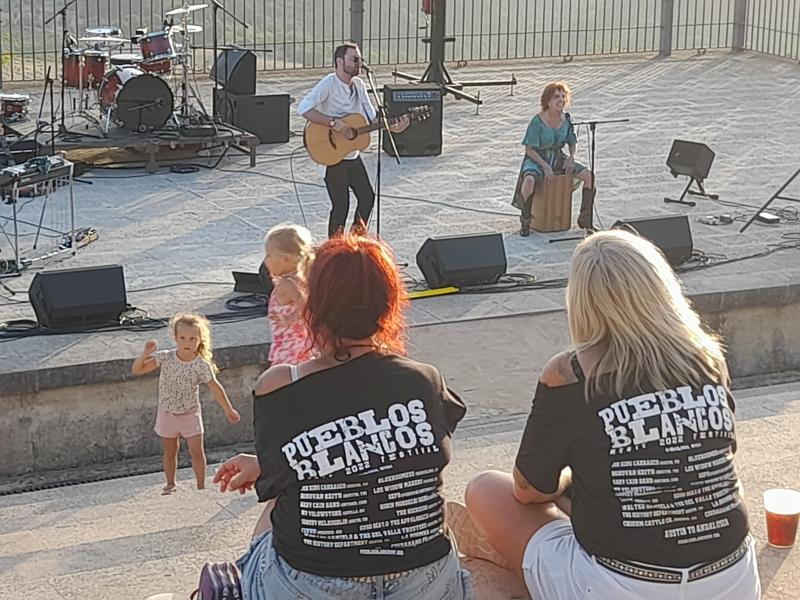 Robin and Laura Mordecai play in Ronda
As well as attending most sessions in Montejaque, I also went to Ronda for the Saturday night session. Performed in the open-air Greek-style theatre, Auditorio Blas Infante, with its stunning mountain backdrop and the setting sun, this was a spectacle and a half. The acoustics were perfect and the atmosphere was buzzing.
My personal favourite bands were, in alphabetical order, Blueroomess (Barcelona), Civas (Madrid), The Del Valle Trustees (Austin), Donovan Keith (Austin), The History Department (Austin), Robin Mordecai (Austin), Sefo (Códiz), Los Widowmakers (Madrid), and two acts which were totally different, Country and Western duo The Chisum Cattle Company (Madrid) and Jack King Noir, a solo Blues slide guitarist from Finland. There were several jam sessions where musicians who didn't know each other played remarkable music together. During the final jam session in Montejaque , there was a guest appearance by 14-year-old Diego from England on guitar and drums. We hope he'll be back next year.