Madita's Lentil and Spinach Curry – Swabian-style
27 May 2023
By Madita Schröder (aged 14)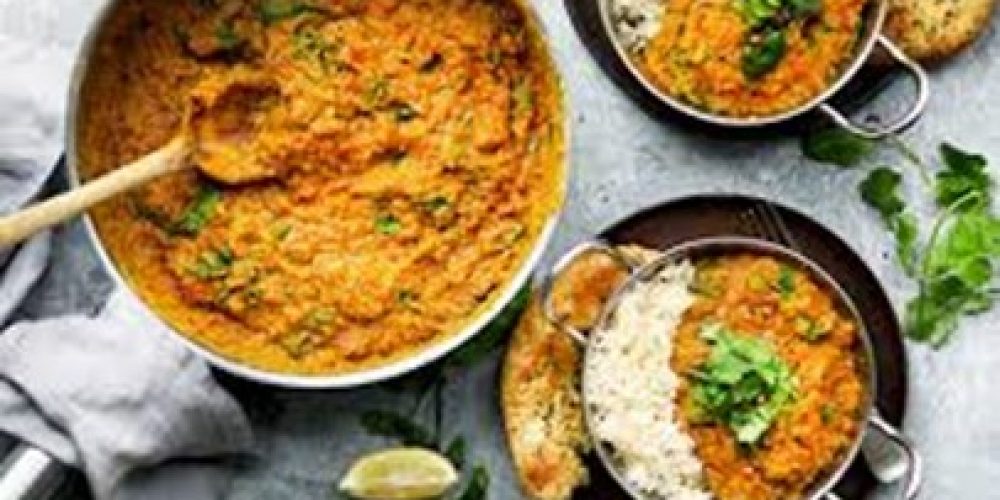 This recipe is courtesy of Rita's oldest grand-daughter who lives in the Swabian village of Talheim, near Heilbronn in South Germany. Madita cooks this regularly for her family who got her to send the recipe via WhatsApp. Rita has added this dish to her repertoire and prepares it regularly. It is really "lecker"! Here's how to make it…
Lentil and Spinach Curry – Swabian-style
Ingredients
Ca. 150g fresh spinach
200g brown lentils
1 onion
2 cloves garlic
2 tbsps sesame seeds
2 tbsps butter
1 can of coconut milk
350 ml water
1.5 teaspoons stock
1 piece of stem ginger (2-3 cm)
1 teaspoon turmeric
Salt
½ teaspoon hot curry powder
2 teaspoons cumin
Method
Peel and finely chop the ginger, onion and garlic
Add the butter and heat until melted (approx. 3 mins.)
Add the sesame seeds, cumin and continue cooking for approx. 1 min.
Add the lentils, coconut milk, water, curry, turmeric and stock and continue cooking (approx. 15 mins.)
Add the spinach and cook for a further 10 mins., stirring from time to time.
Adjust seasoning and serve on a bed of basmati rice.
Add poppadums or chapattis if desired.
Recommended drink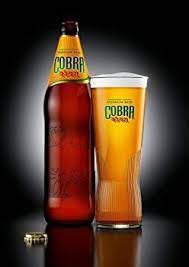 Photo: Courtesy of Amazon
Cobra lager or similar
Guten Appetit!
© Madita Schröder
Tags: Cobra lager, coconut milk, cook, cumin, curry, family, Germany, ginger, grand-daughter, Heilbronn, lecker, lentil, Madita Schröder, recipe, rice, Rita Whitelock, spinach, Talheim, turmeric, WhatsApp
***
Rita's

Kartoffelsalat
20 May 2023
By Rita Whitelock
Kartoffelsalat (potato salad) is a favourite side dish throughout Germany. The Meter Maid's version is very popular among friends here in the Serranía de Ronda. Here's how she makes it:
Rita's Serranía Potato Salad – (serves 4)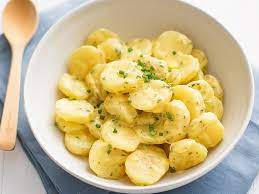 Photo courtesy of Chefkoch
Ingredients
1-2 kg potatoes
Approx. 300-500 ml meat stock
1 onion
Salt and pepper
1 tsp sugar
1-2 tbsp vinegar
Pickled gherkins
Dash of the gherkin water
3-4 tbsp sunflower oil
Method
Boil potatoes in their skins. Allow to cool, then peel and cut into thin slices.
Dice the onion and add to potatoes.
Cut gherkins into small pieces and add.
Pour stock over.
Add salt, pepper, sugar, vinegar and gherkin water.
Mix well and check taste.
Allow to stand for 1-2 hours, then check taste again. If too dry add more stock. If too sweet add oil.
Mix well and serve.


Accompaniment
Kartoffelsalat is a great dish on its own, but it is an excellent side dish with Bratwurst, pork steaks, beefburgers and even fish.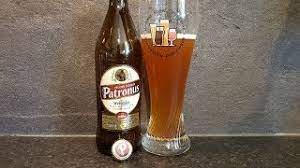 Photo courtesy of YouTube
Goes well with a German Hefeweizen (wheat beer) such as Oettinger or Franziskaner (both ALDI), Paulaner (widely available) or Patronus (LIDL's own brand)
© Rita Whitelock
Note: A version of this recipe first appeared at www.secretserrania.com in 2020.
***
Jovan's Vegan Mushroom Soup
14 May 2023
By Jovan Le Knorz
Paul Whitelock's step-son Jovan Le Knorz is a vegan and a great cook. He sent us this tasty mushroom soup recipe recently and Paul prepared it. Paul's wife and Jovan's mother Rita had been under the weather so this seemed like a good idea. It was - she devoured it all, so it must have been alright!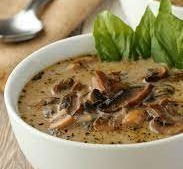 Jovan's Vegan Mushroom Soup
Ingredients
I medium red onion, diced
2 cloves of garlic, sliced thinly, then chopped
1 tbsp of olive oil
4 large button mushrooms, sliced
1 can of small button mushrooms
½ litre of vegetable stock
½ litre of almond milk
Salt and ground black pepper
Diced spring onion stems or croutons
Crusty bread roll
Method
Fry the onion and garlic in the oil until softened.
Add the sliced mushrooms, stir and fry for a couple of minutes.
Add the can of mushrooms, including the liquid.
Add the stock and the almond milk and stir well.
Bring to the boil with the lid off the pan so that the soup thickens.
Boil vigorously for 10 minutes.
Adjust the seasoning, if necessary.
Serve with the garnish and the bread roll.
Recommended drink
Try a local craft beer with the soup. I chose a bottle of El Alcázar brewed in Jaén.
© Jovan Le Knorz
About Jovan Le Knorz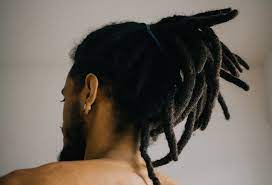 Jovan is a highly qualified "Schreiner"(cabinet maker or joiner), and is a member of that trade's guild. He lives in Knittlingen, twin town of Montejaque and Benaojan, with his partner and their daughter. He is a committed vegan, so relinquishes all animal products, not just food but leather shoes, woollen jumpers, etc.
Tags: craft beer, El Alcázar, garlic, Jaén, mushroom, onion, jovan le knorz, paul whitelock, recipe, soup, vegetarian, vegan
***
Carolyn's Broccoli, Red Pepper and Apple Salad
3 April 2023
By Carolyn Emmett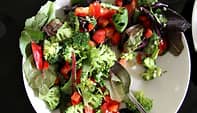 I make this recipe at least twice a month because it goes with so many things. It keeps well in the fridge, especially if I use Pink Lady apples, which are very crisp and retain their colour.
Dressing
2 tbsps. olive oil
3 tbsps. fruit vinegar (apple is best)
1½ tsps. Dijon mustard
2 tsps. honey or maple syrup
Salt and pepper
Method
Blend together the dressing ingredients.
Finely chop 1 head of broccoli (no stalk), 1 red pepper and 1 apple (with peel).
Add to dressing and mix well.
Lightly toast 40g of pine nuts and sprinkle on top (optional).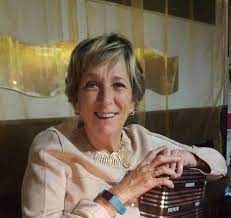 Carolyn Emmett and husband Kevin live in Montejaque in the Serrania de Ronda. They have had an exciting expatriate life, having lived in Canada, Indonesia, Botswana and South Africa before retiring to Montejaque in 2011.
In 2013 Carolyn designed and produced The Cookbook and Village Guide (El Libro de Cocina y Guia del Pueblo), a bilingual recipe book that includes recipes from the local people, bars and restaurants and other extranjeros. All proceeds from the cookbook are earmarked for a social project in the village.
Tags: apple, broccoli, dressing, honey, maple syrup, mustard, pine nuts, Pink Lady, red pepper, salad, vinegar
***
Simon's West Country Chicken Curry
By Simon L Whitelock
19 March 2023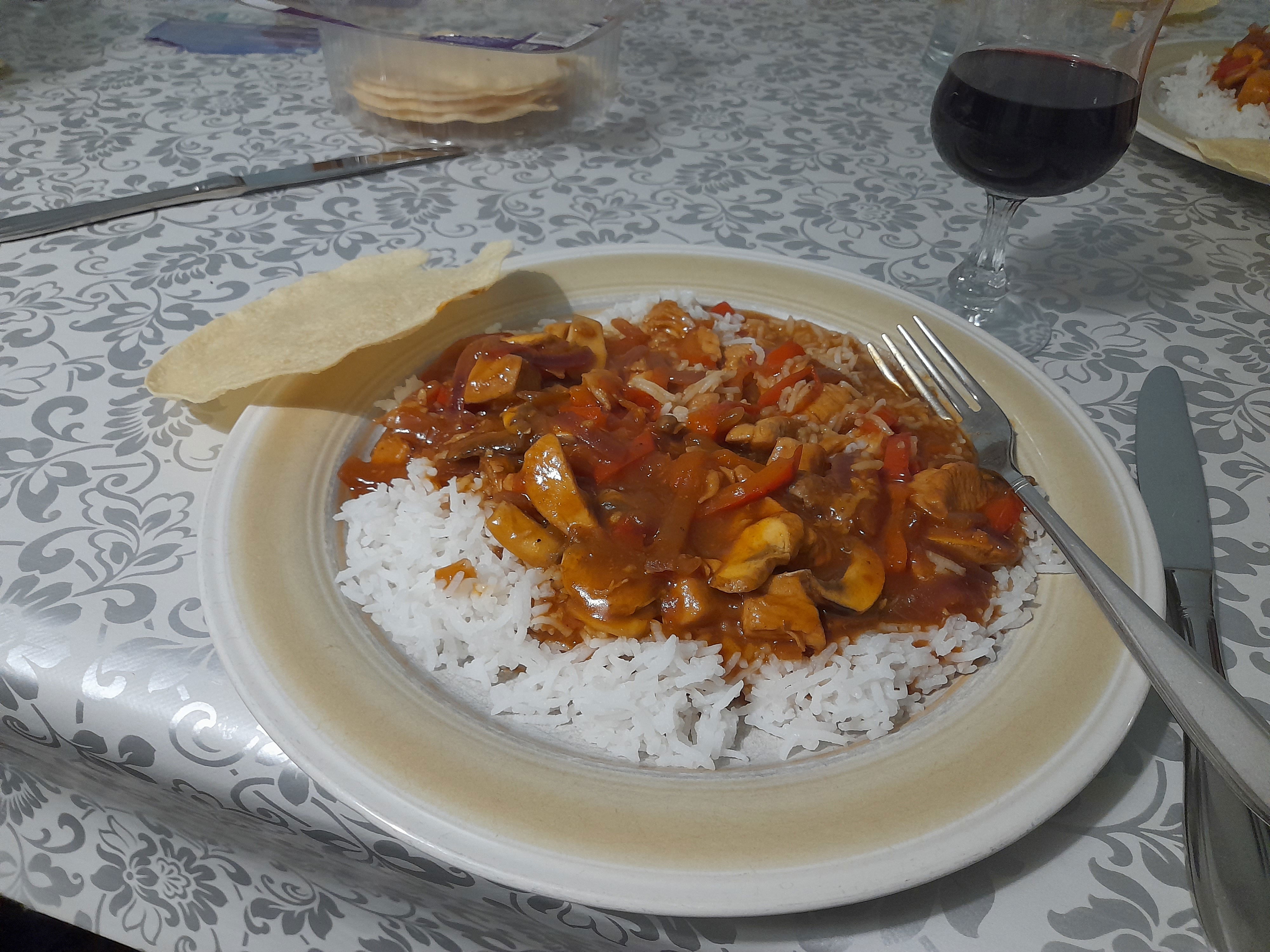 This delicious medium curry has been developed and modified over several years. With influences from Asia and elsewhere, Simon reckons he's now got it just right.
Ingredients (for two people):
2 chicken breasts cut into bitesize cubes
1 medium onion
2 cloves of garlic (crushed)
1 red pepper (sliced)
4 large button mushrooms (chopped)
½ tsp cumin powder
½ tsp coriander powder
½ tsp turmeric
½ tsp garam masala
½ tsp hot chilli powder
1 tsp tomato puree
3 tbsps mango chutney
1 heaped tsp Bisto gravy powder or similar
1 heaped tsp plain flour
1 chicken stock cube
a splash of white wine or dry sherry
150 g basmati rice
Method:
Stir fry the chicken cubes to seal the meat
Add onion, garlic and pepper
Sweat for 1-2 minutes
Add the spices and stir
Add tomato puree and cook for 1 minute
Mix the Bisto and flour into a paste and blend with ½l of water
Add the stock to the pan and bring to the boil
Crumble in the stock cube, stir the mix and reduce the heat
Boil the rice in water for 10-11 minutes
With 5 minutes to go, stir in the chopped mushrooms and mango chutney
Drain the rice and serve with poppadums or chapatis
Accompanying Drinks:
Water, dry cider, a golden ale or una cerveza tostada
© Simon L Whitelock
About Simon Whitelock
Simon is a retired mechanical engineer who lives near Bristol, England, with wife Marilyn. They have three children and six grandchildren between them. Simon is widely travelled and has visited places as far afield as Australia, New Zealand, Hong Kong, Singapore, Canada, USA, Scandinavia, Tunisia, Morocco and a dozen countries in Europe. He is a keen motorcyclist, genealogist and amateur cook.
***
Papas a lo pobre - Poor man's spuds
By Paul Whitelock
18 March 2023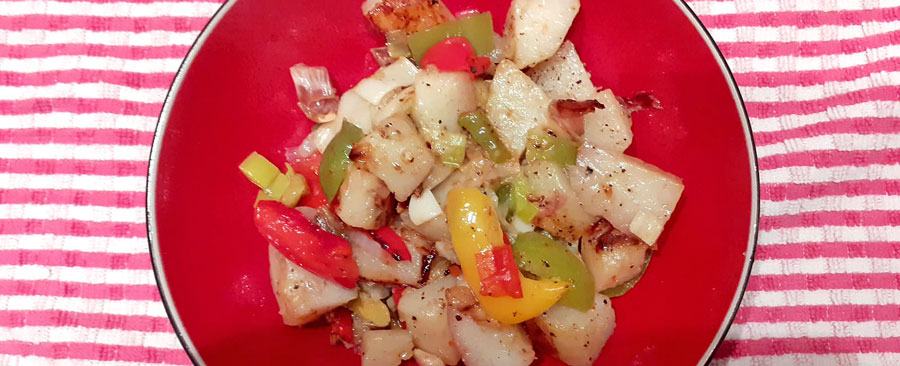 The other evening Paul Whitelock was wondering what to cook for dinner when he remembered a dish he discovered 20 years ago and used to prepare quite frequently back then.
He had no recipe; it was still in his head. Here is what he did…
Ingredients
3 medium-sized potatoes, cut into pieces
1 medium-sized onion, chopped roughly
1 leek (optional), chopped into rings
4 cloves of garlic, chopped roughly
½ red pepper, chopped roughly
½ yellow pepper, chopped roughly
½ green pepper, chopped roughly
Method
Fry the onions, leeks and garlic lightly until soft
Add the remaining ingredients and cook over medium heat until potatoes are soft
Stir frequently to prevent sticking
Serve in a bowl with a chunk of rustic bread
Tags
: garlic, leek, onion, papas a lo pobre, pepper, potatoes, recipe
***
Pepi's Magic 'Caldo'
By Julie Wilkinson
14 March 2023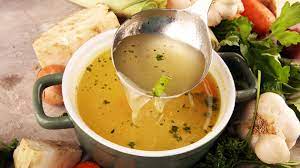 Caldo literally means 'stock'. Enter any supermarket or corner shop in Spain and you will see many packs of caldo in tetrapaks or as small boxes of stock cubes. The flavours are basic: chicken, red meat, fish or vegetable.
A good, bought brand might come in handy when you are in a rush, but nothing beats homemade stock (caldo casero). My Facebook post on the healing properties of my next-door neighbour's caldo received several reactions, the first being to affirm its healing properties, posted by a Spanish friend who claimed her grandmother's caldo could revive the dead!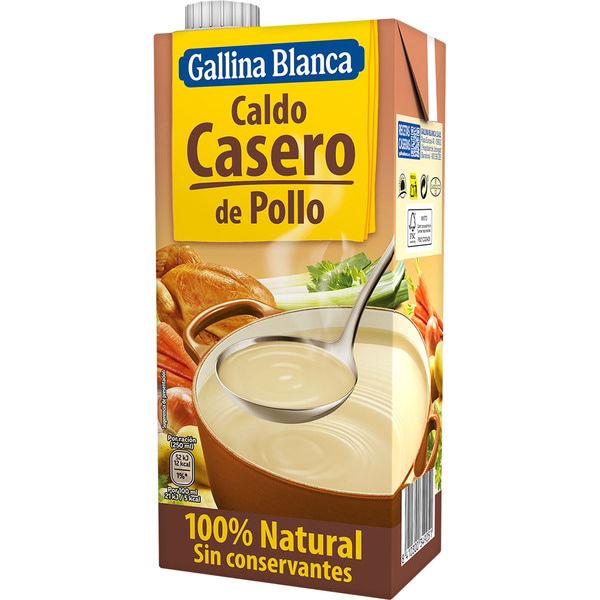 Joking aside, the preparation of a good caldo is no laughing matter. No one makes caldo from leftovers, as they might for making croquetas. Only the best ingredients will do.
Recipes are handed down from mother to daughter; spoken of in hushed tones; words like 'sagrado' (sacred) are used to describe the process and voices can be raised in dissent as to whether to add some veg to a meat-based caldo.
Here I'll be sharing the recipe of my next-door neighbour, Josefa (Pepi), whose poultry caldo passed to her from her grandmother (whom I also knew and loved for many years until her death in 2013).
This is the caldo most Andalusians will have grown up eating. To call it just 'stock' in English doesn't do it justice, as most of us in the Serranía de Ronda will have consumed it in a menú del día, either to drink in a glass with a sprig of hierbabuena or mint, or as caldo de pollo con fideos (chicken soup with vermicelli), or as the base for the ubiquitous sopa de picadillo (caldo with chopped ham and egg).
For the Andalusians, however, it is a cure-all. If anyone takes ill in your pueblo, then someone (family or neighbour) will take them a bowl of hot caldo. It's the first line of defence against colds and 'flu as winter approaches. In my pueblo I walk down the main street and the aromas of different pots of caldo embrace my senses. We make caldo every week in winter, but even in the height of summer with Feria and other fiestas, a glass of caldo revives us to dance into the early hours.

Ingredients
A good quality chicken carcass (pollo rural) still with some meat on the bones - chop it a little so it enters the stockpot easily and no bones stick out of the water.
A meaty turkey leg or similar (also cut up a little)
Cold water (we simmer from scratch!)
This should make c.2-2.5 litres of
Cooking time:
3-4 hours (pressure cooker will not produce same result)


Equipment
Better a tall stockpot than a wide one. You must fill with water to cover all bones by 2 fingers' depth (2 dedos is the rule).
Some cooks suggest washing the carcasses, but we buy very local and the carcasses come very fresh.
Put the pot on a low flame and bring gently to the boil, then keep on simmer. Grandmothers always insist on no lids as 'we need to check the water level', topping up as needed to the 2 dedos.
More importantly, we need to check for any fats or foam coming to the surface. These are a no-no for a good caldo, so skim them off as soon as you spot them. A good thing about the rule that you should make caldo on 1 day but only start eating it the next is that, once cooked, you can let it cook overnight. Any remaining grease will solidify on the surface, making removal far easier.
Then drain the liquid off to a clean pan and taste for salt. Never over-salt if you plan to use the caldo in different ways. You can add more salt to the portion of caldo staying as is with fideos, a chopped egg and hierbabuena. Less salt required for caldo being used as a stock for a rice dish.
The big debate in many Andalusian households is whether a meat caldo tastes better with some veg. I go with Pepi on this, that a purely poultry caldo is best but, if you wish to try veg, then I'd recommend the most popular mix of onion, celery, carrot, leek, garlic, tomato (100g of chopped veg for every kg of meat).
If you want a darker colour to your caldo, then brown your meat on medium before adding it to the cold water in the stockpot and simmer from scratch as above.
If you want an alcoholic tinge to your caldo, add a small glass of your chosen wine to the browned meat, ensuring the wine has evaporated by the time you add it to the stockpot.
¡Salud!
© Julie Wilkinson
About Julie Wilkinson
Julie Wilkinson (Julia to her Spanish friends), semi-retired, active interpreter and advisor to Brits moving to, and now living, in this part of Spain. A big fan of the Serranía de Ronda since her first visit in 1980 and resident since 2018 after leaving her academic career in Computing behind in the UK.
A fluent speaker of Spanish (amongst other languages), passionate about music in many forms and a novice birdwatcher, Julie spends her free time enjoying nature photography and hiking these sierras, as well as being an active participant in all local fiestas.
***
By Paul Whitelock
27 February 2023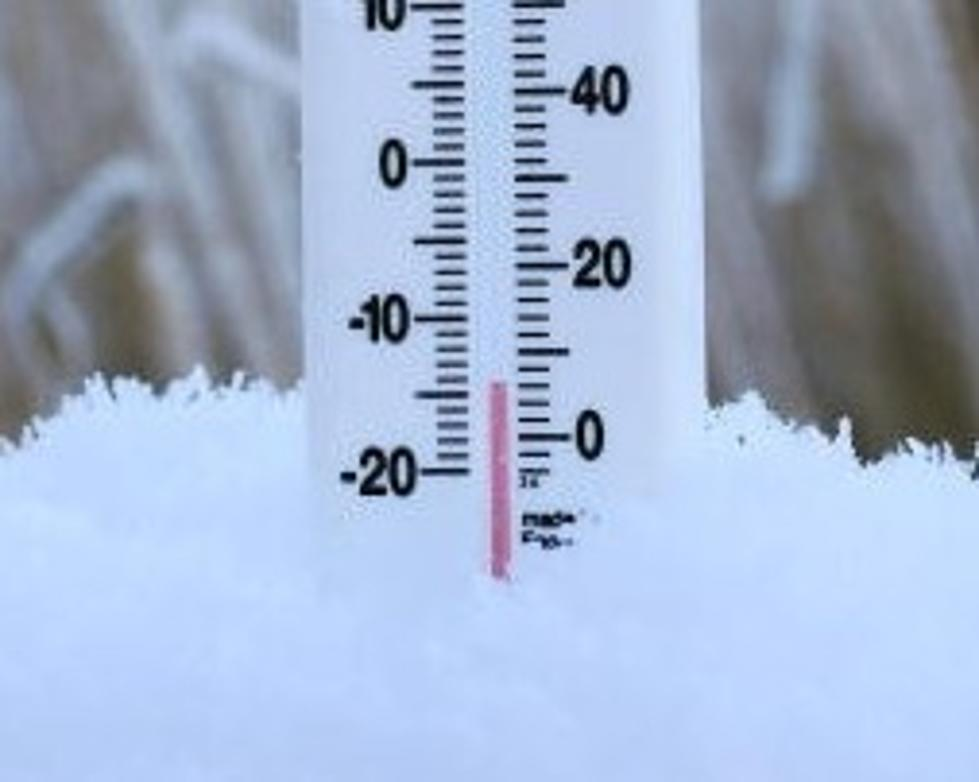 The weather turned cold last weekend. I was home alone on Saturday evening, so I lit the log fire and settled in to watch the 6 nations rugby match between Wales and England.
What to eat, though? A pizza? Sausages and mash? No, I fancied a thick winter soup to warm me up from the inside. So, I raided the pantry and the fridge and came up with this:
3-bean and vegetable soup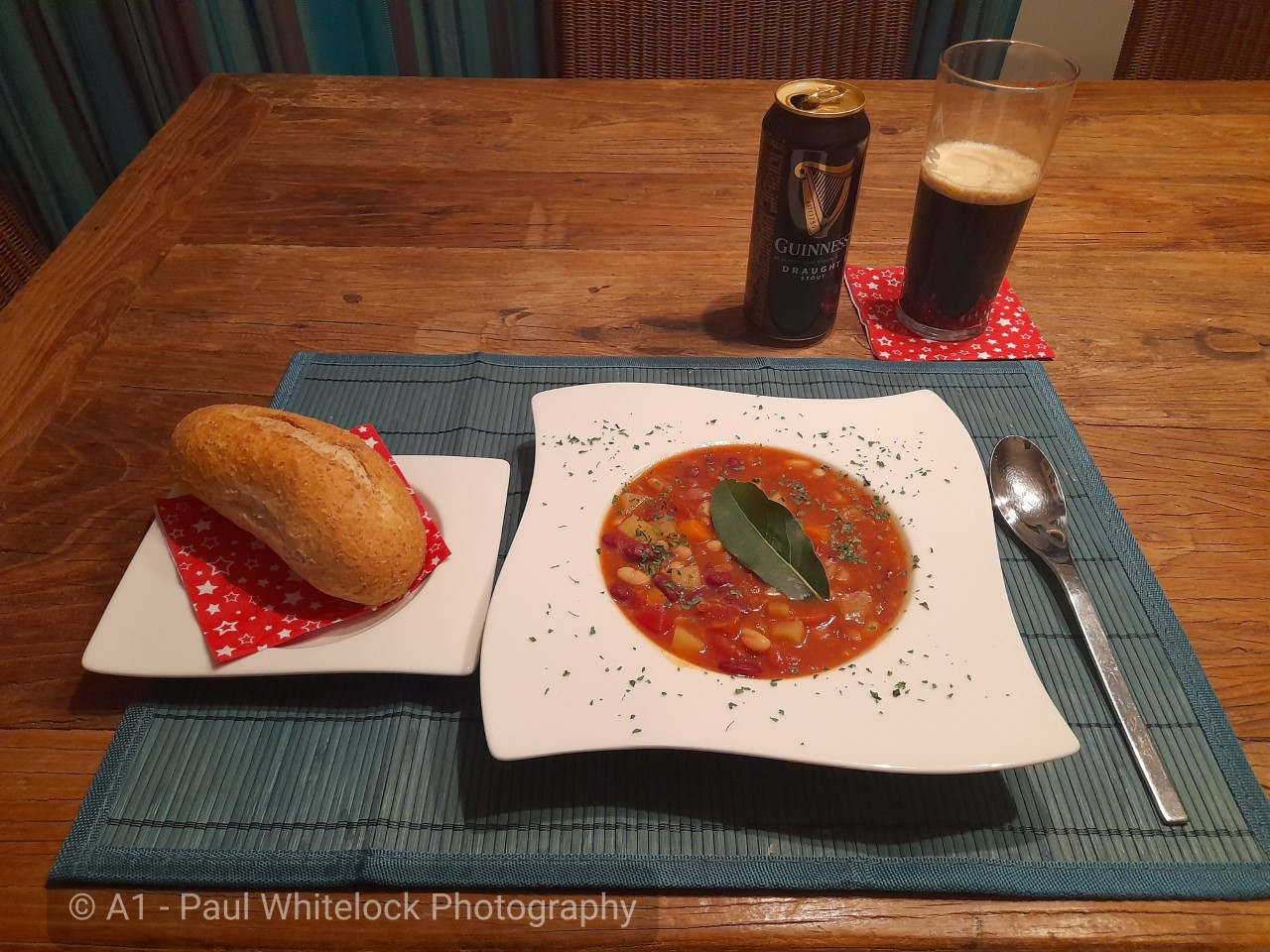 Ingredients
1 red onion (diced)
4 cloves garlic (peeled and halved)
2 potatoes (diced)
2 carrots (chopped)
1 can tomato chunks
For the beans I used what I had:
1 small glass of alubias blancas
1 small glass of alubias rojas
1 can baked beans
Salt and pepper
1 glass red wine
½ litre of vegetable stock
1 tbsp olive oil
3 laurel leaves
Method
Heat the oil in a large deep pan.
Fry the onion, garlic, potatoes and tomatoes for 5 minutes.
Add salt and ground pepper and stir.
Add the stock and wine and stir well.
Bring to the boil and add the baked beans.
Stir well and set to simmer.
Cook for 30 minutes.
Serve with a laurel leaf and parsley flakes as garnish with a crispy bread roll.
I drank a can of Guinness with my soup.
Conclusion
I enjoyed my impromptu meal, and it certainly warmed me up.
Why not give it a try? Just use what you have. It won't matter if you use different beans or veg.
© Paul Whitelock
***
Julie's Squash and Blue Cheese Risotto
By Julie Wilkinson
Friday, November 18, 2022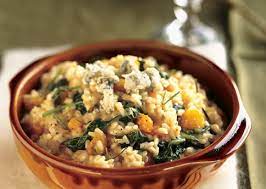 It's autumn here in Andalucía and so pumpkin and squash abound. Whilst a pumpkin purée is a staple dish for this season, I like to mix it up a little and this recipe provides a substantial lunch at little cost.
I've fused a typical, Italian risotto with a Spanish twist.
Hope you like it – my Spanish friends always request it!
Ingredients (4 portions)
1 large onion/ 2 medium onions finely chopped
20g butter
Tablespoon good quality olive oil
Salt and pepper to taste
Chopped parsley (optional)
200g blue cheese – my favourites are Gorgonzola or Dolcelatte (less bite with the Dolce/ Dulce; I prefer the Picante)
4 portions of pumpkin/ squash chopped into 1cm cubes
A good stock – I tend to use homemade chicken stock, but a good veg stock keeps this dish vegetarian – usually 1 litre or less
4 handfuls of arborio risotto rice (arroz redondo will do)
[my now-not-so-secret-ingredient!] small glass of dry aniseed drink (anis seco). If you don't like a slight aniseed flavour, then a larger glass of good, dry, white wine will do. The pumpkin needs this kick.


Method
Gently warm the butter in a large, shallow pan, adding onion once warmed.
Sprinkle the oil.
Cook gently so the onion turns almost transparent, never browning or even golden.
Add the pumpkin, the anis/wine and enough stock to just cover the contents.
Simmer gently for 10 minutes or so. Do the knife test to check the pumpkin is starting to go soft.
Add the rice and top up with stock.
Add salt and pepper to taste.
Gently simmer until rice is cooked (al dente) and liquid is absorbed. Try not to stir. The surface should glisten, thanks to that bit of butter.
Turn off the heat. Gently stir in the cheese, cut into small cubes. Taste for personal preference before adding all the cheese as you may prefer less than 200g.
Cover and leave the dish to absorb the cheese flavour.
Take to the table and serve (sprinkle of parsley optional).
Tip: if you prefer a variety of colours in this dish, I recommend a couple of handfuls of frozen garden peas. Stir them in just before removing from the heat so that they don't overcook, then add the cheese as above.
Recommended accompaniment
A chilled rosado or a light tinto.
¡Buen provecho!
© Julie Wilkinson


About Julie Wilkinson
Julie Wilkinson (Julia to her Spanish friends), semi-retired, active interpreter and advisor to Brits moving to, and now living, in this part of Spain. A big fan of the Serranía de Ronda since her first visit in 1980 and resident since 2018 after leaving her academic career in Computing behind in the UK.
A fluent speaker of Spanish (amongst other languages), passionate about music in many forms and a novice birdwatcher, Julie spends her free time enjoying nature photography and hiking these sierras, as well as being an active participant in all local fiestas.
Tags: anís, autumn, blue cheese, julie wilkinson, pumpkin, recipe, risotto, rosado, tinto
***
Ritas's Moroccan Chicken
Rita Whitelock

Wednesday, November 2, 2022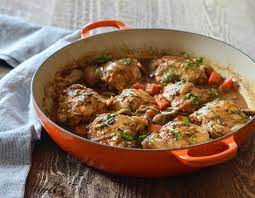 Rita first came across this dish at an international food festival in Montejaque in 2010 where it won first prize. The cook was Heather Cooper, owner with her husband Wayne, of HIKE AND BIKE THE SIERRAS in Ronda.
Heather kindly shared the recipe, which Rita has adapted into one of her own favourite signature dishes…
Ingredients – (4 people)
4 chicken breasts (approx. 200g each) cut into small pieces
2 tablespoons of olive oil
1 large onion thinly sliced
2 teaspoons of cumin seeds
2 teaspoons of ground coriander
2 teaspoons of ground ginger (or fresh, finely chopped)
2 teaspoons of ground turmeric
2 teaspoons of ground cinnamon
1 teaspoon of chilli powder
½ teaspoon of grated nutmeg
375 ml chicken broth
250 ml of water
70 g dates, chopped
90 g honey
80 g roasted almond flakes
1 tablespoon of chopped fresh coriander
Method
Heat half of the olive oil and fry the chicken until brown. Lay aside on kitchen paper.
Heat the rest of the oil and fry the onion until soft.
Add the spices, stir well and fry for another minute.
Return the chicken to the pan with the broth and water. Cover and cook for 20 minutes.
Remove the lid and simmer for about 20 minutes until the mixture has thickened and the chicken is thoroughly cooked.
Stir in the dates, honey and nuts and warm them through.
Just before serving, stir in the coriander.
Serve with couscous.
Suggested drink
Cerveza tostada or a good tempranillo from Ribera del Duero or La Rioja
© Rita Whitelock
About Rita Whitelock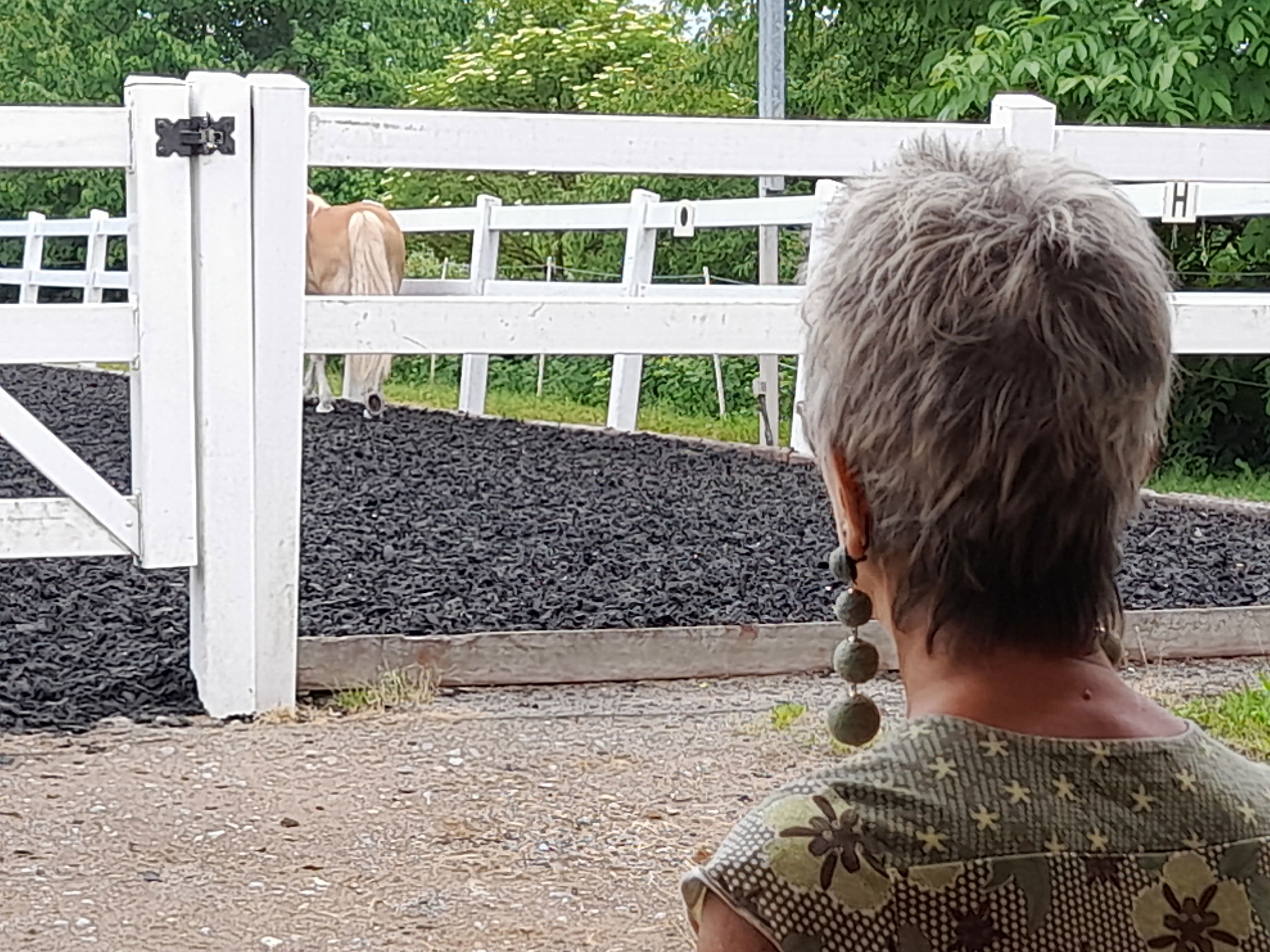 German-born Rita is a retired intensive care nurse and medical administrator. Alongside her career she raised three children with her first husband. An accomplished cook, she famously catered on two occasions for the Sol Classic Car Club when they came on daytrips to Montejaque, where Rita has lived since 2005. Rita discovered Montejaque through twin-town Knittlingen, where she used to work.
Tags: chicken, heather cooper, hike and bike, ronda, montejaque, Moroccan recipe