There are a number of foreigners, 'guiris', who have settled in Ronda and the Serrania. Many are retired and just enjoy life here, lots are artists, musicians and writers, others have started businesses, some fell in love here.
Here are some of their stories:
Scroll down to "meet" Paul Bowles (En), Heather Cooper (En), Michael Coy (Ir), Paul Darwent (En), Delphine Duboys (Fr), Carolyn Emmett (En), Guy Hunter-Watts (En), Peter Jones (En), Karethe Linaee (No), Marcus Myers (En), Wayne Pickering (En), Paul Whitelock (En), Rita Whitelock (Ger), Julie Wilkinson (En), Charlotte Wilmot (En)
***
Ronda Romántica: Falling in love in the 'City of Dreams'
22 May 2023
Ronda Romántica is the festival, normally celebrated in May, whereby historic events and pageants are acted out on the streets of the City of the Tajo. Villages from throughout the Serranía de Ronda and beyond take part and good fun is had by all.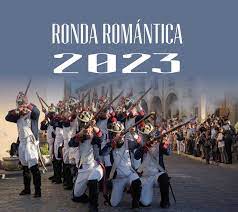 The event was cancelled for two years because of the Covid-19 pandemic. Its revival since then has made this fiesta even more popular. The 2023 edition was amazing!
But there is another side to Ronda Romántica, namely the number of people who have come to Ronda, fallen in love here and remained.
The US author Ernest Hemingway is rumoured to have had a love affair with the film star Ava Gardner whom he met in Ronda when they were both here for the bullfight season in the fifties. Hemingway wrote the following about Ronda: "It is to Ronda you'd have to go, if you're going to Spain some time for a honeymoon or with a lady friend."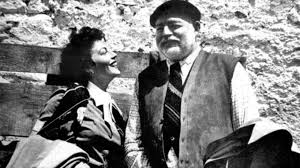 The aptly named Love family have two generations that have fallen under Cupid's influence here in Spain, if not in Ronda, then in Andalucía. Mum and dad, Elaine and Ian, met here as 20-somethings, married and opened a very successful restaurant, The Harbour Lights, in Cabopino, until they decided to move to Ronda with their three daughters.
They converted an old mill into one of the finest boutique hotels in the Serranía de Ronda, Hotel Molino del Puente, and their restaurant, La Cascada, is one of the best restaurants around.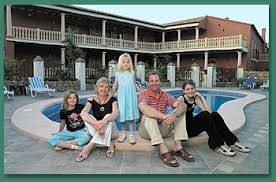 The Love family in 2010 shortly after the hotel opened [Photo: hotelsearch.com]
Their eldest daughter Robyn (Marbella, Spain) met and fell in love with Gianlucca (Germany via La Palmera, Spain) at Cádiz University. They have both now graduated and work as marine biologists, currently in Sweden.
Robyn's sister, Carly (Marbella, Spain) and Tom (England via Marbella) met on the Costa del Sol but moved to Puerto de la Cruz in Tenerife where they ran a successful bar/ restaurant for several years. They have a baby girl, Sophia, and have since returned to Ronda, where Carly is an estate agent and Tom has taken over the kitchen duties at La Cascada.
Paul Whitelock (Barnstaple, Devon, England) and Rita Drechsler (Oesterholz, Germany) met at the Feria de Pedro Romero in 2008. Fifteen years later they are still together (13 years married). Click here for more on this story.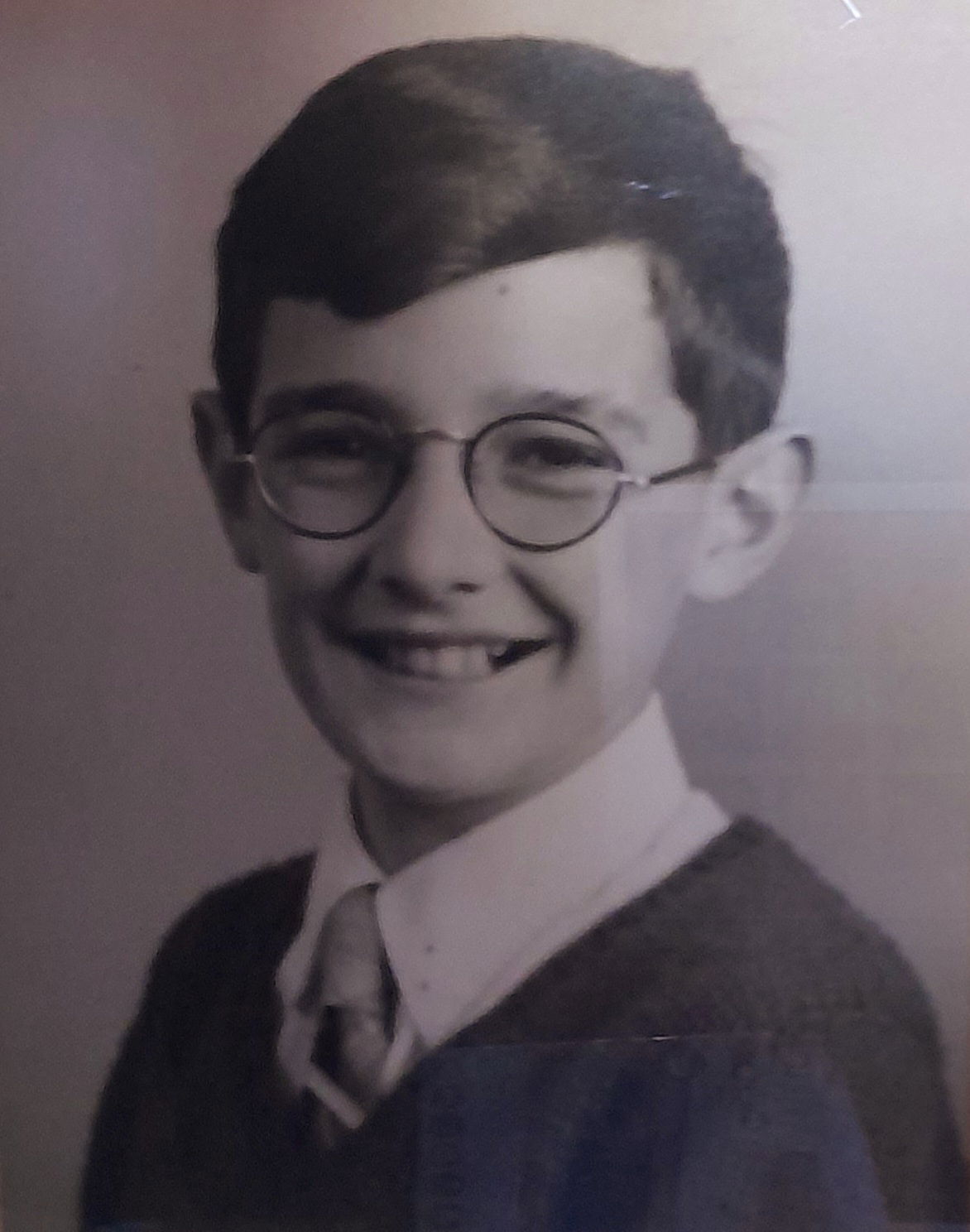 Paul Whitelock, aged 10
Charlotte Wilmot (Lincoln, England) and Jaime López (Benaoján, Málaga, Spain) met in Ronda 21 years ago. They are married with a child. Jaime was Charlotte's Spanish teacher. They run a successful language school in Ronda, RondaLingua.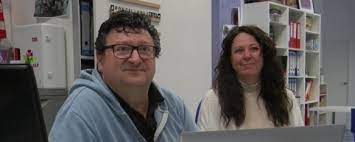 Charlotte and Jaime [Photo: Charry TV]
Michael Coy (Wrexham, North Wales) met and fell in love with Mercedes (Ronda, Spain) during a trip to the town 20 years ago. He gave up his career as a barrister and moved to Ronda to be with his dream girl. Their relationship lasted 15 years and they remain good friends.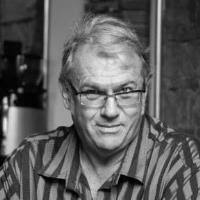 Michael Coy
Michael still lives in Ronda, where he teaches English and Spanish, offers legal advice and writes poetry in both English and Spanish. In 2022 Michael published his first novel "The Luckless Girl".
Andrei, a former primary school teacher, born in the UK to Polish refugees escaping from Nazi Germany in the 1940s, came to Ronda 13 years ago where he met María. They are still together. He is an English teacher and she is an asesora at the Tourist Office in Ronda.
Seamus (Co. Cork, Ireland) is an incorrigible romantic. He falls in and out of love regularly, although he is now in a settled relationship.
Another romantic is Chris Mees (Antwerp, Belgium) who has had more girlfriends than I've had hot paellas. He has a different girl on his arm every time I see him.
Becky Jackson (Colwyn Bay, Wales) and Graham Pitt (Scotland) were already engaged to be married when they first visited Ronda, but they loved the town so much they decided to get married here. Click here for details of their wedding in Ronda, one of few by foreigners in the town.
Delphine Duboys (Paris, France) and Fernando (Ceuta, Spain) found love here in Spain and moved to Ronda where they ran a horse riding retreat, Paddock Paradise, located just outside Ronda. Sadly that didn't work out. Fernando now works in the travel industry and Delphine is a candidate in the local elections for the new party Ronda 100 x 100.
Click here for a delightful TV interview with Delphine made by Charry TV.
*
These coups de foudre don't always work out, however, and several relationships that existed prior to Ronda have foundered in the City of Dreams. For example, this writer's relationship with his first wife of 30 years and then his subsequent girlfriend of two years.
Other guiris have come to Ronda as married couples or partners in order to escape the rat race that is northern Europe and to build a new life. In some cases, regrettably, the pressures of having to earn a crust or living together 24/7 have taken their toll.
In some cases, sudden death has intervened.
In 2005 Jill and Bill La Pêche bought their dream finca together in Yunquera (Málaga) to develop an ecological fruit farm, although they lived in Montejaque, near Ronda.
In 2009 Bill suddenly died of a heart attack, leaving Jill alone.
She struggled to maintain the finca for several years, but eventually sold it in 2018. Jill is still in Montejaque enjoying her life, and, NOT wearing black all the time, as Spanish widows do. She has just celebrated the first anniversary of a new relationship with John Grant, a Scotsman who also lives in Montejaque. For more on this story, click here.
Julie Wilkinson has owned a house in Cañada del Real Tesoro (Cortes de la Frontera Estación) for 19 years. She and long-time partner Nigel used it regularly to escape the pressures of working life in the UK. Nigel died suddenly in 2012 leaving Julie to reassess her life.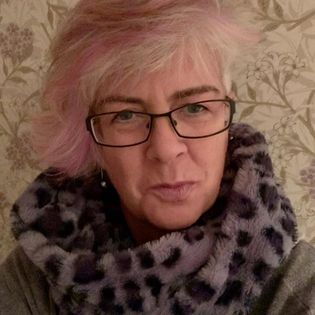 Julie Wilkinson
She decided to put all her eggs in one basket and moved out to Spain full time in 2018, where she is semi-retired. A fluent Spanish-speaker, she spends some of her time assisting non-Spanish speakers with their bureaucratic and administrative issues. She is also a translator for the newspaper SUR IN ENGLISH.
As well as being president of the SERRANIA BOOK BUDDIES reading group, Julie is a keen photographer, rambler, cook and writer on environmental issues. She wants to enter politics and is a candidate for PSOE-A in the upcoming local elections.
*
So Ronda Romántica, the local festival, is back with a bang after a two-year suspension, and it looks as though Ronda continues to throw up romances for visitors and locals alike. Long may it continue.
¡Viva Ronda Romántica!
© Paul Whitelock
This is an updated version of a similar article published at www.secretserrania.com in June 2021.
Tags: Charlotte Wilmot, charry tv, city of dreams, covid-19, Delphine Duboys, ernest hemingway, guiris, Jaime López, Jill La Pêche, julie wilkinson, love, Michael Coy, Paul Whitelock, Ronda Romántica, RondaLingua
***
Guy Hunter-Watts memorial mass in his beloved village of Montecorto
19 May 2023
By Paul Whitelock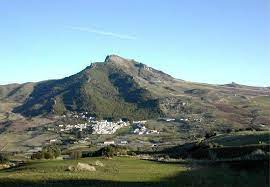 Montecorto (pop. 582) [Photo: Facebook]
Nearly 200 mourners turned up to say goodbye to their friend and neighbour Guy Hunter-Watts, who passed away last Sunday following a cycling accident.
The small church in Montecorto was inundated with family members and friends from the UK, Spanish locals, and a diaspora of foreign expatriate residents from Austria, Britain, Germany, Hungary, Ireland, the Netherlands, and even Angola. A hundred were seated and a similar number stood at the back and in the doorway.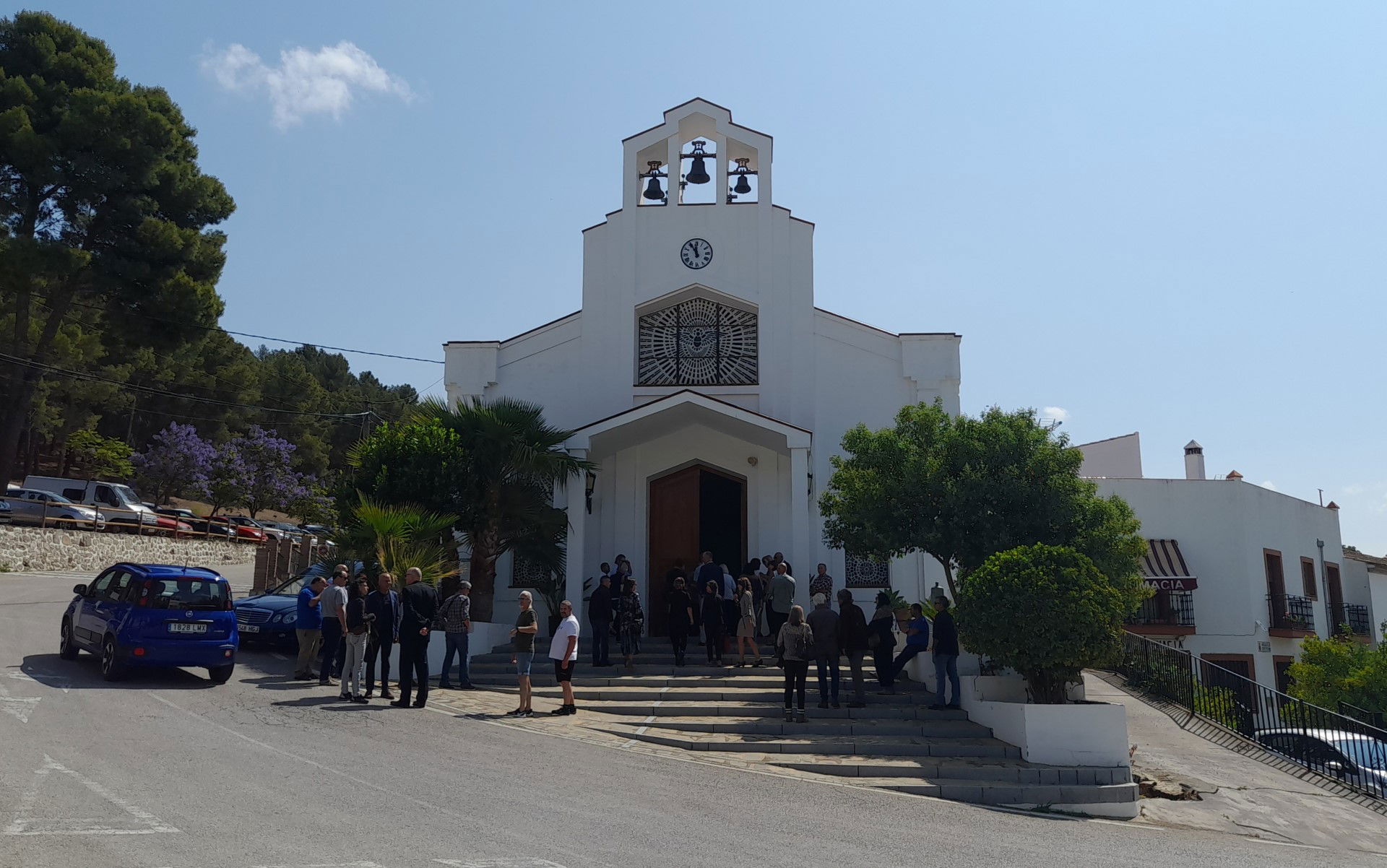 Church of Nuestra Señora del Carmen - before the mass [Photo: Paul Whitelock]
The service was a gentle and celebratory affair, tinged with sadness, in a mixture of Spanish and English with English hymns and Spanish prayers and the short sermon from the priest.
Guy, or Guillermo, as he was known to his Spanish friends and neighbours in Montercorto and neighbouring El Gastor, was clearly a popular man. Fluent in Spanish, he was described as an adventurer and romantic who enjoyed the company of others, especially on his walks through the high sierras.
There were a number of warm eulogies from family and close friends, which were translated as required. Guy's sister, Mandy, read an extract from Corinthians, and Nick, Tiki, Leyla, Seamus and Manfred made fitting tributes to their friend.
After the committal, Guy's coffin was carried from the church by four of Guy's special pals, while close friend Marcus Myers and his wife Carmen played and sang an acoustic version of "In My Life" by The Beatles.
At the later "wake" in Restaurante El Tropezon, the assembled mourners were treated to drinks and tapas while they reacquainted themselves with old friends, made new contacts, and lamented the premature death of their friend Guy Hunter-Watts. He was just 64.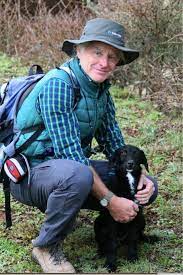 A favourite photo of Guy Hunter-Watts. RIP
© Paul Whitelock
***
OBITUARY: GUY HUNTER-WATTS
15 May 2023
By Paul Whitelock
The death has been announced of Guy Hunter-Watts, a neighbour and friend who lived in this part of Andalucía for over 30 years. He died over the weekend from injuries sustained in a road accident, whilst riding his bike. Further details are not yet available.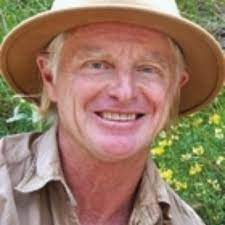 Photo: Cicerone Press
Guy Hunter-Watts, from Bristol, came to Andalucía as a young man. He fell in love with the area and after settling here went on to become a distinguished writer, walking guide and all-round good 'guy'. Aptly named, I'd say!
He lived for many years in the tiny village of Montecorto (Malaga) where he also had some high class rental properties.
Guy lived in Andalucía for more than 30 years and was passionate about his adopted country. He worked as a freelance journalist and walking guide and wrote extensively about walking, hotels and travel.
He worked with many specialist companies including Abercrombie and Kent, Alastair Sawday, i-escape, Andrew Brock Travel, The Hotel Guru, On Foot Travel and Safari Andalucía.
Guy's first experience of walking in Andalucía came more than three decades back when he discovered the stunning trails of the Grazalema and Ronda mountains. Since then he dedicated much of his professional life to researching and writing walking guides about this uniquely beautiful part of Spain.
His guides contain clear yet detailed route notes and maps, GPS references, along with recommendations for good places to stay and to eat, as well as overviews of all the areas described.
The guides have been recommended in The Times, The Telegraph and The Observer, as well as in The Rough Guide, The Footprint Guide and The Time Out guide to Andalucía.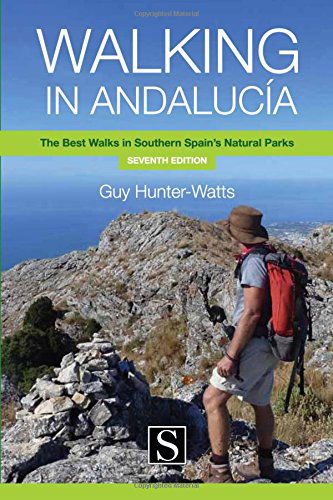 I first came across the name Guy Hunter-Watts when I bought a copy of his guide "Walking in Andalucía" some 20 years ago. A few years later I met him in the company of another walking guide writer, Tony Bishop, who sadly left us in 2013.
I bought a copy of the sixth edition of "Walking in Andalucía", which bears a dedication from Guy.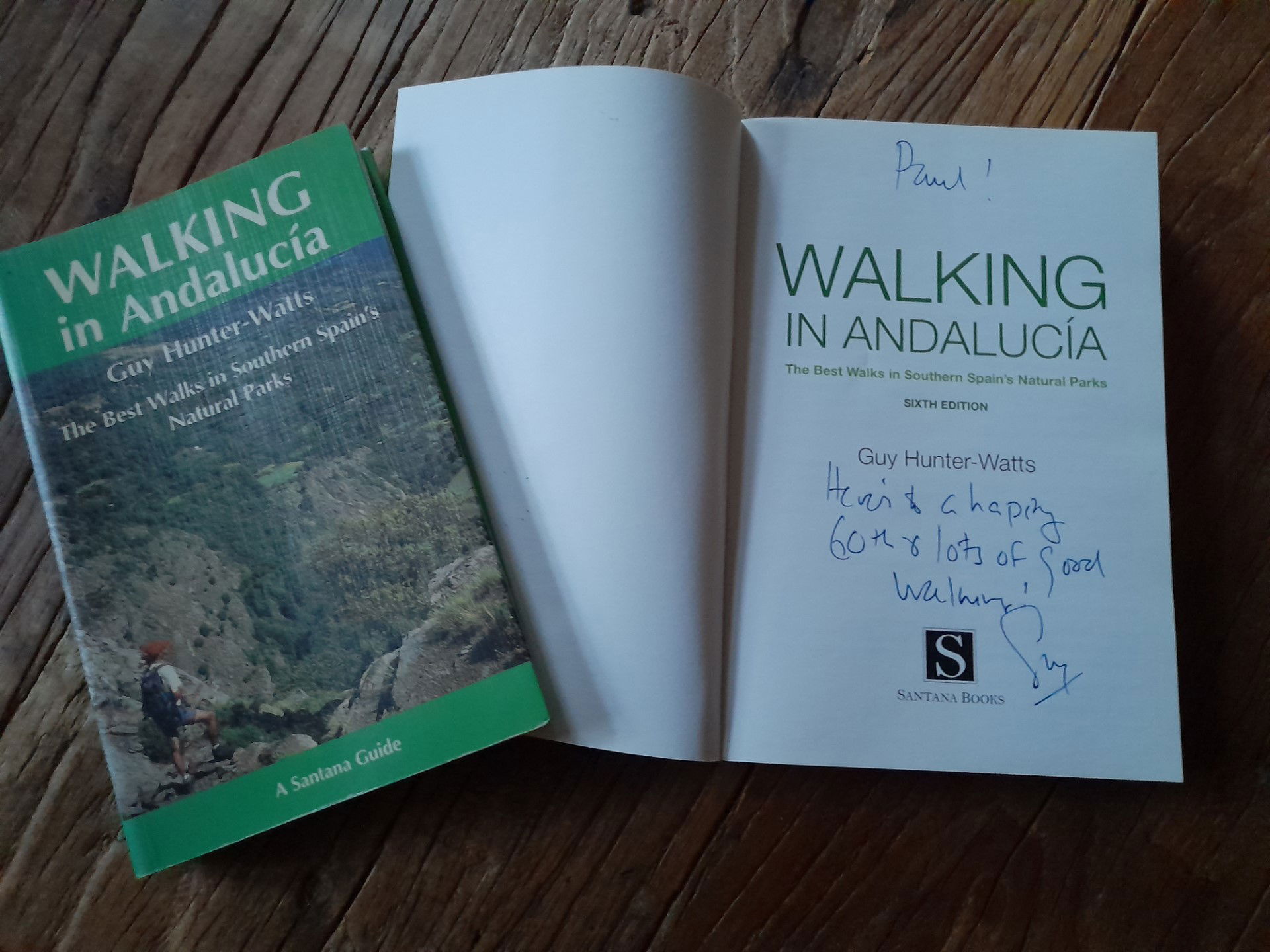 Photo: Paul Whitelock
Later, I heard him on BBC Radio 4, in the "Ramblings" series presented by Clare Balding. In theory, this should be available on YouTube or BBC Sounds, but I couldn't find it. That was in 2002.
Last year I bumped into Guy by chance at a builder's merchant in Ronda. I knew who he was, but, much to my surprise, he also knew of me from my writings on various websites on the worldwide web.
I bumped into him a few times since then, in Montejaque and Jimera de Libar. The last time I saw him was two weeks ago and we agreed to meet up in his beloved Montecorto for a few beers. Alas, that will now never happen!
Although I didn't really know him well, I liked Guy a lot. He had the same passion for the Serrania de Ronda that I have, he was lively and entertaining, liked a drink and was an all-round-good-guy/bloke. I am gutted by his passing.
Guy wrote ten books, which are all still in print.
His website is still active: Walking books – Guy Hunter Watts
DEP, Guy.
The following report appeared on 15 May 2023 in the Olive Press
FINAL WALK: Iconic Andalucia expat author dies in road accident near Ronda - Olive Press News Spain (theolivepress.es)
***
BIRD MAN: Meet Ronda nature guide and writer Peter Jones
Interview by Paul Whitelock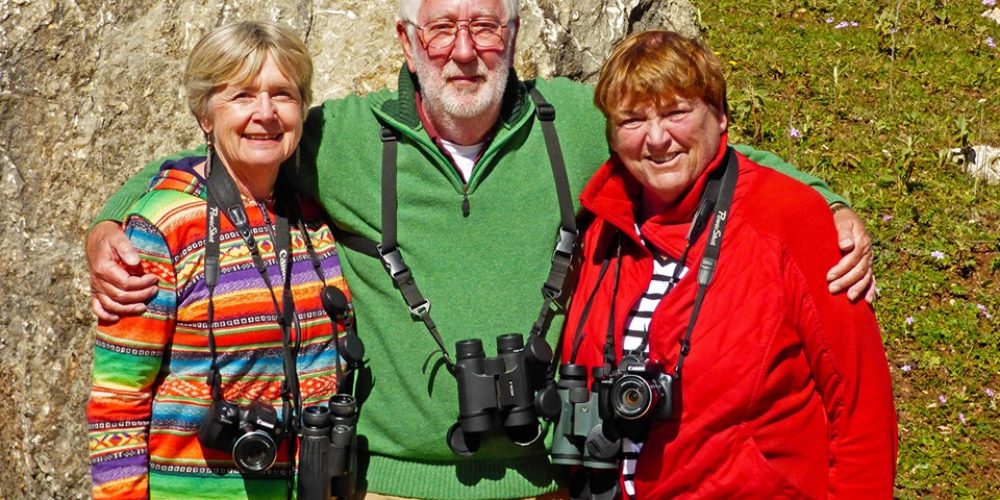 Peter Jones is an author, naturalist, co-founder of Spanish Nature, Worldwide Birding Tours and currently president of the Andalucia Bird Society. Peter has been involved in a great many environmental projects and has had several works published over many years. Peter has a passion for birds, having also been involved in scientific research into birds for over 45 years, but his many interests also extend to flora and fauna. Peter has lived in Spain since 2003.
Help Me Ronda: So, Peter, where are you from originally?
Peter: England and moved around according to the demands of my work.
HMR: Where are you living now?
Peter: My wife and I live in the municipality of Ronda.
HMR: How did you come to decide on your particular location in Spain?
Peter: The surrounding area i.e., La Serranía de Ronda, was a great place to study a particular bird species I'd been asked to investigate.
HMR: What was it in the first place that attracted to you to move to this area?
Peter: We had friends living here and we visited them in the area and just fell in love with both Ronda and the surrounding mountains. Of course, my interests in nature were completely satiated by the abundant wildlife and wild places throughout the region.
HMR: How would you describe your life here in Spain?
Peter: Hectic, completely self-imposed, and in so many ways idyllic. It has been a wonderful experience on many levels. The friendliness of the Spanish, particularly in this area, has been so refreshing and welcoming. I have found people so very helpful and understanding, plus the local cuisine is a treasure I never expected to find and enjoy so much. The bureaucracy is something I struggle with, but we muddle through and get to where we need to be eventually. So, I guess I'd have to say life here is very good.
HMR: Do you miss anything about England? What would you say are the negatives of living here?
Peter: Actually, I only miss friends and family from the UK. The only negative has been my failure to become even more conversant with the language, but snail-paced I am slowly getting better. I am not a linguist.
HMR: How do you find the cost of living here compared to back in the UK?
Peter: So very much more manageable and as a pensioner that is an important reason to stay put and be able to enjoy a good standard of living.
HMR: With the length of time you've lived in Spain, your knowledge of the language and your expertise on flora and fauna, particularly birds, I should imagine you've found it easier than most to integrate.
Peter: Well, as mentioned previously, my language skills can still improve, but yes, my work and experience in the natural world introduced me to many wonderful people here; many have become invaluable friends. They are all great at excusing my poor Spanish, in fact they get to laugh at me on a regular basis, perhaps that is why they like my company!
HMR: You are married. Do you have a family?
Peter: Yes, it seems impossible, but Brenda and I have been married now for over 50 years and we have both reached the big seven-oh. We have a daughter and three grandsons living in Italy. The eldest grandson passed his university degree with honours a couple of years ago and has now taken up residency and work in the UK, poor lad!
HMR: What about day-to-day living, healthcare, etc.?
Peter: I guess our daily living has taken a knock with lockdowns and lock-ins, much the same as everyone else. We walk most days with our two dogs, enjoy the odd excursion here and there into the surrounding countryside. I am busy writing and also doing lots of work for the Andalucia Bird Society, especially now, as working as a nature guide has been curtailed due to the pandemic. We are only recently looking to enrol for Spanish healthcare. Having officially got our residency and Spanish driving licenses, healthcare was next up. The only problem we have encountered to date is we need to renew our S1 certificates as they are more than two years old.
HMR: When you first moved here, do you think you made any mistakes that looking back you can warn/advise others about?
Peter: The only thing I believe we could have done better was to make a concerted effort to learn a higher level of Spanish before embarking on our adventure. Other than that, I think our planning was spot on. I think the best advice I could give anyone wanting to come and live here is to rent a property in the first instance, give yourself time to explore the region before deciding on where you want to call home and buy a property.
HMR: What would your advice be to would-be expats looking to relocate to Spain?
Peter: Do it!
HMR: Finally, do you see yourself ever returning to the UK?
Peter: Not really, unless my family want to export me in my wooden overcoat!
Note: A version of this interview first appeared on the website www.secretserrania.com in November 2020.
***
Karethe Linaae - from Norway via Paris, LA, and Vancouver to Ronda
Karethe Linaae is a Norwegian writer and journalist. It is just over 10 years since Karethe and her Mexican husband Jaime moved to live in Ronda.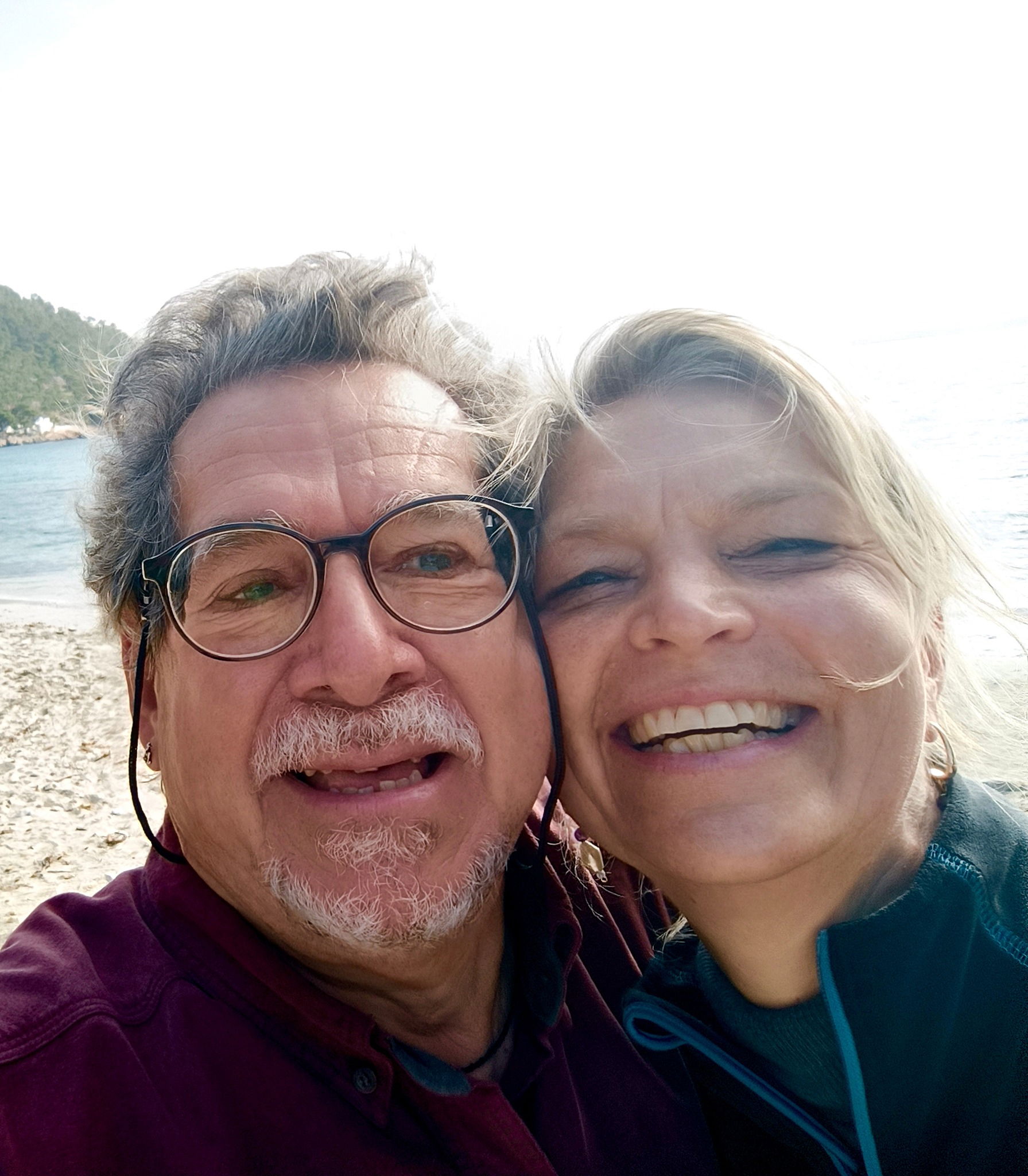 On the tenth anniversary of their arrival, in November 2012, Karethe wrote:
"Unbelievable, but true! Exactly ten years ago to the day, on a stormy night on November 3rd, 2012, my husband and I arrived in the small town of Ronda in Andalucía with a couple of suitcases. Our few other earthly possessions that we hadn't given away, donated, sold, recycled, or thrown away, sat in a container on a dock in Canada to be dealt with at a future date. We had spent a single night in the town before, and now we were suddenly here indefinitely. The plan was to stay in Ronda for a few months before we travelled to other towns in search of our slice of Andalusian paradise. But gradually we understood that we had more or less found our paradise right here!"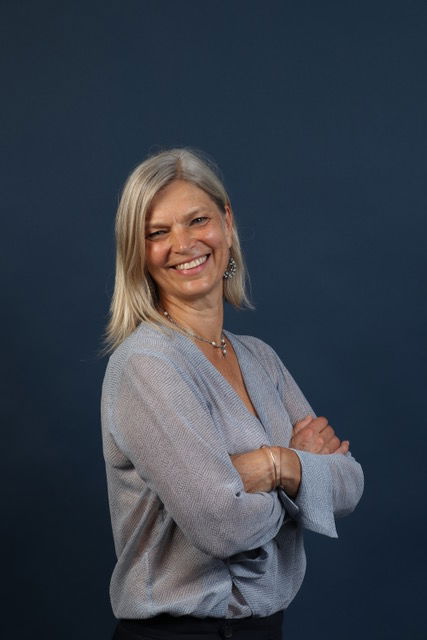 Karethe wrote a book about their experiences called 'Casita 26'. Published in English in the USA in 2019 and in Spanish in Spain in 2023. Her book is now available in both languages, published by Editorial La Serranía.
Before moving to Spain, Karethe had a long career as a film- and TV art director. She has been a lifestyle journalist in Paris, a movie reporter in Montreal, a scriptwriter in LA, and a content writer and communication manager for NGOs in between film gigs in Vancouver.
She is currently the editor of the Norwegian magazine Det Norske Magasinet and is a regular contributor to English, Swedish, Danish, and Norwegian magazines. 
Further information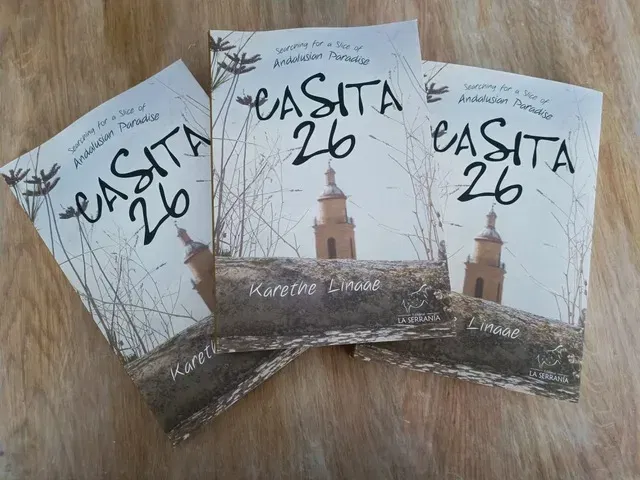 'Casita 26', Searching for a slice of Andalusian Paradise - English version (Ed. La Serranía) 18€
'Casita 26', En busca de un pedacito de Paraíso Andaluz - Spanish version (Ed. La Serranía) 18€
Available in all good bookshops, eg Librería Dumas, Calle Jerez, Ronda
Comment on 'Casita 26' by Paul Whitelock: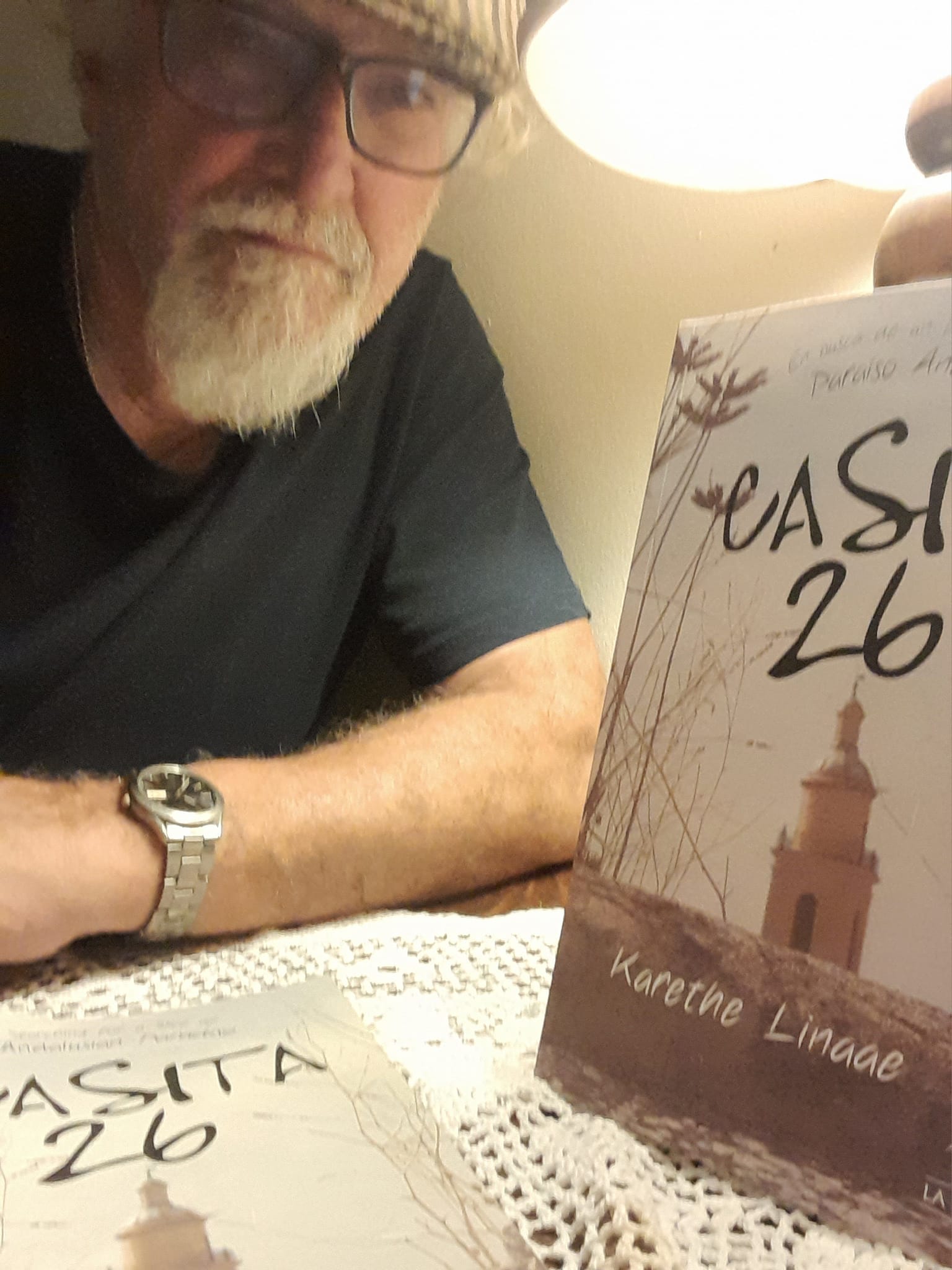 "I loved this book. It reminded me of 'Driving Over Lemons' by Chris Stewart, except that it is set in Ronda, where I also live. I can identify with the places and people that Karethe describes. Indeed, I feature in the book - I am the "nice English gentleman who was their first landlord!"
Well done, Karethe, a magnificent achievement!"
***
Carolyn Emmett: "An adopted montejaqueña"
By Carolyn Emmett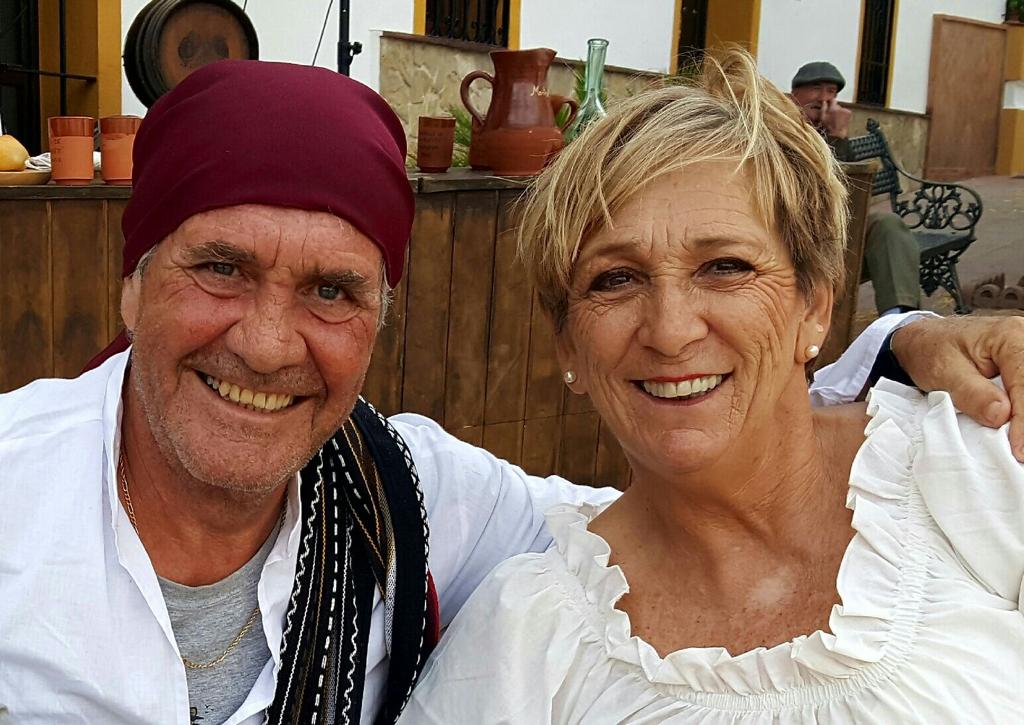 Carolyn Emmett and husband Kevin live in Montejaque in the Serrania de Ronda. They have had an exciting expatriate life, having lived in Canada, Indonesia, Botswana and South Africa before retiring to Montejaque in 2011.
In 2013 Carolyn and her Spanish friend from the village, Victoria, designed and produced The Cookbook and Village Guide (El Libro de Cocina y Guia del Pueblo), a bilingual recipe book that includes recipes from the locals, bars and restaurants and other extranjeros. All proceeds from the cookbook were donated to a social project in the village.
***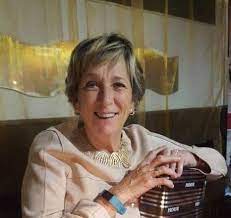 Carolyn wrote:
At the end of March 2021 I read a post on the Facebook page of Expats in the Serrania de Ronda:
"Hi there! I'm Cheché, a journalist at Charry TV in Ronda, and next week I'd like to interview some foreign people who have been living in Ronda or the Serrania for several years. My intention is to create a TV broadcast about people who chose to settle down here and who are willing ti tell their story. If you are interested please let me know."
Not one to hide my light under a bushel (!) I immediately replied to Cheché.
"We retired to the village of Montejaque in 2011, after having lived in England, Canada, Indonesia, Botswana and South Africa. We have totally immersed ourselves in village life, taking part in all local activities, and even publishing a cookbook of local recipes in 2012. Would be happy to participate in your project."
One of my friends even commented on my reply:
"I would highly recommend Carolyn and Kevin to be interviewed." (thanks, Paul Sachs).
The following day I received a text from Cheché:
"Thank you for your answer! Could we meet next Wednesday morning for the interview? Is there any place in Ronda you especially like?"
My first choice was Casa del Jamón on Calle Jerez, known for its great selection of fine quality hams, local wines, excellent coffee and great service, all in a uniquely designed shop and café. Cheché thought the time and place were great, then asked if I was fluent in Spanish.
"Fluent?! I can speak and understand at about 70 per cent ability I think; maybe a bit less if we're wearing masks. And my past tenses are rather pathetic."
Cheché told me not to worry – it would be OK for the programme, "better than my English for sure," she said.
When we met on that Wednesday morning, I found out that we would, indeed, both be wearing masks for the interview. We stood in the wine section of the shop (I immediately wished for a strong drink) and started the interview. Fortunately, I did manage to understand most of Cheché's questions, and she rephrased anything that seemed too long or too complicated – or muffled by her mask.
It was quite a long interview – probably 30 minutes of me talking Spanish at a nervous speed about how I had involved myself in village life almost from the time I arrived in Montejaque.
The part of the interview that appeared on Charry TV on Friday evening, April 9, was my recounting of the circumstances that led to Kevin and me finding Montejaque, and how we ended up buying a house here.
I also explained how I had compiled the cookbook and village guide with the help of my Spanish friend and 'soulmate' Victoria, and how I rode a donkey to Ronda to pick up the first copies off the press. I was delighted to see this photo also used in a Canal Charry Facebook advertising post: La Serrania de Ronda: un rincón con encanto para quedarse "Conversamos con extranjeros que en su día vieron en la comarca el lugar ideal para vivir y desarrollar sus proyectos personales."
The caption to the photo is "La británica Carolyn Emmett es montejaqueña de adopción."
I am flattered, pleased and proud to be considered as such.
© Carolyn Emmett
Tags: broadcast, carolyn emmett, Cheché, cook book, donkey, english, interview, kevin emmett, la casa del jamon, María José García, montejaqueña, ronda, serrania de ronda, spanish, TV, wine
This article was originally published at www.secretserrania.com and is re-produced here with their permission.
***
BEST BAR NONE? Meet impresario Paul Darwent, Jimera de Libar
Paul Darwent is from the UK, with the emphasis on the word from, for he has lived most of his life outside of the country. He has spent all his life working and most of it enjoying work. After many years in Denmark he married a Danish girl and eventually the family moved to Spain for a couple of years. 25 years later they are still here and have just retired from running a small bar in a small village in the Serranía de Ronda.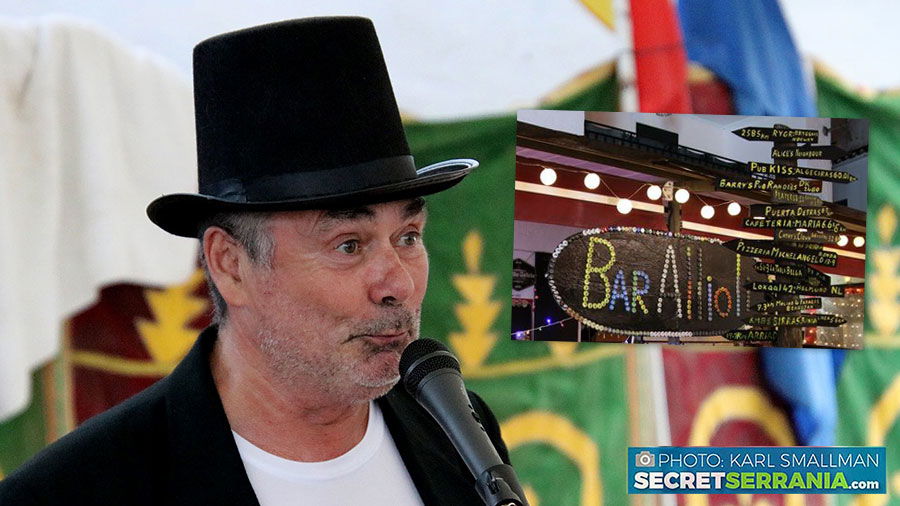 Help Me Ronda: So, Paul, where are you from originally?
Paul: Sheffield UK.
Help Me Ronda: Where do you live now?
Paul: Estación de Jimera de Líbar.
Help Me Ronda: How did you come to decide on Jimera de Líbar?
Paul: We came camping here for many months when we lived on the coast. Eventually we made the move inland.
Help Me Ronda: What was it in the first place that attracted to you to move to Spain all those years ago?
Paul: Our kids were young and they had freedom here that is not possible in Northern Europe.
Help Me Ronda: How would you describe your life here in Spain?
Paul: Interesting, never boring, lots of rewards, although not so much financially. It's home. Help Me Ronda: Until last year you ran Bar Allioli for 18 years. It had a great reputation for live music, beer and burgers. Tell us more.
Paul: The bar focused on these three things. We tried to put on live music every week, the accent being on creative rather than straight copies of other people's work. The beer, particularly Belgian, was popular. We had 10 beer taps and more than 90 different types of beer. We served a range of international tapas and specialised in home-made burgers. Each burger was styled around a country's typical food and was a personal interpretation. Hence Peru – llama meat, South Africa – ostrich and Australia - kangaroo.
Help Me Ronda: How did Covid-19 affect your business and your life in general?
Paul: Obviously it hit us hard. What it did was force us to think outside the box and look at everything from a different angle. We survived the pandemic crisis but only because we were able to adapt.
Help Me Ronda: In what ways did you adapt?
Paul: One of the things we did was start home deliveries, which were permissible under the regulations. Obviously, we couldn't get everywhere but we delivered to Montejaque, Benaoján, Cortes de la Frontera, Ronda and of course Jimera itself. As well as deliveries and opening the hours which were permitted I spent a lot of time making short promo videos to raise the bar's profile.
Help Me Ronda: You retired last year. Why?
Paul: Partly through ill health – I have Parkinson's Disease – and partly for family reasons. Plus I'm knocking on a bit!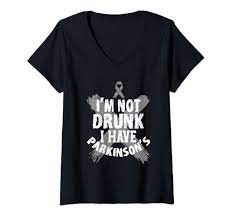 Paul's witty T-shirt
Help Me Ronda: What has happened to Bar Allioli?
Paul: It closed for a while, during which time the landlords, Jimera Council, refurbished it. It has re-opened under new, Spanish, management as ALLIOLI BAR Y MÁS. And I'm pleased to say the new people have continued with the tradition of Live Music. I still help out by booking the bands, doing the publicity and acting as Emcee.
Help Me Ronda: You are married. Do you have a family?
Paul: Yes, I've been married for 28 years to Synnøve. Our son, Rubén Pablo is studying in Denmark and our daughter Vanessa already lives in Denmark.
Help Me Ronda: How do you find the cost of living here compared to back in the UK?
Paul: Can't really answer that as the last time I lived in the UK was in the '80s.
Help Me Ronda: With your knowledge of the language and the length of time you've lived in Spain, I would imagine you've found it easier than most to integrate.
Paul: Having lived most of my life outside the UK I am used to being an immigrant. I have never really tried to fully integrate because to do so would mean losing my identity. I love many things about here and, yes there are things that get annoying, but that's everywhere. Language-wise I have reached that level of "sufficient confidence." Able to converse fully in normal day-to-day situations but unable to discuss philosophy, for example.
Help Me Ronda: How about Synnøve, your wife – did she adjust well to life here?
Paul: She never really settled on the coast but has fully embraced living here in the mountains.
Help Me Ronda: What about day-to-day living, healthcare, etc.?
Paul: Having paid into the system for over 20 years we are covered by Social Security here.
Help Me Ronda: When you first moved here, do you think you made any mistakes that looking back you can warn/advise others about?
Paul: Nothing specific comes to mind but I would say, don't give up, look how things are done and adapt to that. "When in Rome, ….."
Help Me Ronda: What would your advice be to would-be expats looking to relocate to Spain?
Paul: First of all, I prefer not to use the expression "ex-pat" as it has rather negative connotations. They are immigrants. And just think about how immigrants are regarded in the UK.
Help Me Ronda: Finally, do you see yourself ever returning to the UK?
Paul: Duh!
This article is a revison and updating of an interview which originally appeared on www.secretserrania.com in December 2020.
It is reproduced in its revised form with their permission.
***
Marcus Myers, musician, Cortes de la Frontera
By Paul Whitelock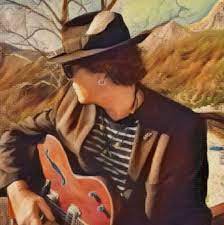 Marcus Myers is a well-known musician here in the Serrania de Ronda, but he was also famous back in the day with internationally famous groups such as Alicia's Attic.
I first got to know Marcus about 12 years ago when I first moved to live in the area. I've seen him perform live umpteen times, in village squares, in restaurants, at private parties, in live gigs and open-mic sessions at Bar Allioli in Jimera de Libar. Both solo and with his current group Equis.
Now 60, and married to Carmen for 36 years, Marcus is still going strong after more than 40 years in the music business. He toured the world and enjoyed life in the fast lane, before setting up home in the Serranía de Ronda.
I caught up with him recently for an interview.
Help Me Ronda: Marcus, where are you from and when and how did you get started in the music business?
Marcus: I was born in Brighton, East Sussex in 1962 and I began singing and playing guitar at the age of 17. My first break came when my band, Midnight and the Lemonboys, supported U2 during their first tour of the UK. Shortly afterwards, I headed to London and auditioned for Killing Joke, a post-punk band who achieved mainstream success in the early '80s.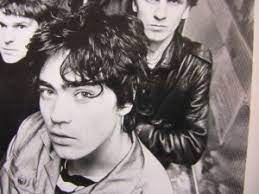 HMR: Did you get the gig?
Marcus: Yes I did, but after a time Killing Joke were experiencing internal problems, so I ended up forming another band, Brilliant, with the band's bassist. We enjoyed relative success, releasing several singles and touring the world with other top bands of the time, including Bauhaus and New Order.
HMR: What happened next?
Marcus: I left the band to concentrate on new projects. One of these was the formation of a band called Hard Rain, a group I would reform many years later in Spain after our record, Diamonds, which, unbeknown to me, had been a huge hit on the Barcelona music scene of the 1990s.
HMR: You performed and recorded with some of the UK's top bands of the 1970s and '80s. Who do you recall from those days?
Marcus: I did a lot of session work with artists such as Belinda Carlisle and Maria Nayler. I was also in a movie, and appeared on prime-time television shows like Top of the Pops and Live and Kicking. After a short stint with Then Jerico, a pop band that enjoyed four top 40 hits in the UK during the late 1980s, I joined Commanche Park, and later, Alisha's Attic.
HMR: Alisha's Attic were famous for a while, weren't they?
Marcus: Yes, they were. Appearing on Top of the Pops with them is a proud moment, but one that stirs emotions, although not because I had finally made it on to the world's longest-running music show. The first time I did Top of the Pops, my dad phoned me afterwards and said, "Well done, son, you've finally made it," which, of course, I hadn't. Sadly, he died the day after, but at least he saw me on the TV.
HMR: What happened after that?
Marcus: I became somewhat disheartened with the bureaucracy of the music business, and I began working as a session musician, recording and touring with numerous named performers. I won't do an across-the-board attack on the music business, but for me, personally, having spent many years in different bands with the wrong management companies, it kind of knocked it out of me a little. I started to forget why I first found it exciting, and I began to lose sight of things. That's why I began working as a session musician.
HMR: When did you make the move over to Spain?
Marcus: In 1999, my wife Carmen told me that I had had an offer of a job in a hotel on the Costa del Sol for six months. At that time, I was disillusioned with the music business, so I thought, yes. Although we went back to the UK after this, shortly after we were offered another job and we decided to come back for two years. However, we stayed on and have been here ever since.
After that visit to the Costa del Sol for a change of career (I am a qualified plumber), my wife, Carmen, and I decided to settle in Spain in search of a different life and some new challenges away from the stresses and strains of the London music scene.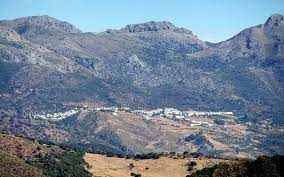 We set up home in Cortes de la Frontera in 2000 and have been here ever since.
HMR: You've built up a strong following and you perform at music venues in the Serranía de Ronda, and along the coast.
Marcus: Yes, my performing keeps the wolf from the door. I haven't needed to fall back on plumbing for ages. I enjoy growing vegetables and generally enjoy life out of the fast lane.
It was a bit of a shock at first, and I don't really know how we ended up in Cortes de la Frontera. We occasionally think that it might be time to move on, but we like it here and enjoy having a bit of space.
Marcus Myers will be appearing with his group EQUIS on 28 February – Andalucia Day – at ALLIOLI BAR Y MAS, in Estacion de Jimera de Libar from 14.00.
Marcus is also available for PRIVATE bookings. Please contact him on 661 05 48 93.
Michael Coy, poet, Ronda

History , Nature ... and Peals of Laughter
Lawyer and award-winning poet Michael Coy on why he swapped the UK capital for the mountain town of Ronda a quarter of a century ago.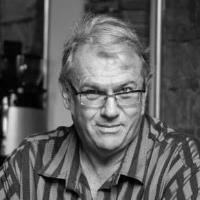 What makes a London barrister walk away from a thriving practice and move to a run-down council estate in Ronda?
The answer, as you've probably guessed, is love.
Perhaps 'run-down' is a bit strong. La Dehesa, Ronda's main housing estate, was thrown up in the 1970s to hide away the people dictator Franco saw as 'problems' - basically gypsies and Moroccans.
I arrived in 1998 and my partner is Mercedes, a local girl.
Of course I'm here because of her, but when I say 'love', I'm also talking about love for a community that has embraced me so completely.
I'm definitely not here for the weather (and if you've experienced a Ronda winter, you'll know what I mean).
I love the whole deal - Mercedes, the people, and a truly beautiful city.
Cobbled streets, arches, churches built of that gorgeous sandstone with its lovely honey colour ... and that's just the heart of town. You can walk five minutes in any direction and you'll find stunning architectural gems, authentic century-old buildings ... but you'll also get glimpses of vineyards, olive trees and pine groves from almost everywhere.
Yes, we get blasé at times and forget what a paradise we live in. But then I remember the London Underground!
I am a poet and have even won competitions (one last year in Italy, no less) but I make a living teaching English to Spanish teenagers. They are polite, punctual and they usually want to learn.
They live in an environment without fear of violence.
To most Spaniards, the people of the deep south have a reputation for laughing a lot, and generally enjoying life.
Watch any group of rondeños socialising together and you'll see lots of hugging and you'll hear peals of laughter. It's a joy to live in a happy place, surrounded by decent solid mountain folk.
I doubt I'll move away.
This is an excerpt from an article first published in the Olive Press in 2022. It is reproduced with the kind permission of the author and the publisher.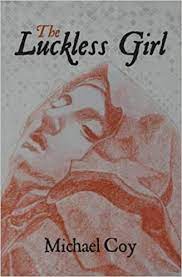 Note: Michael Coy has just published his first book, an epic poem based on a true story. ''The Luckless Girl' is available in Libreria Dumas in Ronda, from Amazon (15€) and also on Amazon Kindle (5€).
Foreign residents of the Serranía de Ronda on the box



Two years ago Charry TV in Ronda premiered a documentary about foreigners who have come to reside in the City of the Tajo.
Journalist María José García wrote this article exclusively for Secret Serranía (translation from the original Spanish by Paul Whitelock)
The Serrania de Ronda: a charming place to live
In the TV documentary we talk with foreigners who saw the region as the ideal place to come to live and to develop their personal projects. Our culture and heritage, our customs, our environment and a slower pace of life were some of the main factors that convinced foreign citizens who came to visit the Serranía de Ronda to settle in one of its towns or villages. Although practically any town in Andalucía could offer these things, the privileged location of the Serranía de Ronda, near the Sierra de las Nieves and a similar distance from Malaga, Seville and Cádiz, were decisive for these residents of Canada, France, Norway and the United Kingdom who decided to stay and live in our area, fleeing the bustle of the big cities.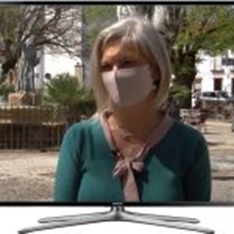 "We like nature and we also wanted to live among Andalusian people, in a town without many foreigners, for us it was important. Although to feel at home you need to integrate into society, make an effort to get to know people, learn the language… This for me has probably been the most difficult thing ", explains the Norwegian journalist Karethe Linaae who moved to Ronda from Canada with her Mexican husband Jaime De La Barrera in 2012. However, and although Linaae highlights the charm of the City of Dreams, she also perceives it as "a very conservative city, very Catholic, where the politicians are the politicians and the people are a little apart." And she adds: "If you want to be fashionable, if you like exotic restaurants and books in other languages, Ronda is not the town for you."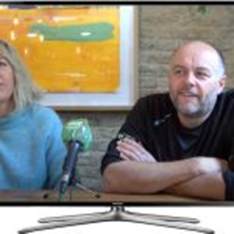 Also in that year the British couple Heather Cooper and Wayne Pickering came to live in Ronda to undertake a mountain biking project: Hike & Bike The Sierras. They acknowledge that they came across Ronda by chance because Heather wanted to learn Spanish. As Wayne maintains: "I would miss out on going to Seville in order to see Ronda, because it is unique". Pickering says that for them registering as self-employed has been quite an experience, especially because of the expensive quota that small entrepreneurs have to pay each month: "The way in which small businesses operate in Spain is very different with respect to taxes and that kind of thing". On a social level, the midday break and siesta has been one of the customs that these residents of Ronda have found the hardest to get used to.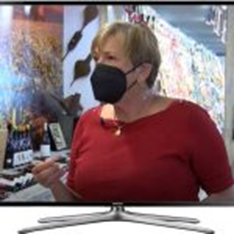 Carolyn Emmett, also English, who, thanks to her husband's job at Michelin Tyres, has lived in Canada, Botswana, South Africa and Indonesia before finally settling in Montejaque. Although language has been the main barrier to integrating with the locals, Carolyn has done her best, and in 2012 even published a recipe book and a guide to Montejaque, with information in English and Spanish about accommodation, activities, the local area and shops, bars and restaurants. In addition, this Briton and montejaqueña by adoption was a mayordoma in the Montejaque Fair procession that year, dressed in a mantilla.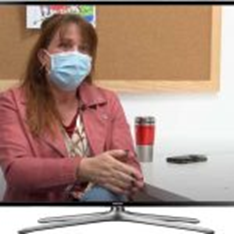 At the age of 27, Charlotte Wilmot was going through a small existential crisis as head of Human Resources at a hotel in central London, and when some friends suggested spending part of her summer holidays in Andalucía, she didn't think twice. The group passed through Ronda by chance, but an incident with the car in which they were travelling forced them to stay on in the town. What began for her as a two-month adventure has spanned 19 years and today she runs RondaLingua, a language school in Ronda, together with her husband Jaime López, whom she met here. "When you live in a place you sometimes don't appreciate what you have. I think the pandemic has taught us that we have an impressive landscape around here, and I think we have learned a lot about enjoying ourselves in ways other than sitting in front of the TV and watching Netflix, " she reflects.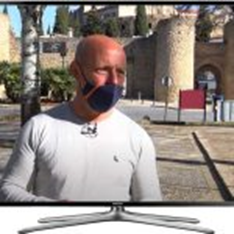 "We like the way of life in Ronda and as a result we spend more time together. That's why we decided to come", says another Englishman, Paul Bowles. In the UK Paul worked as a fruit distributor, but the different hours that his partner Louise and he had made it impossible for them to see each other frequently. They also aspired to live somewhere with a standard of living that was far from the frenetic pace of London. In 2016 they decided to move to Ronda, where Louise already had an apartment in the Barrio de San Francisco. Subsequently, they set out to build a holiday house in the Barrio de Padre Jesús, and despite the fact that the pandemic has made a dent in their income in the last year, they insist that they have never considered returning to the UK. The pandemic has caused a cautious increase in the number of places to stay in a natural environment that offers greater guarantees of health and security vis-a-vis COVID-19.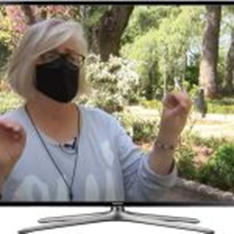 "If you are looking for adventure there are vías ferratas, horses, quad safari… There is everything! hiking, cycling, motorcycles… And there are great fiestas with flamenco, which I love ". That's how Julie Wilkinson talks about Ronda and the Serranía. Julie is a resident of Cañada del Real Tesoro (Cortes de la Frontera Station) and hales originally from England where she was a university academic involved with banking, computing and languages before she moved to live in this tiny village. Wilkinson came to the area attracted by its history: "I was studying at the Complutense University and wanted to know more about the history of the Moors, of the occupation. I also like the interior of the province a lot, because I don't want to be in a touristy area. I wanted to get to know the authentic Andalucía and especially Ronda as a historic centre". Although the start of the pandemic was hard for her, since she lives alone, she took advantage of the confinement to run errands for her neighbours and friends, and thus managed to feel useful and maintain her social life.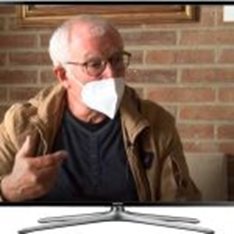 In 2000, coinciding with his Silver Wedding Anniversary, Paul Whitelock did a mini-tour of Andalucía with his then wife, since, together with Galicia it was the only Spanish region that he did not know. They started in Ronda and spent their first night at the Parador de Turismo, from where he speaks to us in the documentary. "I'm not here because of the weather, because of the sun, that doesn't interest me. Ronda is spectacular, its heritage, its culture, there is theatre, there are concerts… There's always something going on here."
Whitelock is able to list the "five or six things" that drive him crazy about Spain, but insists that the rest is positive. "The noise, the litter everywhere, the bureaucracy, the corruption and a couple of other things, like parking the car and, worst of all, Spanish beer. However, I think I have learned to come to terms with all of these. For example, when it comes to dealing with bureaucracy, my strategy is go to the office early to talk face to face with the person who might be able to help you. But make sure you get there before they go to breakfast, better before 9.00 am ".
Whitelock has been living in Montejaque and Ronda for 12 years with his second wife Rita, a German, whom he met in Ronda in 2008 and who has been a resident here for 15 years.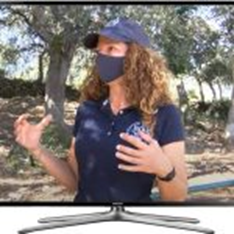 The situation of Delphine Duboys differs greatly from those we have described so far. A Frenchwoman, she was born in Paris half a century ago and has lived in Spain for 26 years, where she used to work as a communications executive for a company in Madrid. Her partner's brother used to manage a piece of land at Finca La Algaba, about four kilometres from Ronda, which has wild horses living in freedom. In 2019 Duboys became unemployed and in September 2020 she and her partner decided to move to Ronda, thus advancing their plans to retire to the town. Duboys says she feels "delighted" to have changed a life in which she spent 10 hours in front of the computer. Now she is part of the Paddock Paradise project, which organises horse-riding tours with the wild horses, some of them to the foothills of the Tajo de Ronda.
You can view the programme, 'La Serranía de Ronda: un rincón con encanto para quedarse' on YouTube. La Serranía de Ronda, un rincón con encanto para quedarse - YouTube
This article first appeared on www.secretserrania.com in April 2021. It is reproduced here courtesy of the author, the website's editor and Charry TV
The houses that Jack built!
18 February 2023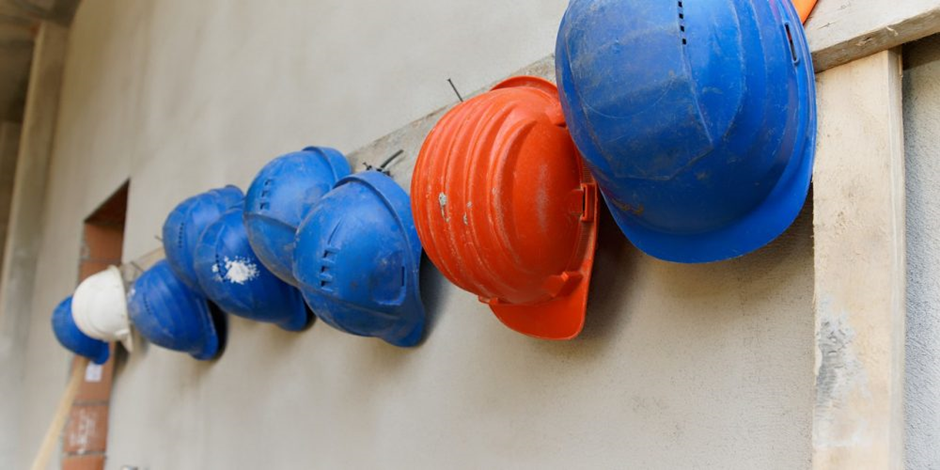 I first started doing bits and pieces of DIY when, as a poorly paid young teacher, I bought my first house, a semi-detached in Walkden, Greater Manchester, for £11,000. A lot of money in 1977 and the mortgage interest rate was around 16 per cent!
Unable to afford to employ professionals, I informed myself from books (no YouTube videos back then in the late 1970s!) and tentatively did a bit of electrical work, plumbing and painting and decorating.
My first wife, Jeryl, and I then moved to our second house, in Thelwall, Warrington, not far from the infamous Thelwall Viaduct on the M6. A three-bed detached it cost us just £37,500, a huge amount in 1980.
Over the next 20 years, the house grew in size to become a four-bedroomed, two bath-roomed house with four reception rooms and a third WC, plus garage and large balcony overlooking the adjacent park.
Although builders did the main construction work, my DIY skills had developed so much that over the years I was able to re-wire the whole house, convert the original garage into an extra lounge-cum-music room, turn the separate toilet and bathroom into an ensuite bathroom with new suite, install a shower, replace all the guttering and drainpipes and build two patios and a pergola. Not to mention wall-papering and painting throughout. I even built a treehouse for my two kids.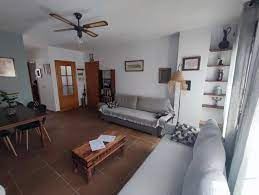 In the early 2000s Jeryl and I bought two properties in quick succession in Ronda. The first, Piso Blanco, was a small flat that needed little doing to it, but the second, an end-terraced house, which we named Casa Blanca, was virtually a ruin.
Over the next couple of years, I re-wired it, replaced a collapsed floor, upgraded the kitchen, re-built the terrace and decorated throughout.
Then disaster struck, or should I say three disasters! Redundancy, early retirement and divorce in quick succession, in 2005, saw me living with a new lady, Maude, in a beautiful cottage in Bryn-y-Maen, North Wales.
I did a few bits and pieces there to keep my hand in and then, when I took her to Ronda for a long weekend, Maude bought a small house there on the spur of the moment.
We called it El Rincón, because it was tucked away in a corner. It needed a lot of work, which I happily took on. Maude was still working full time in the UK, but I was retired, so spent months in Ronda re-wiring, building a new bathroom, tiling floors and creating a rather delightful terraced garden at the rear of the house. A good lick of paint and El Rincón was finished.
The end of my relationship with Maude put paid to my DIY activities for a couple of years, until an old university friend, Jac, who lives in Luxembourg, invited me to spend the summer of 2008 in the Grand Duchy helping her daughter and son-in-law renovate an old house they'd bought there.
That was great fun and I developed some new skills, as building practices there differ significantly from the ones I had become familiar with in the UK and Spain.
After that busy but enjoyable summer of 2008, including a summer romance, I was footloose and fancy-free again, so headed off to Ronda to stay in Piso Blanco for a few days, prior to moving into a house in Latchford, Warrington, which I'd bought with the proceeds from the sale of Casa Blanca, the Ronda house I'd done up a few years before.
The Warrington house was a real bargain. Tunstall Villa, as the "new" house in Latchford was named, was a "do-er up-er". A Victorian detached villa, rather down on its luck, it had the potential to be a great house again. It only cost me £119,000.
Still "unemployed" – by this time I'd been retired for three years – I had plenty of time on my hands, so I set about the renovation. Over many months I created a delightful winter garden, renovated the rear internal area to provide a WC and laundry room, re-decorated throughout, and then, after two and a half years … I sold it!
Why on earth …? Well, on that visit to Ronda in September 2008 that I mentioned earlier, I'd met a lady I nicknamed the "Meter Maid"! Yes, you guessed it, her name is Rita.
We dated in Spain, the UK and Germany, where she is from, and quickly fell in love. I immigrated to Spain at the end of that year to live with Rita in her lovely village house, Casa Rita, in Montejaque.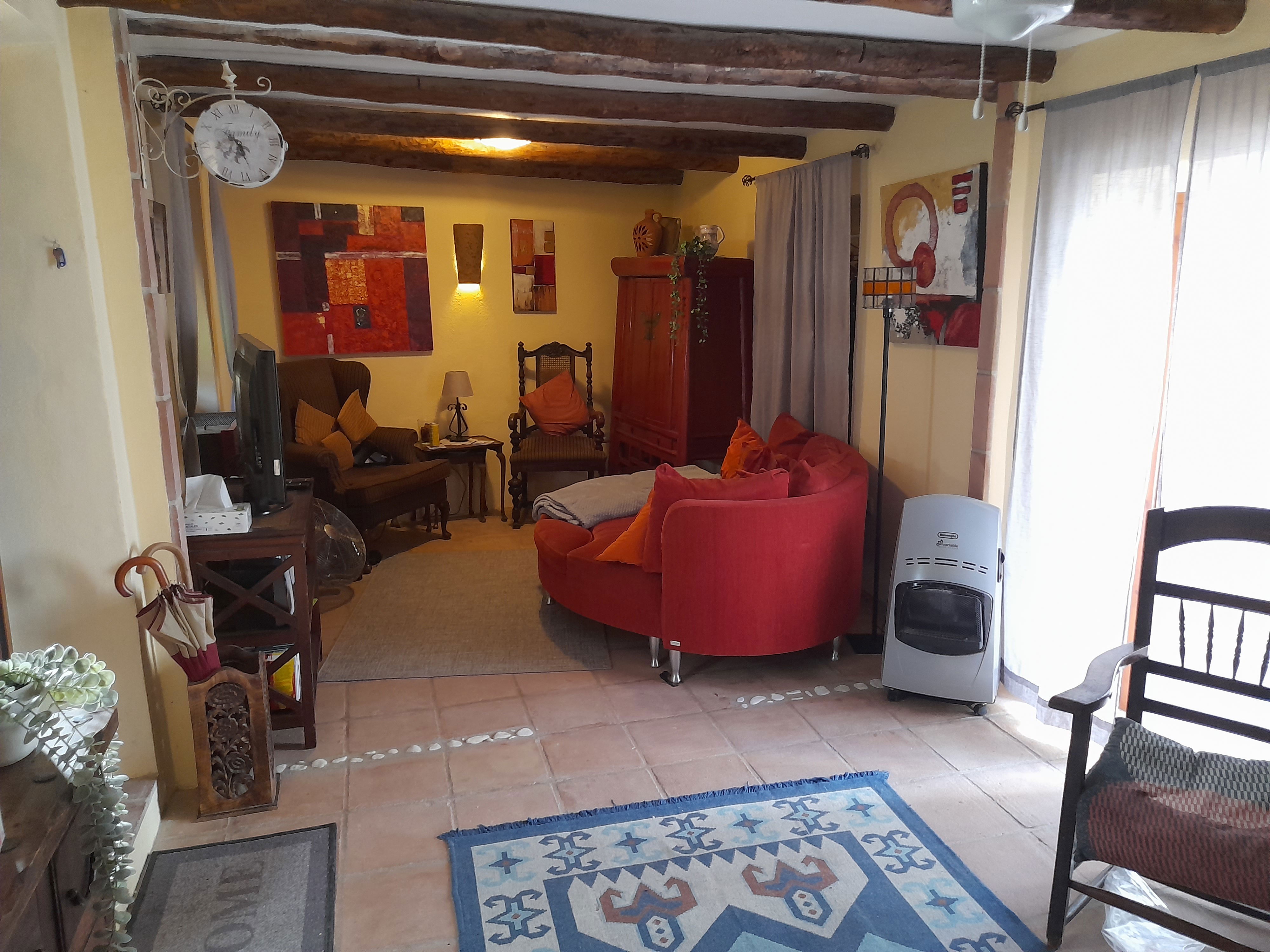 In 2010 we married.
The DIY didn't stop, however! I built a kitchenette in a bedroom that we set up as a B & B and handled all the maintenance work at Casa Rita.
Both having committed to living in Spain, we needed a house that better met the needs of our respective families, eg her disabled grandson, my ailing mother. So I sold Tunstall Villa in Latchford and we used the money from the sale to buy our dream house in the campo just outside Ronda. That house is known as Villa Indiana.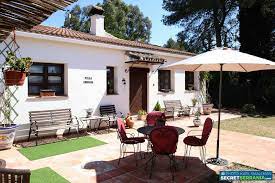 That happened in 2011, the year after we "jumped the broom" and we still live there after 12 years of married life. The DIY and gardening have continued, of course, although, as I get older, I rely a bit more on local tradesmen to keep on top of things.
In 2019 I decided to sell Piso Blanco in Ronda after 18 years' ownership. We had been using it as a holiday rental, but all of a sudden, the bookings started to dry up, so it had to go.
In October 2020, I used some of the money from that sale to buy a charming old house in Montejaque, where we had previously lived. I needed a project again and so I have been restoring it to its former glory.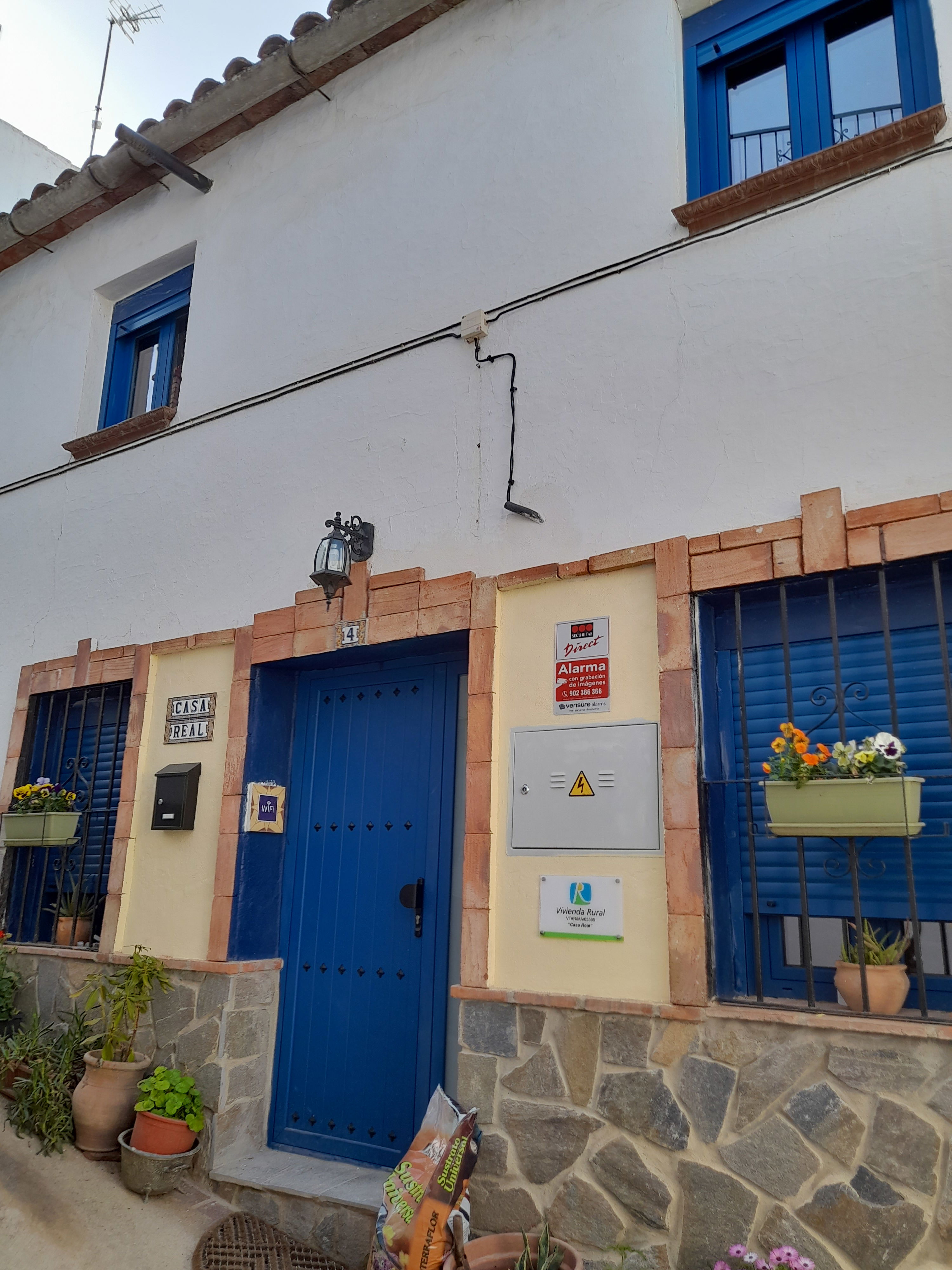 To be sure, I'm 72 now, but the mind is still willing even if the flesh is weak. With the help of professionals, mainly Jorge and Jose, Casa Pablo has been re-configured and re-wired and re-plastered. I installed a new bathroom and extended the roof terrace. It has had a lick of paint and has been on the rental market as a vivienda rural to national and international tourists who have started to pass this way again after the challenge presented by Covid-19.
The work took longer than we thought, because of repeated lockdowns, but it's now finished, and available. What am I to do? Maybe I should just hang up my DIY boots! No chance, there's still regular maintenance to deal with!
Note: This article is a revised and updated version of similar articles that appeared on www.secretserrania,com and www.eyeonspain.com
It forms part of a trilogy with Montejaque Diary – First Ever Stay and My God! What Have We Done?
RITA WHITELOCK, retired, Germany
INTERVIEW
Rita Whitelock has lived either in Montejaque or Ronda since 2005. German-born Rita, a retired intensive care nurse, first came on holiday to Montejaque because she'd heard about the village in the south German town of Knittlingen where she was working at the time. Knittlingen is Montejaque's Twin Town.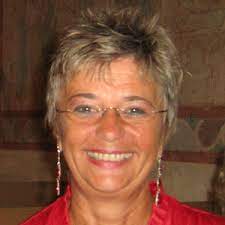 On that first visit she bought an old house on the second day and had it remodelled prior to moving here full-time the following year. Rita is a passionate cook, who is happy to share her recipes. She enjoys walking, exploring new places and going on holiday. She has four grandchildren in Germany and three in England through marriage.
Help Me Ronda: So, Rita, where are you from originally?
Rita: I was born in a tiny village called Oesterholz, near Detmold in northern Germany, but I lived most of my life in Baden-Wuerttemberg in south Germany. Until I moved to Andalucía, of course!
HMR: Where are you living now?
Rita: We live in the campo near Ronda. I also still have my house in Montejaque, so we spend a lot of time there too.
HMR: How did you come to decide on your particular location in Spain?
Rita: Patients and work colleagues at the clinic where I worked in Knittlingen, who came originally from Montejaque, recommended it. I came on holiday and immediately fell in love with the village.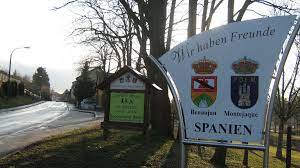 HMR: What was it in the first place that attracted to you to move to this area?
Rita: The scenery is stunning, the people are very friendly and the pace of life is slower and less stressful than in Germany. Quite a lot of Spaniards worked in Germany for periods and still speak German. And of course the weather is fantastic.
HMR: How would you describe your life here in Spain?
Rita: I like it. It's a more relaxed lifestyle than in Germany. I have made some good friends and we enjoy socialising together. Being retired there is no pressure to be anywhere or to do anything at a specific time.
HMR: Do you miss anything about home? What would you say are the negatives of living here?
Rita: Of course, I miss my family. I have three siblings, three children and four grandchildren, all of whom live in Germany. Until the Covid-19 pandemic and lockdowns, I used to visit Germany regularly, but the virus really restricted our movements. Now, it's more or less back to normal. That was the only negative really.
HMR: How do you find the cost of living here compared to Germany?
Rita: Things are getting dearer all the time, especially with the energy crisis and the rising cost of living, but in general the cost of living remains lower here than in Germany.
HMR: Did you find it easy to integrate when you first came here?
Rita: Yes, I have made some very good friends, especially among the British guiris. In addition, I knew a lot of local Spaniards from Knittlingen who lived, worked and went to school there. However, I am not good at languages, but I have learned to cope in English but still struggle in Spanish.
HMR: You are married. Do you have a family?
Rita: Yes, I'm trying marriage for the third time! I had three children with my first husband over a 20-year marriage. My second husband discovered our house in Montejaque, Casa Rita, with me and oversaw the reform. We were together for 10 years. My current husband, Paul, is an Englishman I met in Ronda. We celebrated our 12th wedding anniversary in July last year. Actually, we couldn't celebrate on the day as we were still in lockdown, but we have since made up for that.
HMR: What about day-to-day living, healthcare, etc.?
Rita: The last few years have been complicated, of course, with the Covid-19 pandemic. I was very ill with Covid and had to go to Germany to get well again, as the Spanish system could not cope with the virus and its aftermath. But we've survived , albeit with a few long-Covid issues. We keep ourselves busy. We are both in the Spanish healthcare system but also have private healthcare insurance. That proved invaluable a few years ago when I had to have an urgent operation. From diagnosis to the operation took just three days! I was only in hospital for one night, but I had a private room with a second anteroom with bed for Paul. Very impressive.
HMR: When you first moved here, do you think you made any mistakes that looking back you can warn/advise others about?
Rita: The main thing I believe I could have done better is to have made a greater effort to learn Spanish. It's very frustrating because I understand a lot but don't know how to reply. Nevertheless, if Paul isn't around to help me out, I can usually get by with Händen und Füssen (hands and feet)!
HMR: What would be your advice to foreigners looking to relocate to Spain?
Rita: If you are retired, definitely do it! But if you need to earn a living, it's harder.
HMR: Finally, do you see yourself ever returning to Germany?
Rita: Not really unless I become too ill or dependent on others to cope with living here! Also, if things get really bad again with Covid-19 and I cannot see my family on a regular basis, I might have to reconsider my options.
© Help Me Ronda
Foreign residents in the Serranía de Ronda on the box – a follow up (SS)
Love on TV
the Hike and Bike story
Love story
Andy and Tracy
Carolyn Emmett
Iris
Guy
Nick and Julia
Andy and Pauline
Julie