Spanish Film Industry
Up until the military coup which led to the Spanish Civil War (1936 – 1939) the Spanish film industry was vibrant and important. But the dictatorship of General Francisco Franco changed all that. Directors who were critical of the regime had to flee the country, Luis Buñuel being the most prominent among those who went into exile. He went to France and then Mexico where he changed citizenship and remained until his death in Mexico City in 1983.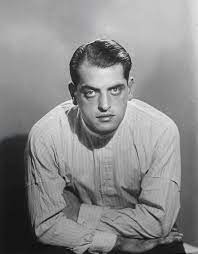 Luis Buñuel
Since Franco's demise in November 1975 and Spain's return to democracy, censorship has been lifted and the Film Industry has thrived. One of the most prominent and prolific directors has been Pedro Almodovar. Carlos Saura and Victor Erice are two more. Internationally famous actors include Antonio Banderas, Penelope Cruz and Javier Bardem. From Spanish stock are the US acting dynasty of Martin Sheen (original name Ramon Estévez) and his sons Charlie Sheen (born Carlos Estévez) and Emilio Estévez.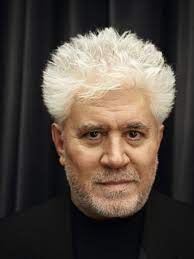 Pedro Almodovar
Many significant movies have dealt with taboo themes such as the Civil War. In Spain, El Espiritu de la Colmena (The Spirit of the Beehive) [1973], La Lengua de Las Mariposas (Butterfly's Tongue) [1999] and ¡Ay, Carmela! [1990] spring to mind. Films in English on this topic include For Whom the Bell Tolls [1943], based on the novel by Ernest Hemingway, and Land and Freedom by British director Ken Loach [1995].
Pedro Almodóvar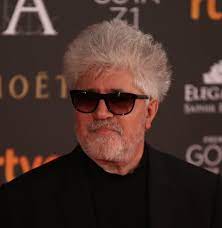 Pedro Almodóvar Caballero is a Spanish filmmaker. His films are marked by melodrama, irreverent humour, bold colour, glossy décor, quotations from popular culture, and complex narratives. Desire, passion, family, and identity are among Almodóvar's most prevalent subjects in his films.
Acclaimed as one of the most internationally successful Spanish filmmakers, Almodóvar and his films have gained worldwide interest and developed a cult following.
Almodóvar's career came to the fore during La Movida Madrileña, a cultural renaissance that followed after the end of the Franco era. His early films characterised the sense of sexual and political freedom of the period. His breakthrough film was Women on the Verge of a Nervous Breakdown (1988), which was nominated for an Oscar for Best Foreign Language Film.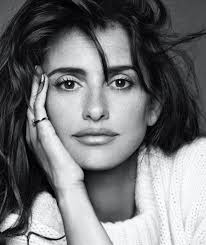 He achieved further success, often collaborating with actors Antonio Banderas and Penélope Cruz, who were to marry many years later. Almodóvar directed Tie Me Up! Tie Me Down! (1989), High Heels (1991), and Live Flesh (1997). His next two films, All About My Mother (1999) and Talk to Her (2002), earned him an Oscar each for Best International Feature Film and Best Original Screenplay, respectively. His later films include Volver (2006), Broken Embraces (2009), The Skin I Live In (2011), Julieta (2016), Pain and Glory (2019), and Parallel Mothers (2021).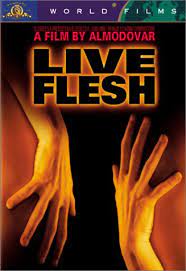 The first Almodóvar film I saw was Carne Trémula (Live Flesh) when it first came out in 1997. Loosely based on a Ruth Rendell novel (I subsequently read her book and Almodóvar just pinched the storyline and transferred the location from London to Madrid). The film featured Penélope Cruz and Javier Bardem. I loved it and this led me to catch up on most of his back catalogue, although I was less keen on his earlier work.
I haven't seen all of his later films, but I particularly liked All About My Mother (1999), Talk to Her (2002), Bad Education (2004) and Volver (2006). His latest, Parallel Mothers (2021), has had rave reviews. Penélope Cruz gained an Oscar nomination for Best Actress, unusual for a foreign language film.
© Paul Whitelock