ARRIATE
Restaurante Sala Caireles, housed in an old cinema, is currently No 2 in Arriate on TripAdvisor. We enjoyed our first ever meal there recently to celebrate my birthday.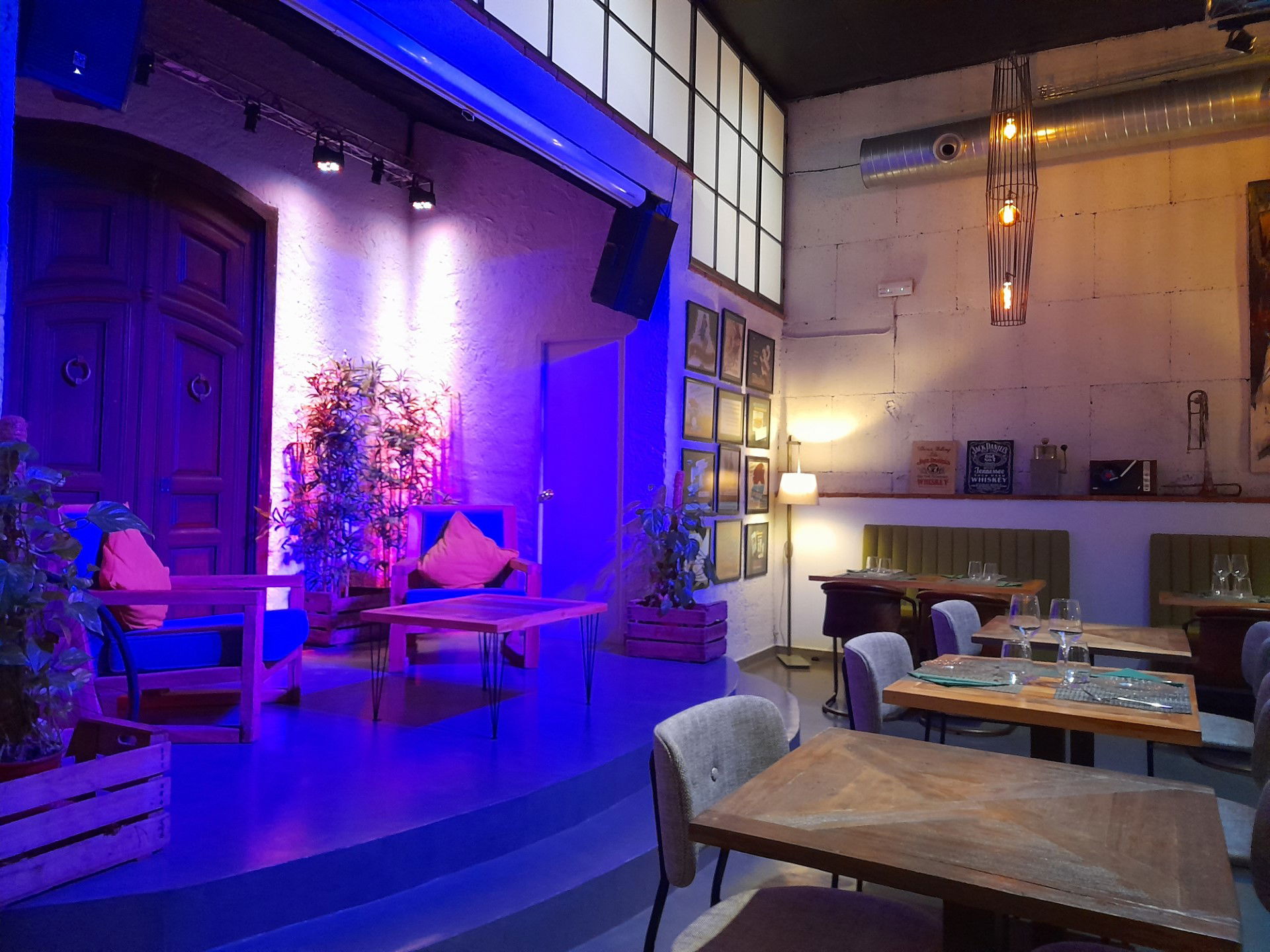 Sala Caireles [Photo: Paul Whitelock]
El Muelle de Arriate Long at or near the top of Trip Advisor, Dutchman and polyglot Frank offers a superb experience. Consistently in our top five.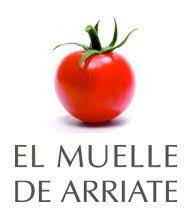 ***
BENADALID
Bar El Mirlo Delightful village bar in beautiful setting in this out-of-the-way pueblo blanco. Delicious burgers and other culinary treats
Horario:
Viernes 18h. – 24h.
Sábado 12h.- 24h.
Domingo 12h.-18h.
Horario de cocina:
13-16h. y 20-23h.
***
BENAOJAN
Bar Ankanita, Benaojan Estacion Great for breakfast and lunch. A regular bar offering great value. Diego and Alberto, late of Molino del Santo, offer a great deal.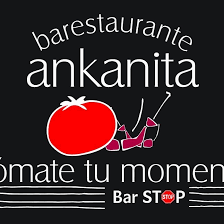 Bar El Encuentro, Benaojan Great for early coffee and breakfast. Lunchtime tapas are imaginative and well-priced. Miguel, Inma and son Miguelito make sure you feel welcome.
Molino del Santo, Benaojan Estacion Also regularly in our top five. Great cuisine and wines from Ronda. Not cheap, but worth it.
Asador El Muelle, Benaojan Estacion If you're a carnivore this is the place for you. Huge plates of meat for a reasonable price. Gina and Cristobal know what they're doing, as long as you're not vegetarian or vegan!
***
MONTECORTO


Restaurante Cortijo Las Salinas
Just on the northern edge of the Serrania de Ronda is the Hotel Spa Cortijo Salinas. Sitting on a hill in the middle of nowhere between Montecorto and Zahara de la Sierra, this beautiful 4-star hotel enjoys stunning views of the reservoir below Zahara village, as well as the hills and mountains round about.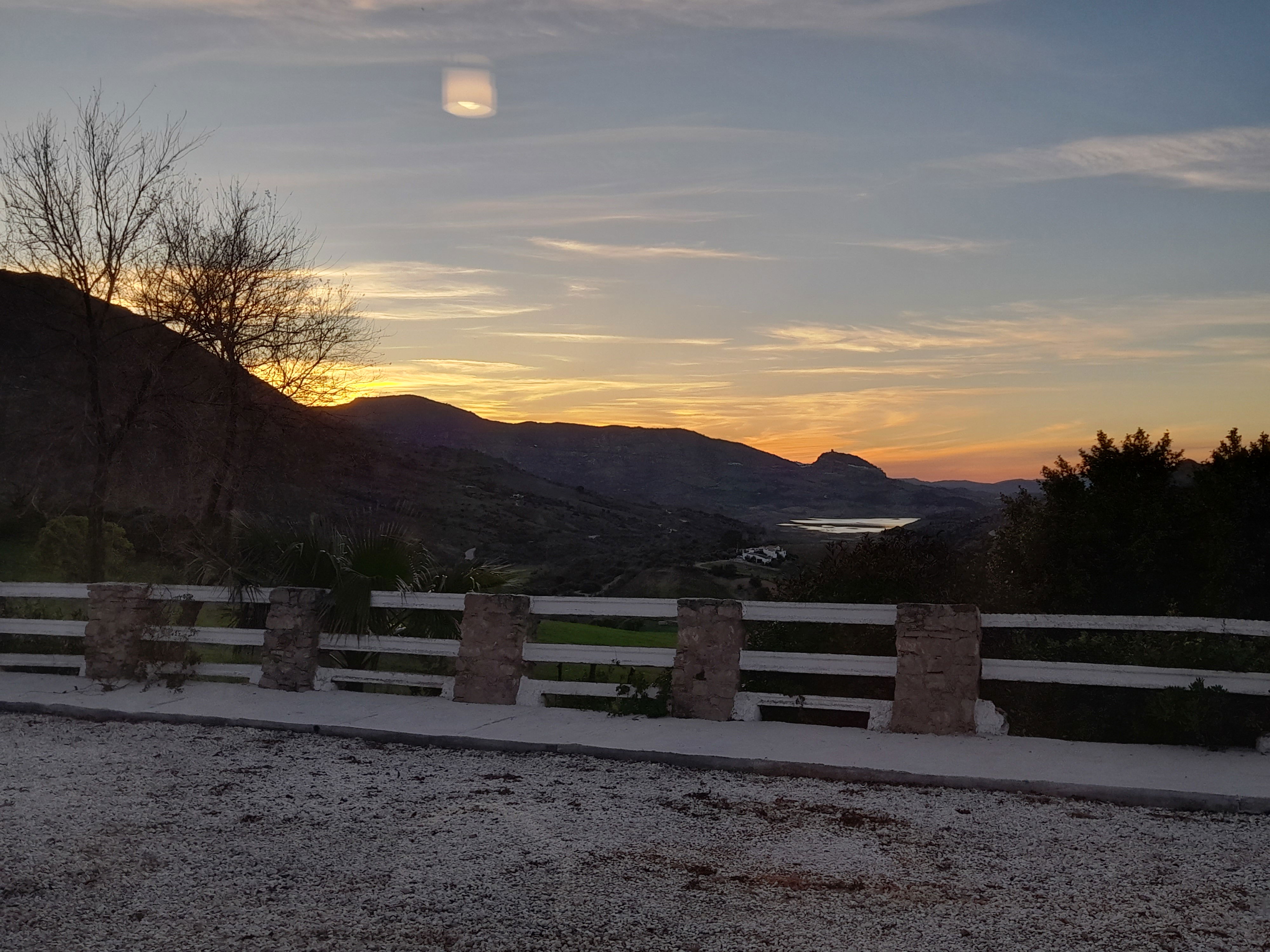 Our Italian neighbour, Biagio, is the recently appointed chef at the restaurant, so we decided to go along and try it out. Well, we were not disappointed in the slightest.
Gasolinera, Montecorto
Very unlikely, but the cafeteria at the petrol station in Montecorto is wonderful. As well as great, and cheap, breakfasts, they have a shop selling local products. Well worth the effort. The boss, Joaquin, speaks fluent German.
***
MONTEJAQUE
Bar Caniche (El Rincon)
No breakfasts, but great tapas and raciones. Antonio and Ani offer a warm welcome. Ani speaks fluent German.
Entre Ascuas, Montejaque
Currently, one of only two places where you can get a full meal in Montejaque. Excellent for breakfast also. Alvaro and Ana and their staff take good care of you.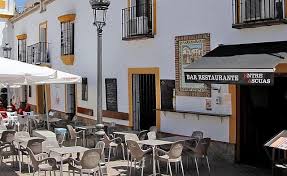 Bar La Melli, Montejaque
One of the best bacon and egg molletes around. This bar is open all day for good value tapas and raciones. Pepi, husband Alonso, and children Dani and Beatriz are delightful.
***
RONDA
Bar La Alegria, Calle Infantes, Ronda
Ronda's premier sports bar with all live games and events. Great tapas and raciones, as well as a good range of beers other than the dreaded Cruzcampo!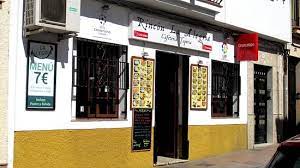 Bar La Alegria [Photo: TripAdvisor]
El Almocabar, Barrio San Francisco
One of our favourites. Quality food and wines, but not cheap. Manolo knows what he's doing, so it's worth it for a special occasion.
STOP PRESS: Manolo retired recently and the restaurant is currently closed. However, I understand the lease has been passed on to an experienced restaurateur in Marbella who will re-open soon as ..... El Almocabar!
El Bandolero, Barrio San Francisco
Great tapas and raciones at value-for-money prices. My friend of more than 20 years, Rafael, is the boss.
Cafe Blanco y Negro, Ronda
A new discovery for us. Delightful. Great breakfasts and the coffee is particularly good. Also an art gallery, currently featuring works by Udo Burkhardt.
La Cascada, Fuente de la Higuera
Consistently in our top five. Fantastic food at the right price. Iain is a great chef (despite being an Englishman!) and his wife Elaine is brilliant at front-of-house. Permanent art exhibition featuring paintings by Patricia Lane and sculptures by David Marshall.
STOP PRESS: Ian has recently stepped back from the kitchen and his son-in-law Tom, a trained chef with experience on the Costa del Sol and in Tenerife, has taken over. I joke with Ian that the food is even better than before .....!
Bar El Convento, Barrio San Francisco
A classy wine bar with imaginative tapas. Treat yourselves.
Las Maravillas, Calle La Bola (Carrer Espinel), Ronda
Also in our top five. Fantastic and a menu that is different and stylish. Breakfasts are quite expensive but worth a go. Amazingly, the owner, Jose Maria, is an ex-vet. Fortunately he doesn't work in the kitchen!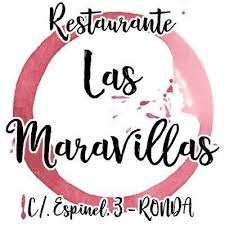 El Escudero, Carretera de San Pedro (Circunvalacion), Ronda
Only been once, but great quality. Not cheap, but fabulous views of Ronda.
La Fragua, Ronda
A specialist breakfast and lunch bar/restaurant. Antonio, Charo and Nati look after you well. (Nati is my favourite waitress in Ronda, by the way!)
Cafe Icaro, Poligono Industrial, Ronda
Newly open and part of the charity foundation Asprodosis. Also a bakery and pasteleria. Outstanding.
Miyagi Express, Calle Jerez, Ronda
The only Japanese restaurant in Ronda. Small but beautiful. We love it. Lunchtime and evenings only. Marcos and Ana Belen are your hosts.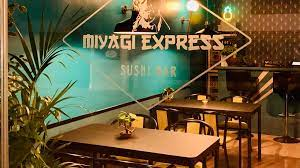 Bar La Naranja, opp. Law Courts, Ronda
A breakfast bar with arguably the best churros in Ronda. If you time it wrong, you'll have to queue. Nevertheless, highly recommended.
Venta El Puente, La Indiana
Great venue all day long. Breakfast, lunch and dinner. At weekends a barbecue. 'El Corcho', wife Carmen and the staff are friendly and efficient. Normal prices.
Bar La Rondeña, Ronda
Great for breakfast. This bar, run by the wife of a guardia civil, is always full. They also sell bread and local products.