As the result of a barter arrangement between us and friends and neighbours Nick (UK) and Julia (Hungary), we just spent a delightful four days on the coast, just over an hour by car from Ronda. Specifically, we were based in Casares Costa, but also spent time in Puerto de la Duquesa, Sabinillas, El Castillo, Manilva and Estepona.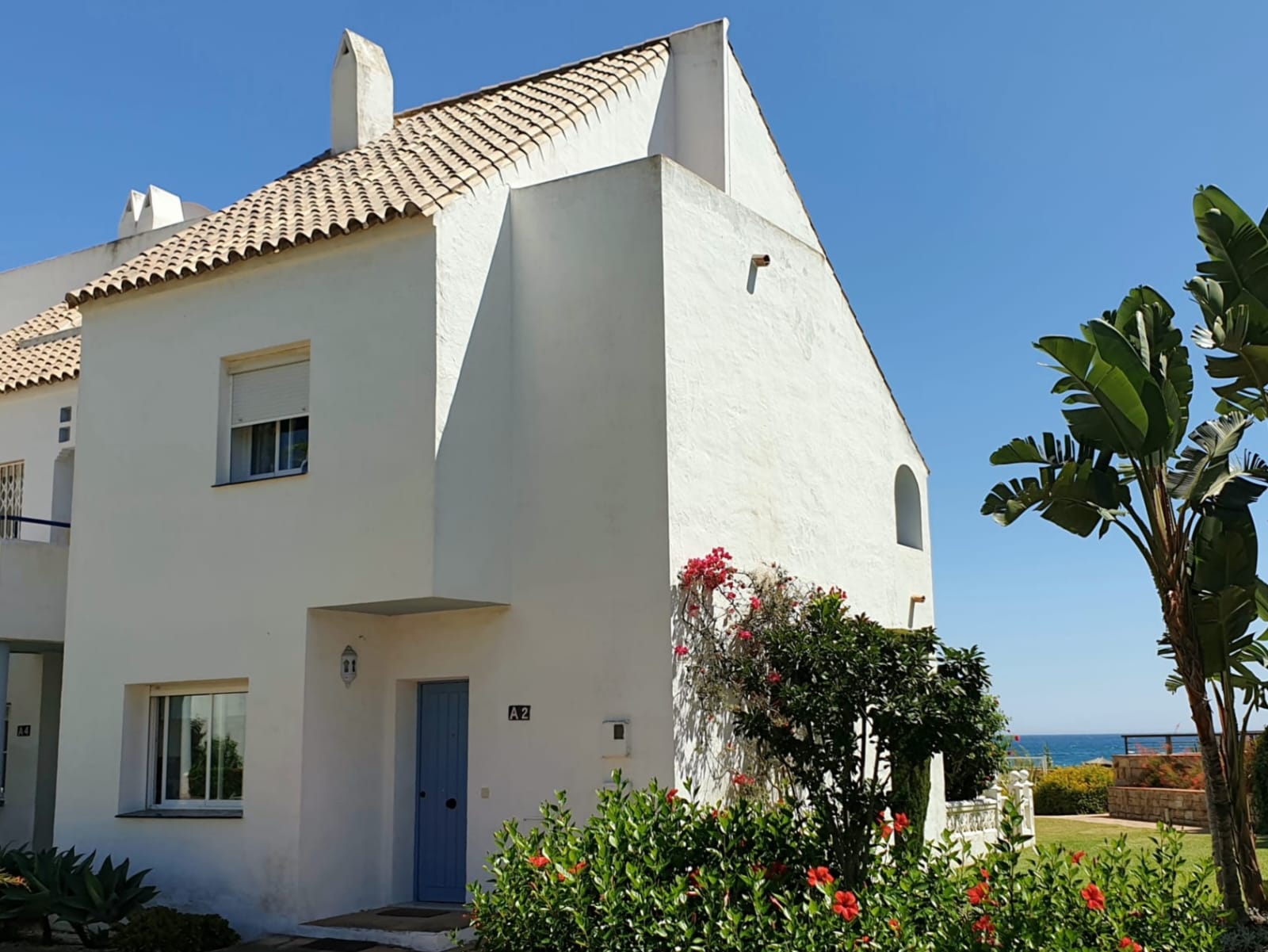 Casitamar en la Costa del Sol
This was the deal:
I looked after their place while they went on a 3-week silver wedding anniversary trip to Central America earlier this year.
I mowed the lawns, cleaned the pool, trouble-shot a few problems with power-cuts and lack of water, and welcomed their paying guests.
In return and in lieu of any financial remuneration, Nick and Julia offered us a free stay in their holiday home on the coast.
I think, all things considered, both parties got a good deal! Hooray for bartering!
Costa del Sol mini-break


Day 1 - Wednesday
On the day of our arrival, Julia was there to greet us and show us the ropes. We're talking about a delightful 2-storey house on the front line in Urbanizacion Casares del Mar, 15 minutes west of Estepona.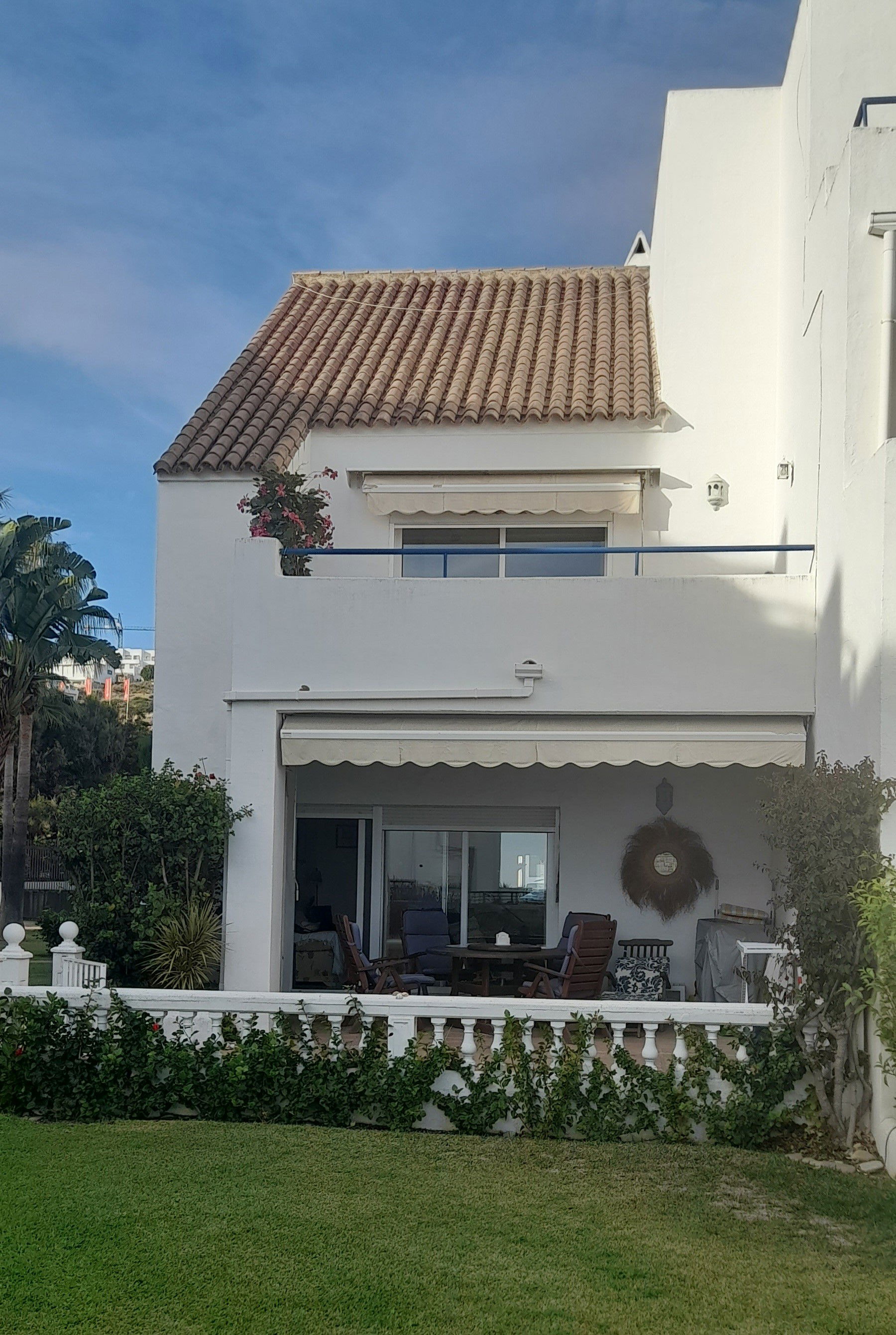 Rear view of Casitamar, Casares Playa
Not just 2-storey! 2 of everything - 2 bedrooms, 2 bathrooms, 2 terraces, even 2 sofas!
On that first lunchtime we invited Julia for lunch. We chose Cubanga, a chiringuito on the beach in Puerto de la Duquesa.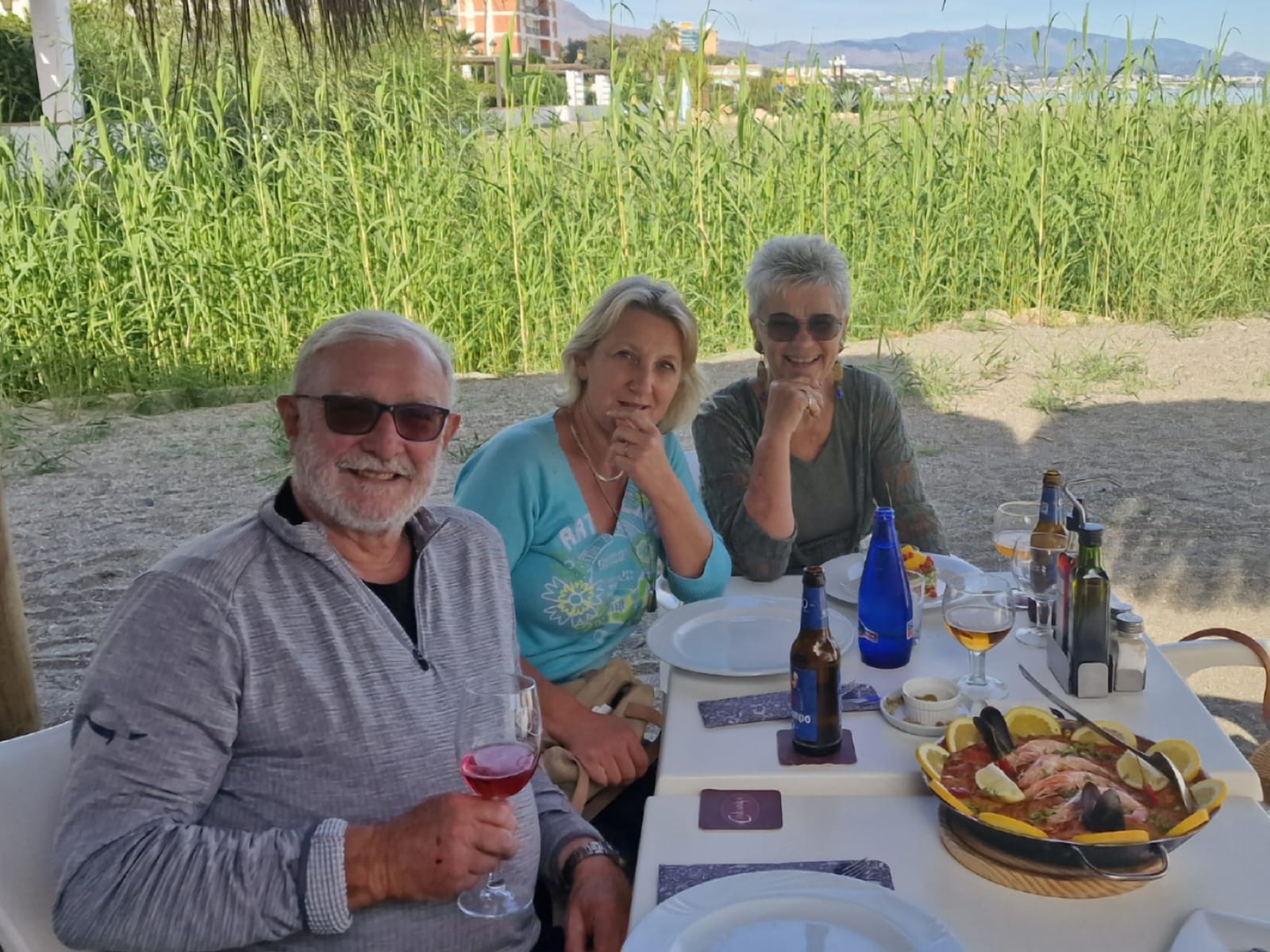 Paul, Julia and Rita at Cubanga chiringuito
Julia and I shared a delicious seafood paella, while Rita was happy with a salad.
After lunch, Julia set off back to Ronda and Rita and I headed east to San Pedro de Alcantara, where she had a medical appointment.
After that, a bit of window shopping in San Pedro, before heading back via LIDL, where we bought a frozen pizza for dinner (We can't afford to eat out twice a day!)
Day 2 - Thursday
On day 2, I was up and out quite early to get a coffee and a chupito (Patxaran). Then I window-shopped a few estate agents, to see what's what on the Western Costa del Sol.
I went back to collect Rita before we went to the pretty little port at Puerto de la Duquesa for breakfast. As it turned out it was a disappointing and expensive experience! 25 euros! Lesson learned.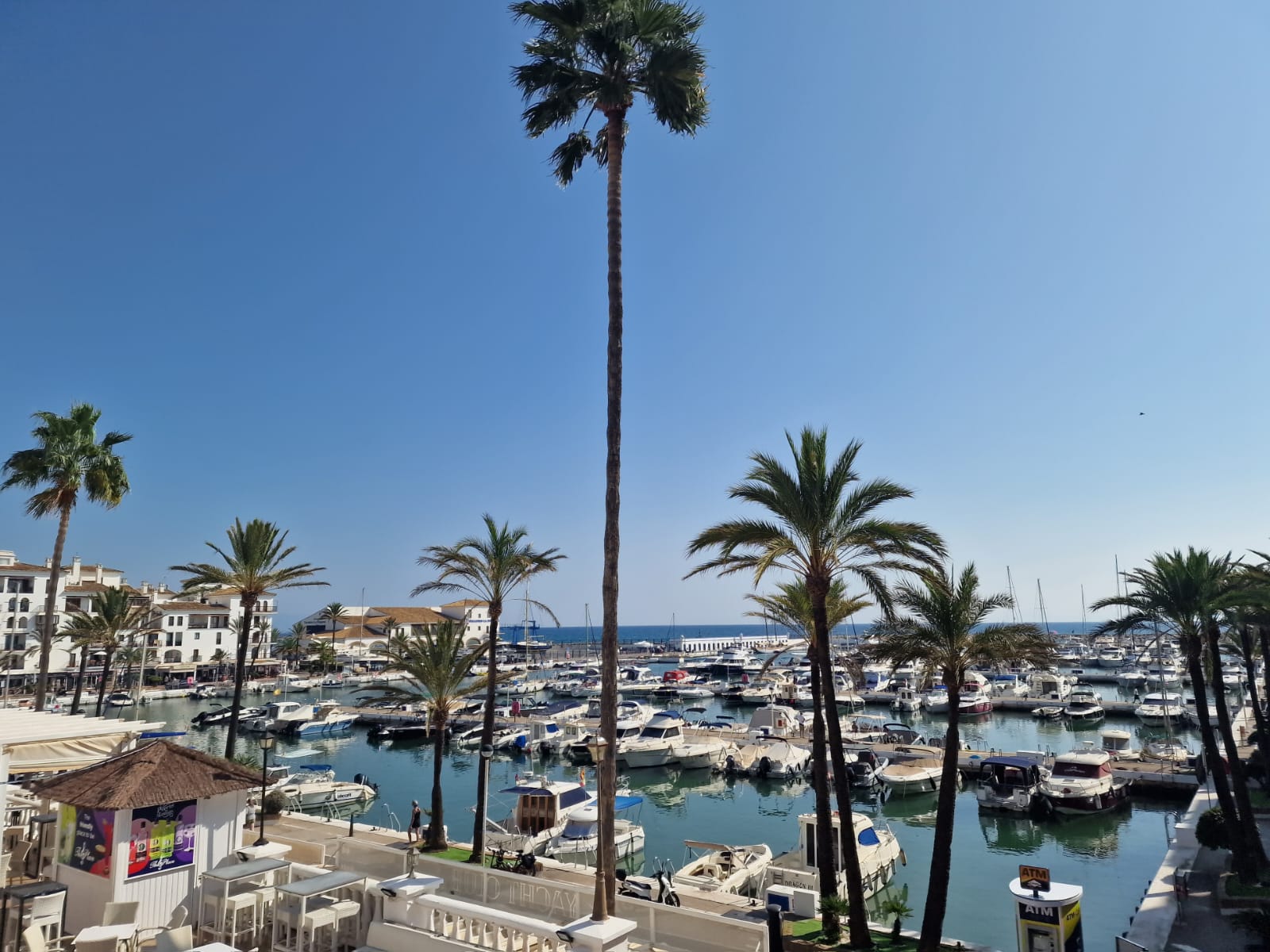 Puerto de la Duquesa
The day could only get better. We drove further west to one of our favourite chiringuitos, El Garito de Juan; but it was closed for the winter! So, it wasn't getting better!
We went for a pleasant stroll along the beach in search of somewhere open and eventually landed at Manilva Beach. Despite its grand name it was just a chiringuito on the beach. We slaked our thirsts in the sun on the beach. Brilliant! It's November for God's sake!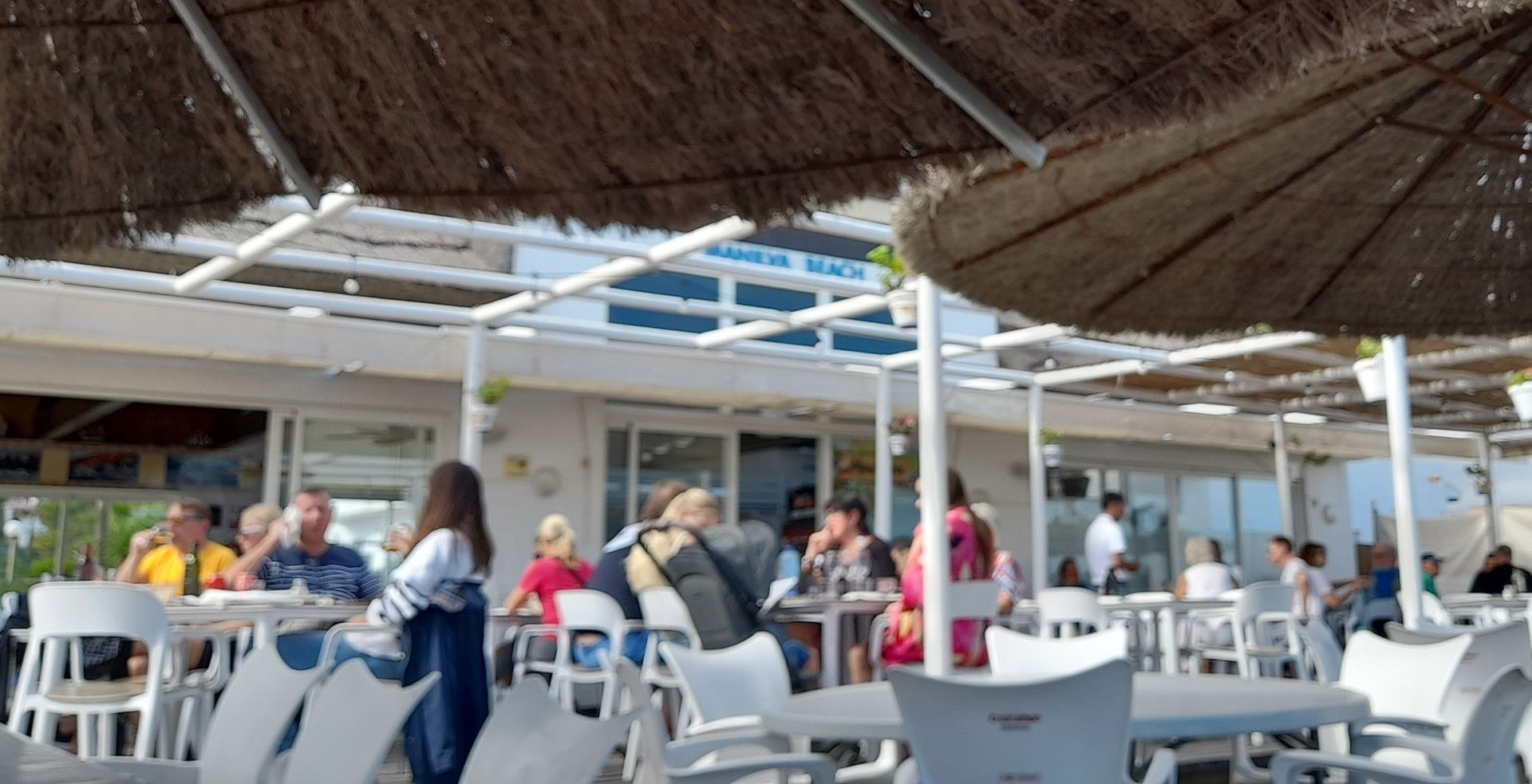 Manilva Beach chiringuito
Then it was a walk back to the car to drive to Casita del Mar, our "rental", for a siesta.
In the evening we returned to Puerto de la Duquesa to QG, a Belgian restaurant. It was packed, but we found a table. With 100 Belgian beers on offer, I guess it had an attraction for the largely Northern European clientele, including us, a Welshman and a German.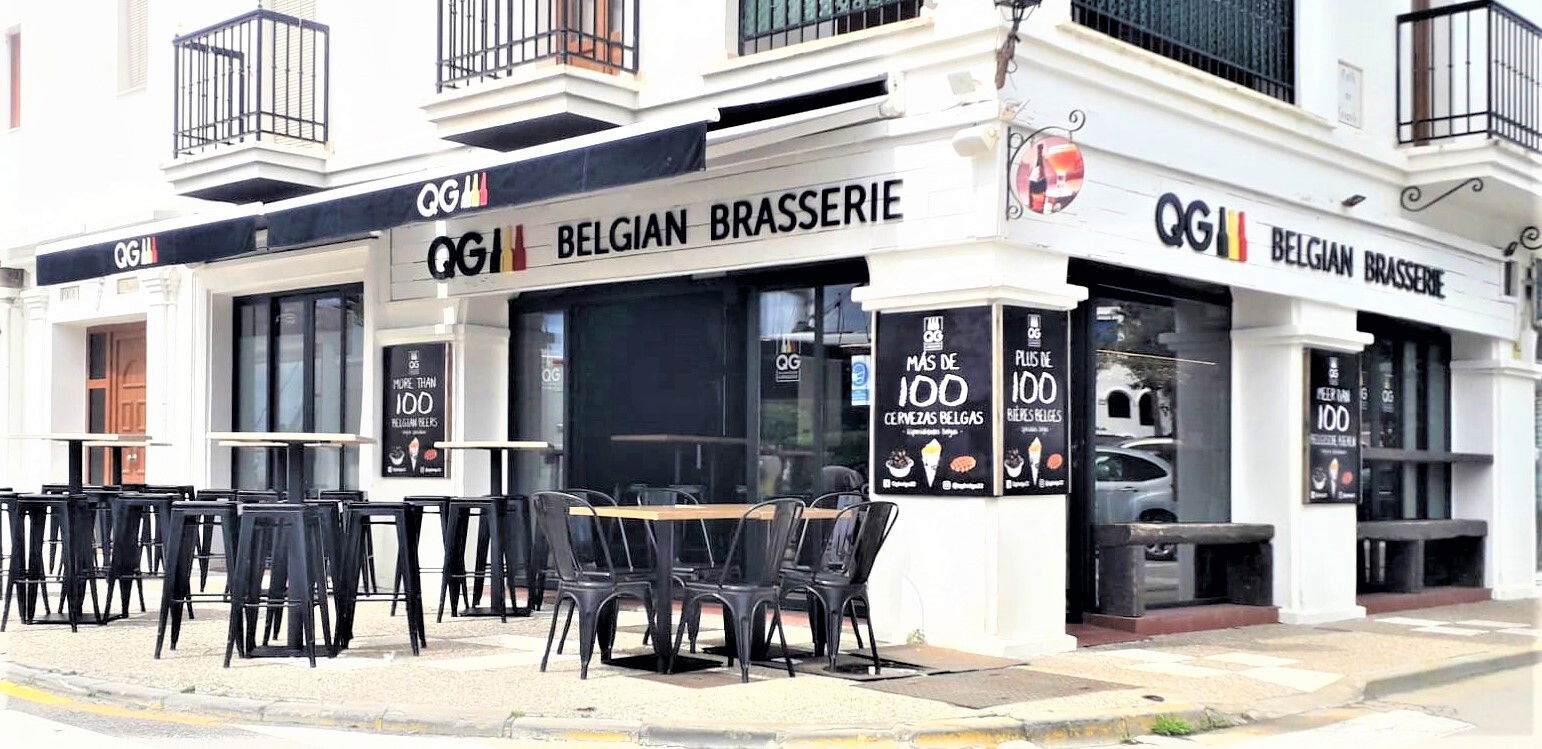 QG Belgian Brasserie in Puerto de la Duquesa
We chose a starter each, then I had moules marinieres and Rita croquetas. We ended up just sharing everything. The food was excellent and the bill, surprisingly, under 50 euros.
We were back home by 10.00 pm, ready for an early night.
Day 3 -Friday
Today we walked, yes walked, miles from Casares Playa to Puerto de la Duquesa. We had breakfast on the promenade in Sabinillas in a regular Spanish bar. It cost 8 euros. That's more like it!
We continued on to Puerto de la Duquesa in time for our 11.30 appointment with the estate agent, Castle, to view some properties.
Co-director Chris showed us four 2-bed, 2-bath properties within our budget and one 3-bed, 2-bath, which was a touch more expensive.
We liked them all to varying degrees. None was perfect, but that's always the way isn't it?
Certainly Chris wasn't taking the mickey, like some Spanish estate agents in Ronda did with me a dozen years ago.
Now we know what we can afford and what not.
In our debrief together, Rita and I started to explore "outside the box". That left us thinking about the Costa de la Luz, up near Cadiz. Further away but more "bang for your buck"!
This conversation took place while we ate at a Spanish restaurant on the front in Sabinillas. The food was just what we expected: a huge mixed salad to share, followed by two half raciones, namely abadejo (pollock) and puntillitas (tiny shrimps). All washed down with copious amounts of draught Alhambra.
The bill? A very reasonable 45 euros.
When we got back, I was exhausted. I'm 73 for God's sake! I jumped in a bath and then had a bit of a siesta.
Later we ate in, before retiring to bed early.
Day 4 - Saturday
Should we go or should we stay? We couldn't decide whether to go home or stay another night.
We headed to Estepona to look for Granier, a great chain of cafes that offer superb breakfasts. Then we wandered around Estepona, a lovely town. We sat on the front and drank a coffee. Then we headed back to Casitamar. I was determined to swim in the sea, but in the end I chickened out even though it was rather hot - 27C.
We decided to head for home. We lunched on pizza, packed the car, shut up the house and then headed home cross-country via Casares Pueblo and Gaucin.
What a great mini-break - and the accommodation free of charge! Long live barter!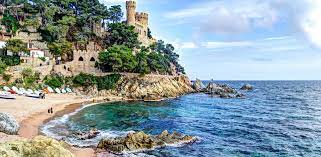 Costa del Sol