The prefix "Ben-" is the Arabic for "Son of" and features in the names of many villages and towns in areas of Spain occupied by the Moors between 711 and 1492.
In the Serrania de Ronda, there are four, three in the Genal Valley along the road from Ronda to Gaucin and one in the Guadiaro Valley to the west.
Benadalid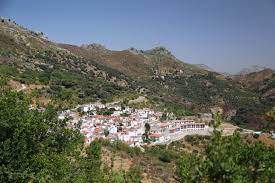 Courtesy of Wikipedia
This white village is located between the Genal and Guadiaro valleys just off the Ronda - Gaucín road. It is perched on the slopes of the Sierra de Benadalid where you can find the Tajo de los Aviones (cliff of the planes), and the Via Ferrata. The steep and narrow streets are typical of Arab villages around here.
The Ayuntamiento (Town Hall), La Iglesia de San Isidoro and the Roman Castillo are located in the lower part of the village.
Recommended: Bar El Mirlo
***
Benalauría
Courtesy of Wikipedia
Benalauría is two kilometres from the crossroads with the A-369 highway on the road which links Gaucín with Ronda. This is an area of mountains covered in the green of cork oaks, gall oaks and chestnut trees. The village itself conjures up the magic of its Andalusi-Arabic past and its steep streets provide views of both the unusual urban structure of the village and a wide panoramic view of the surrounding mountains.
Benalauría's 18th-century Ayuntamiento is in the square and a little further on is La Iglesia de Santo Domingo, built in the 15th and 16th centuries.
***
Recommended holiday accommodation:
Villa Sila offers three separate units.
+34 689 727 618
•´¯`•. 𝐒𝐔𝐌𝐌𝐄𝐑 𝐍𝐄𝐖𝐒 𝐅𝐋𝐀𝐒𝐇! •´¯`•.
A cool new development at Villa Sila…
Have a look at my video to see the latest 𝑪𝑶𝑶𝑳 𝑵𝑬𝑾𝑺 and to see how your stay at Boho will be even better this summer.

Check out the comments or write to me to get more information.
#villasila
#splashpool
#splashpools
#pool
#pooltime
#poolside
#holidayhouse
#holidayhousewithpool
#coolsummer
#splishsplash
#splishsplash

#holiday
#holidayhome
#summer
#summervibes
#summertime
#andaluciaturismo
#andalucìa
#andaluciaviva
#andalucía
#Andalucia
#andalucia
#ronda
#valledelgenal
#valledelgenal

#valledelgenal




#valledelgenalpueblosmásbonitosdeespaña
#benalauria
#benalauría
#luxurylofts
***
Benaoján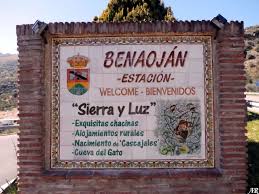 A1 Photography
Nestled between the solid mass of limestone of the Sierra de Líbar and the River Guadiaro is Benaoján, a typical Arabic village with narrow streets and whitewashed houses. The most noteworthy building is La Iglesia de Nuestra Señora del Rosario in the main square.
Benaoján has become an industrial town based on the cured pork sausage industry and is famous throughout Spain.
The village boasts two caves, Cueva de la Pileta, considered to be the finest example of Andalusian cave art and Cueva del Gato, which is at the confluence of two rivers and is popular with bathers and picnickers.
Estacion de Benaojan has developed alongside the railway line to Algeciras.
Recommended:
Asador El Muelle - great for carnivores
Bar Ankanita - great menu of the day for 10€
Bar Restaurante BeJota - popular local
La Cantina - friendly local on the station platform
La Casita - genuine Italian pizzeria
Bar El Encuentro - opens at 6.00 am great breakfasts and tapas
Hotel/Restaurant Molino del Santo - fine dining with wines from local Ronda bodegas
BEN AND JOAN
by Joe King
Benaoján, or, as I prefer, Ben and Joan, is a pork town, with a number of processing factories in the village itself and down the hill in Estación de Benaoján, its sister settlement alongside the railway line to Algeciras.
With an overall population of 1,500 Ben and Joan are famous for their hams, sausages, cold meats and other pork products, based on the ubiquitous black pigs, which roam freely, feasting on acorns from the thousands of oak trees. Benaoján is evidently more industrial and shabby than its neighbour up the hill, Montejaque.
Also in the lee of a mountain, at 564 meters above sea level, it gets the early morning sun but goes into shadow early in the evening. It too has had a small influx of foreigners, also around 40, and it is a friendly place.
Ben and Joan is larger than Monty Jack and has a full range of amenities, such as a health clinic, pharmacy, primary school, swimming pool, football pitch, petrol station and repair garage and a florist.
© Joe King
***
Benarrabá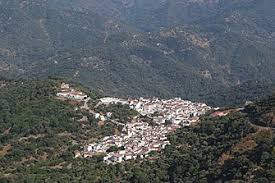 Courtesy of Wikipedia
Benarrabá is a bustling village famous for its hand-made pork products. The villagers also make a living from agriculture, cattle farming and woodcutting. The village is making a mark with rural tourism and holidays which offer peace and quiet amongst chestnuts, pines, cork oaks and gall oaks.
Recommended:
Banu Rabah rural hotel, located in a privileged position overlooking the Genal Valley.