Júzcar, a tiny white village in the Genal valley in the Serrania de Ronda that turned blue!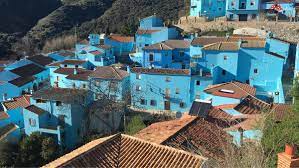 Courtesy of TripAdvisor
Júzcar is situated in the Valle del Genal approximately 22 kilometres from Ronda. The town had been one of the pueblos blancos (white villages) of Andalucía, with buildings whitewashed in the traditional manner. But in spring 2011, buildings in the town (including the church and gravestones) were painted smurf-blue by Sony Pictures to celebrate the premiere of the upcoming Smurfs movie.
4,000 litres of paint were used. In December 2011, Sony offered to repaint the town white. However, in a local vote villagers voted to leave the buildings painted blue, as an estimated 80,000 tourists visited in the six months following the repainting. The town had previously seen just 300 tourists per year on average.
Acknowledgement
www.secretserrania.com
***
Júzcar ya no es 'el pueblo pitufo'
Después de tantos años, el ayuntamiento ha anunciado que, el pueblo azul carecerá de las imágenes de los personajes azules.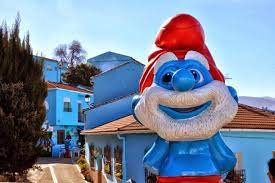 Courtesy of Cadena SER
El municipio malagueño de Júzcar, en pleno Valle del Genal, ha perdido la autorización para presentarse como 'El Pueblo Pitufo'.
El ayuntamiento no ha logrado un acuerdo económico con los herederos de la familia de los personajes azules, quienes exigían el 12% de todos los ingresos que recibía la localidad por utilizar la marca de 'Los Pitufos'.
El alcalde de la localidad, Francisco Lozano, ha publicado en el web oficial del ayuntamiento el anuncio en el que se detalla que el municipio "carecerá de las estatuas, imágenes, y cualquier referencia al nombre de Pitufo".
El mismo anuncio ha añadido que el municipio seguirá pintado de azul "y todos los negocios seguirán ofreciendo productos y servicios turísticos".
Acknowledgement
Cadena SER
Awaiting further content