Ronda Romántica is the festival, normally celebrated in May, whereby historic events and pageants are acted out on the streets of the City of the Tajo. Villages from throughout the Serranía de Ronda take part and good fun is had by all.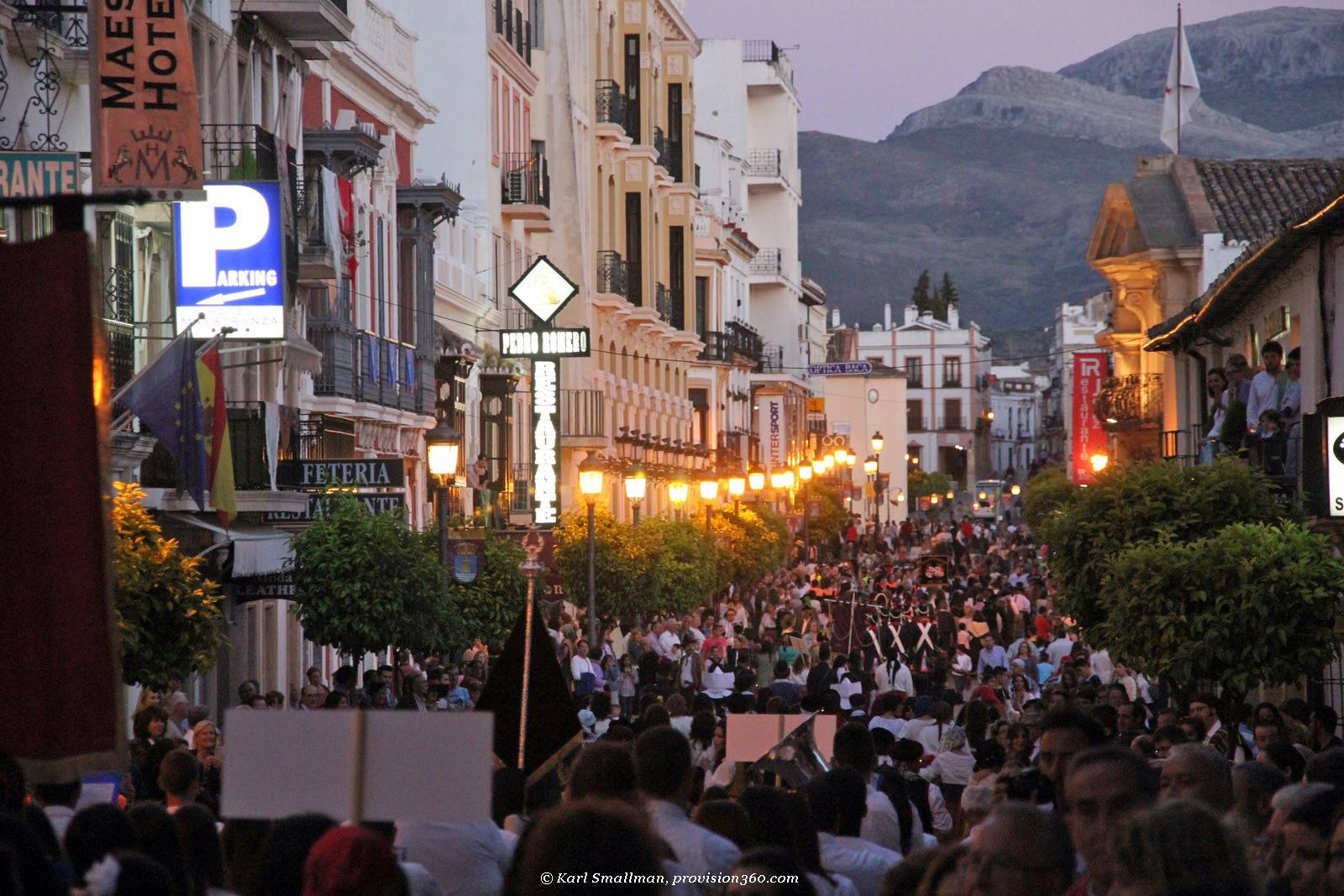 The last three years have been cancelled because of the Covid-19 pandemic, although it is expected to go ahead in 2023.
But there is another side to Ronda Romántica, namely the number of people who have come to Ronda and the surrounding area, fallen in love here and remained.
The US author Ernest Hemingway is rumoured to have had a love affair with the film star Ava Gardner whom he met in Ronda when they were both here for the bullfight season in the fifties. Hemingway wrote the following about Ronda: "Es a Ronda a donde habría que ir, si vais alguna vez a España a pasar una luna de miel o con una amiguita." ("It is to Ronda you'd have to go, if you're going to Spain some time for a honeymoon or with a lady friend.")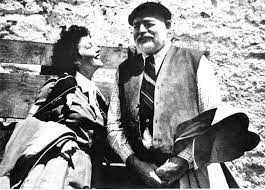 The aptly named Love family have two generations that have fallen under Cupid's influence here in Spain, if not in Ronda, then in Andalucía. Mum and dad, Elaine and Iain, met here as 20-somethings, married and opened a very successful restaurant, The Harbour Lights, in Cabopino.
Then they decided to move to Ronda with their three daughters. They converted an old mill into one of the finest boutique hotels in the Serranía de Ronda, Hotel Molino del Puente, and their restaurant, La Cascada, is one of the best restaurants around.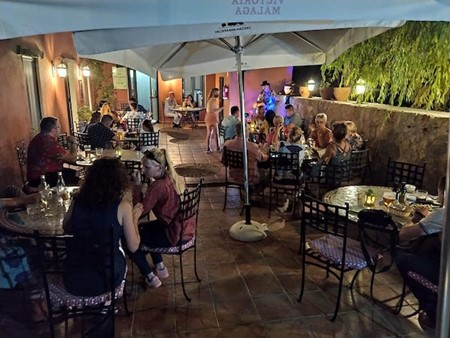 The riverside terrace at Restaurante La Cascada in Ronda
Their eldest daughter Robyn (Marbella, Spain) met and fell in love with Gianlucca (Germany via La Palmera, Spain) at Cádiz University. They have now graduated, married and work as marine biologists.
Her sister, Carly (Marbella, Spain) and Tom (England via Marbella) met on the Costa del Sol but moved to Puerto de la Cruz in Tenerife where they ran a successful bar/ restaurant for several years. They have now returned to the mainland. They have a baby girl, Sophia.
Paul Whitelock (Barnstaple, Devon, England) and Rita Drechsler (Oesterholz, Germany) met at the Feria de Pedro Romero in Ronda in September 2008. 14 years later they are still together (12 years married). Click here for more on this story.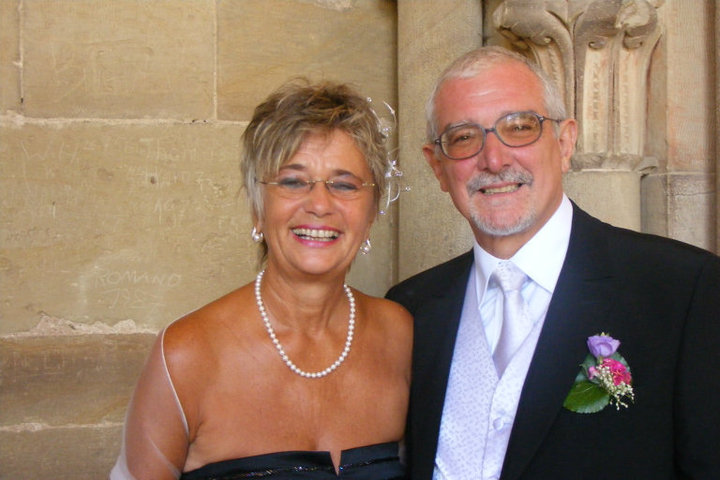 Rita and Paul at their wedding in Maulbronn Abbey, Germany, in 2010
Charlotte Wilmot (Lincoln, England) and Jaime López (Benaoján, Málaga, Spain) met in Ronda 20 years ago. They are married with a son. Jaime was Charlotte's Spanish teacher. They now run a successful language school in Ronda, RondaLingua.
Michael Coy (Wrexham, North Wales) met and fell in love with Mercedes (Ronda, Spain) during a trip to the town 20-odd years ago. He gave up his career as a barrister and moved to Ronda to be with his dream girl. Their relationship lasted 15 years and they remain good friends. Michael still lives in Ronda, where he teaches English and Spanish, offers legal advice and writes poetry in both English and Spanish. He has just published his first novel, "The Luckless Girl".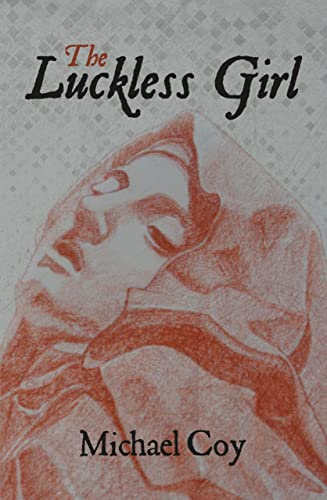 Andrei, a British former primary school teacher, born in the UK to Polish refugees escaping from Nazi Germany in the 1940s, came to Ronda 12 years ago where he met María. They are still together. He is an English teacher and she is an asesora at the Tourist Office in Ronda.
Seamus (Co. Cork, Ireland) is a horsebreaker and an incorrigible romantic. He falls in and out of love regularly, although he is now in a steady, long-term relationship.
As does Chris Mees (Antwerp, Belgium) who has a different girl on his arm every time I see him.
Becky Jackson (Colwyn Bay, Wales) and Graham Pitt (Scotland). They were already engaged to be married when they first visited Ronda, but they loved the town so much they decided to get married here. Click here for details of their wedding in Ronda, one of few by foreigners in the town.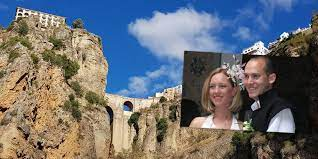 Mr and Mrs Becky and Graham Jackson-Pitt
Delphine Duboys (Paris, France) and Fernando (Ceuta, Spain) found love in Spain and now run a horse riding retreat, Paddock Paradise (www.paddockparadiseronda.com) located just outside Ronda. Click here for a delightful TV interview with Delphine made by Charry TV.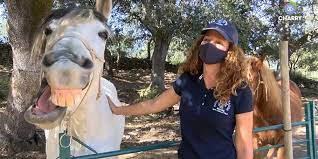 _________________
These coups de foudre don't always work out, however, and several relationships that existed prior to Ronda have foundered in the City of Dreams. For example, this writer's relationship with his first wife of 30 years and then his subsequent girlfriend of two years.
Other guiris have come to Ronda as married couples or partners in order to escape the rat race that is northern Europe and to build a new life. In some cases, regrettably, the pressures of having to earn a crust or living together 24/7 have taken their toll.
In some cases, sudden death has intervened. In 2005 Jill and Bill La Pêche bought their dream finca together in Yunquera (Málaga) to develop an ecological fruit farm, although they lived in Montejaque, near Ronda. In 2009 Bill suddenly died of a heart attack, leaving Jill alone. She struggled to maintain the finca for several years, but eventually sold it in 2018.
She is still in Montejaque enjoying her life, and, NOT wearing black all the time, as Spanish widows do. For more on this story, click here.
Jill has since got together with Scotsman John Grant, who owns a house in Montejaque. They have known each other for many years and have been together romantically since last year.
Julie Wilkinson has owned a house in Cañada del Real Tesoro (Cortes de la Frontera Estación) for 18 years. She and long-time partner Nigel used it regularly to escape the pressures of working life in the UK. Nigel died suddenly in 2012 leaving Julie to reassess her life.
She decided to put all her eggs in one basket and moved out to Spain full time in 2018, where she is semi-retired. A fluent Spanish-speaker, she spends some of her time assisting non-Spanish-speakers with their bureaucratic and administrative issues.
She is also a keen photographer, rambler, cook and writer on environmental issues.
***
So Ronda Romántica, the local festival, is on again in 2023, and it looks as though Ronda continues to throw up romances for visitors and locals alike. Long may it continue.
¡Viva Ronda Romántica!